Unique, ready to take the stage at 'Benidorm Fest': "There will be three highlights in the performance"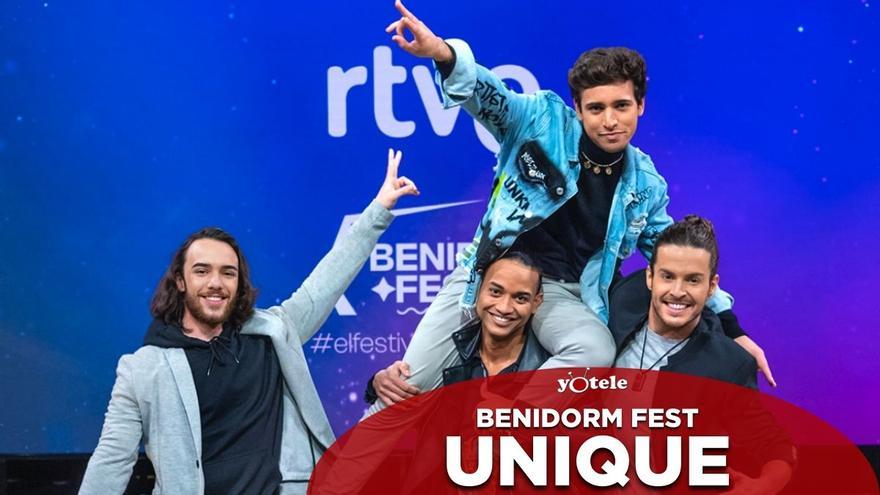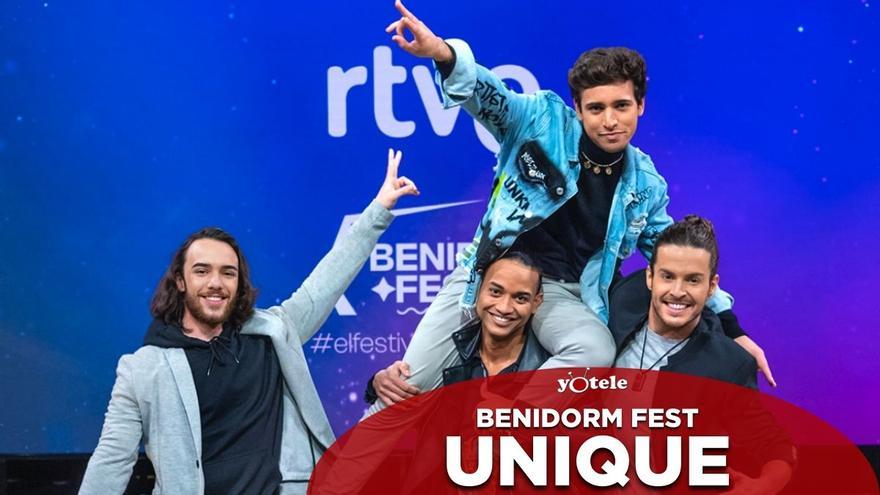 The countdown to the celebration the first edition of the 'Benidorm Fest' reaches its final stage with the different candidates packing their bags. One of those 14 participants who are about to take the road to Benidorm is Unique, a group made up of Matt, Gio, Arman and Valen, who will try to represent Spain in the next edition of Eurovision with 'Top', a song they devised for the European festival, as revealed in the interview they gave to YOTELE.
"We had no doubts and went for it. The theme was created by and for Eurovision. We said let's create a song for the Eurovision stage in Turin. A team was created and we have all worked along the same lines. We wanted to make a hymn, something that we have achieved, but also that it was with a necessary message. We thought that the message was to change the chip, look forward and show that we are not doing so badly. There is much pending to fix and improve, but there are many things well done. You don't have to go down the drain, but rather look at the glass as half full, be positive and gather strength and courage to continue", assures Valen.
"Already being at the 'Benidorm Fest' is a dream. Doing this and the other interviews we've done, the number of rehearsals is a great honor. Hopefully we get to represent Spain in Turin. It is being a super cool and cool experience. The truth is that we are happy. We get along very well with our colleagues. There is a very good coexistence and good vibes, and I think there will be more there in Benidorm. It's going very well on the part of the organization, the teammates and us. The biggest fear is covid," says Matt.
After launching songs like 'Tú y yo', 'Tu me miras asi' or 'Por art de Magia', the guys from Unique tell YOTELE that there will be three highlights in the performance, which will be choreographed by Arman himself and that Matt has had to rehearse since confinement after contracting COVID: "Luckily, the choreography was able to be rehearsed before it tested positive. It has simply been cleaning steps and repeating so that when we get to Benidorm we are not confused by anything. What we have very clear is that we want to arrive and enjoy ourselves".
Although they participate in a musical competition, the members of Unique are clear that they want to enjoy the moment without any pressure for qualification or victory. "No matter how many bets and rankings there are, I think that what has to happen will happen. I send the message that they are waiting for the direct one and that they choose the best one. I don't want to make this a political campaign. I want them to listen to it and enjoy it like the other 13, and for them to choose the best one. I am convinced that the winner will be the best representation of Spain in Eurovision. Let's hope it's 'Better', but you never know," says Matt.
"They are calling our semi-final as the one of death. It is complicated. Personally, any of the 14 proposals are very powerful. Everything will depend on what we manage to do on stage. He relied a lot on our direct. We don't know what the rest is going to do, but what we can do. We hope, why not, to qualify", expresses Valen. "You have to celebrate both the victory and the defeat. Being at Benidorm Fest is already succeeding. We're going to fight for that final, but if we don't, we'll enjoy the event like all the Eurofans", adds Matt, who also dares to make a promise if they qualify: "If we win or go to the final, I'm going to throw myself into the sea ​​and I'm going to swim to the island in front of the Benidorm coast, I'm going to conquer it and I'm going to shout 'Unique'.
In addition, Matt also reflects on the relationship they have had with the networks during this candidacy: "The philosophy that we have tried to do is that if you get angry, you lose. They can tell us anything politely and respectfully. Anything, we take it with humor and in the best possible way because that's what counts. We are not going to get carried away by anything on Twitter. We are very happy to be here. That illusion is very difficult for someone to take away from us with a single tweet. A tweet will not bring us down."