unions estimate unemployment at 70% of the workforce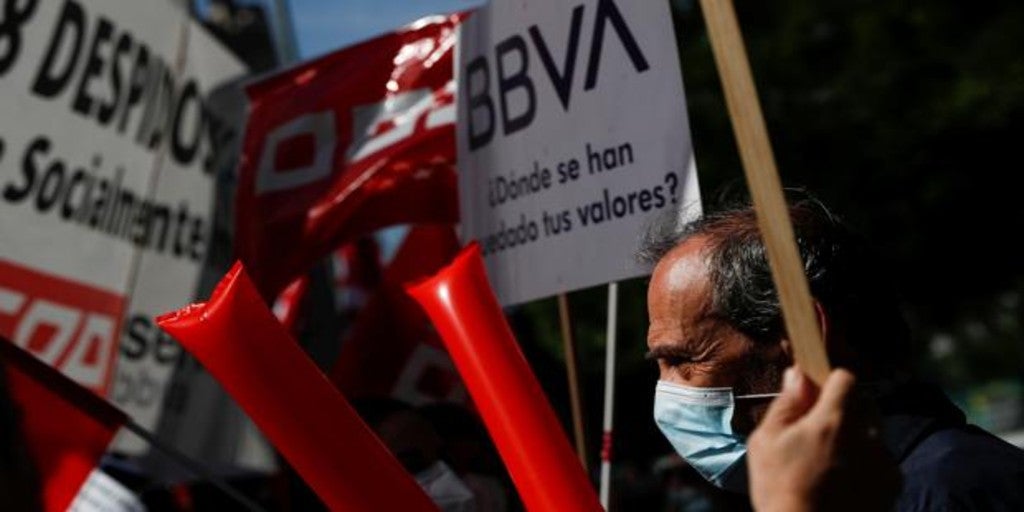 Madrid
Updated:
Keep

Two days after the end of the formal consultation period, the workers of BBVA they have returned to the streets. But this time without going back to his office. This June 2 there has been a historic strike in the entity to pressure on the Employment Regulation File (ERE) that is being negotiated on around 3,300 workers.
A historic day because it is the first 24-hour strike at the state level at the bank. Yes, there had been strikes at the regional level to date, and even on a national scale there have been specific concentrations these weeks. But nothing similar to today's call.
Bearing in mind that BBVA has 2,500 work centers, as union sources recall, they estimate the follow-up of the strike by 70% of the workforce throughout the country. And in terms of office closings, the same sources assure that they will from 75% of provinces such as Zaragoza to 100% of various regions of Andalusia. On the other hand, in Catalonia the branches that have not opened are quantified at around 30%, the lowest figure, because a few days ago they already had their particular regional strike.
Workers have also gathered in front of several bank headquarters throughout our geography. The unions explain that there have been mobilizations in 28 cities that have added a number of attendees exceeding 7,500 employees.
The negotiations
The ERE was raised in the beginning
over 3,800 workers. After weeks of negotiations the figure has been lowered to 3,300 thanks to relocations to remote management positions. However, the unions consider that the effort of the company is insufficient.
This strike and the mobilizations that have been carried out in recent weeks are due to the intention of the workers' representatives to pressure BBVA to accept a greater reduction of those affected. Also to try to achieve better conditions in the exits and to ensure that most of the casualties can be paid voluntarily.
There are only two days left to finalize the formal period of negotiations and union sources advocate extending the term to be able to continue the contacts. From the entity they have always reiterated their predisposition to dialogue.
With a view to when an agreement can be closed, the bank announced at the time that it will launch a relocation plan for those affected. For this plan, we have hired Randstad. The objective is
relocate 100% of staff to join the ERE and want to continue working, with an extra commitment: that those who leave end up achieving a permanent contract or an alternative through self-employment.