Unión Agüimes says goodbye to its fans against the champion Unión Antigua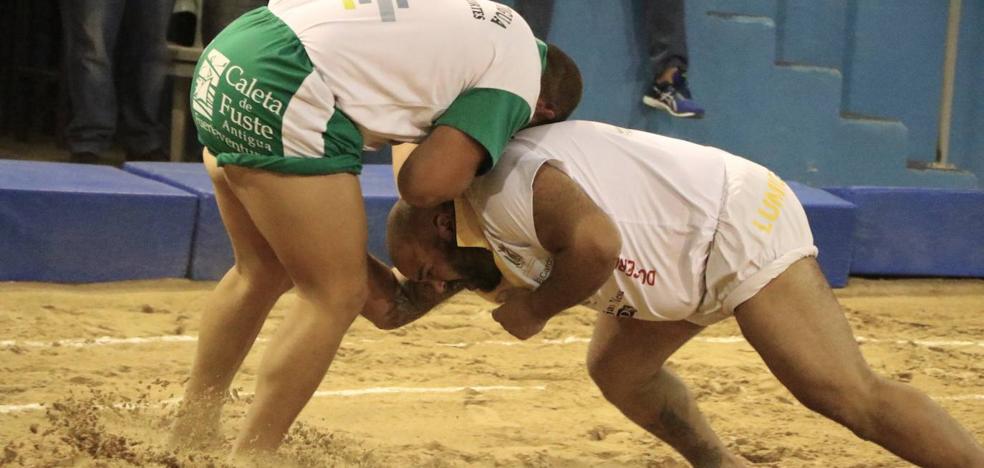 canary wrestling
The terreiro de las Crucitas hosts tonight (9:00 p.m.) the clash of the penultimate day of the Disa Regional League Canary Islands Government
penultimate day of the
Disa Regional League Government of the Canary Islands Men's First Category, which takes place this weekend and where the
Unión Agüimes Cicar receives the group champion and one of the favorites to renew the title,
the Old Union.
The crash can be seen
this Saturday at 9:00 p.m. in his terreiro de las Crucitas and it will serve to say goodbye to the fans for this campaign and in the best possible way, although the rival is not the most suitable, especially because he needs the three points in search of being the best first, to have a more favorable theoretical crossover in the semifinals.
Although he has not had a good campaign, Fernandín's men want to satisfy their public
and despite having Rafa Santiago down, their most regular fighter, the Kevin Acosta, Ismael Déniz or Andrés Carmelo Guillén, want to make it difficult for Kiren González, Efraín Perera and company.
Third Category

In the Third Category Regional League, the teams from Gran Canaria
Almogarén Flor de Valsequillo Cheese and Santa Rita Cars Pink dispute the third day and last of the first round in their respective fields. Those led by Damián Suárez receive San Bartolomé de Lanzarote at 9:00 p.m., which they must win to tie on points with Arafonche from Tenerife and dispute the pass to the final against said team from Tenerife.
In the same situation are those of Lomo de los Frailes, who after losing to Tinajo need to defeat Llanos del Moro to continue having options to be first in the group and get into the grand final. The clash will be at 9:00 p.m. in the Tomás el Bombero field in the capital of Gran Canaria.
Within the Third Category, this Saturday at 9:00 p.m. in the Chiquero de los Molinillos de Ingenio,
Unión Sardina SPAR Gran Canaria will face Vecinos Unidos Agua de Firgas in the final B or without highlights. Both teams left out Unión Doctoral while Unión Agüimes B did not participate. Those from Vecindario are clear favorites, after defeating them 12-4 last week in the regular phase.
Feminine

The female Santa Rita Autos Roso visits the terreiro del Rosario de Fuerteventura, in a key clash for the majoreras in their fight to get into the final of the Disa Gobierno de Canarias regional league, where the grancanarias are already classified. The clash will be at 12:00 tomorrow in Puerto del Rosario.