Unicef ​​regrets the "improvisation" of the State to take in migrant children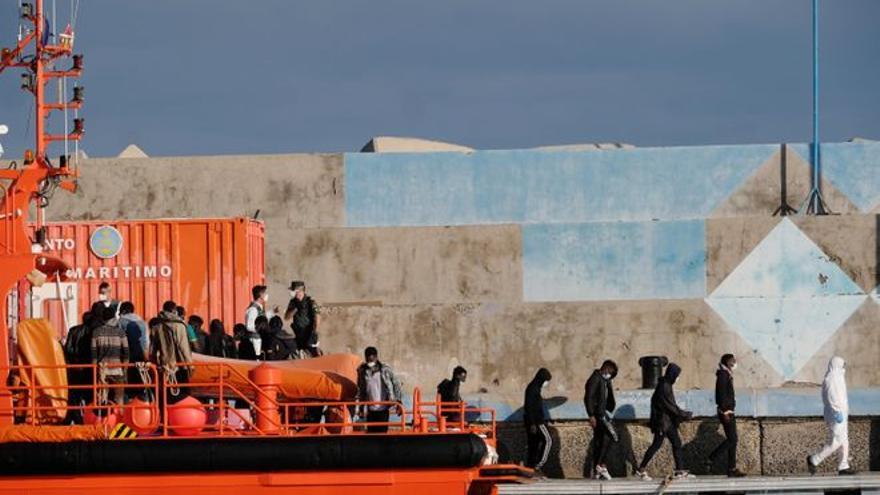 It is not the first time that they have warned of this drama, but they do not understand how, year after year, Spain is unable to provide a dignified welcome to the kids and adolescents who leave their families in Africa and risk their lives to reach Europe. Unicef ​​has presented this Wednesday an investigation into the situation in which minors who arrived in the Canary Islands during 2020 and 2021 are living. The conclusion points out that 80% of them are living in macro-centers where their psychological needs are not taken into account, nor do they take them to school and that, in some cases, they suffer violence. "The receiving communities are saturated, we need a state redistribution and coordination mechanism to be able to guarantee the rights of these children," they have insisted from the entity.
Over the course of several months, various members of Unicef ​​in Spain they have visited about thirty protection centers where the children who risked their lives on the high seas live. Since 2019, more than 3,800 children have reached the Canary Islands by boat. It is the deadliest route and it is estimated that more than a thousand people died in 2020. What happened to those who survived the route? Some 2,500 still live in centers for minors on the Islands, only 4% were transferred to other autonomous communities and less than 3% have obtained their residence permit, a document to which they are entitled and which allows them to have rights in Spain.
"The diagnosis is clear. Canary Islands She was not prepared. In 2020 arrivals grew 650% and in 2021 they have once again exceeded 150% ", explained Pablo Ceriani, author of the report and member of the UN Committee on the protection of migrants.Humanitarian reception has been insufficient, inadequate and ineffective. The child protection system was saturated and children have been unprotected, "he explained.
In fact, according to the author, two sides of the coin have been seen. 20% of the centers open for this emergency in the Canary Islands do things well. "They are small centers, with less than 20 places, with individualized aids, therapeutic and multidisciplinary teams where children can go to school and have papers: in short, they achieve integration", he says. However, in 80% of places, human rights are not guaranteed. No school, no specialized activities, no sufficiently trained or specialized workers. "They cannot respond adequately to the reception and reception of children," the author insisted.
"We have found cases of children who had an enormous anguish because they still suffered for their friends who had died in the boat. Children who hurt themselves or who spend the day crying. In these resources they have nothing to do, they are locked up and their mental and emotional health is crumbling. And they all come here to work and train, "described Sara Collantes, a UNICEF migration specialist in Spain and a member of the research team.
A situation similar to that which occurs in Ceuta, where after the arrival of 1,500 children during the month of June, there are 1,128 in centers for minors and about 500 who live on the streets. "It is urgent to be able to meet their needs, the care that is being provided to them is not necessary because the city cannot cope," Carmen Molina, director of awareness and childhood policies of the organization, has told from the autonomous city.
That is why, from the entity, they insist that it is necessary for the Central Government to invest resources but, above all, to redistribute minors around the province. A decision that, today, is voluntary and born of the solidarity of the autonomous governments, but which is negligible compared to those that are still there. They trust that the Government will approve as soon as possible the national strategy for the reception of migrant children, where several social entities demand a state pact on the distribution of minors. "What cannot be is that we continue improvising: Spain is and will be the door to the border with Europe, and children will not stop arriving crossing the sea. They must be welcomed, and welcomed well," said Gustavo Suárez Pertierra, president of the 'UNICEF Spain.