Unexpected outcomes in the final of 'The Island of Temptations'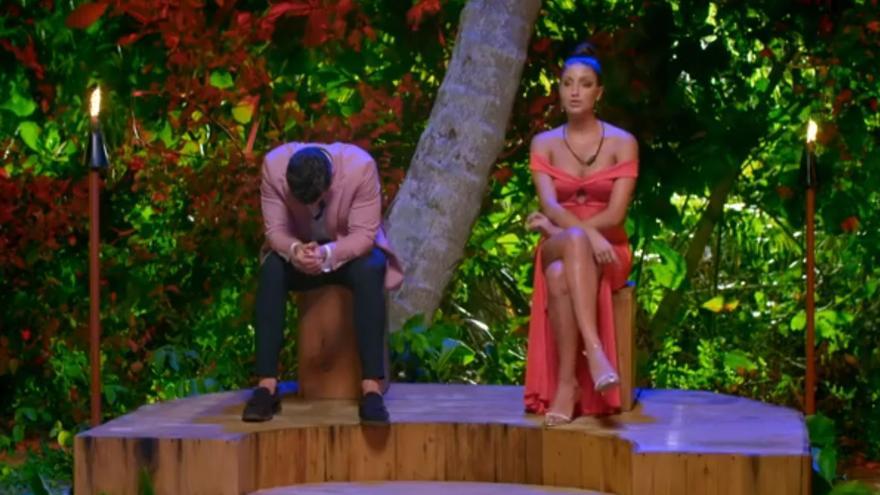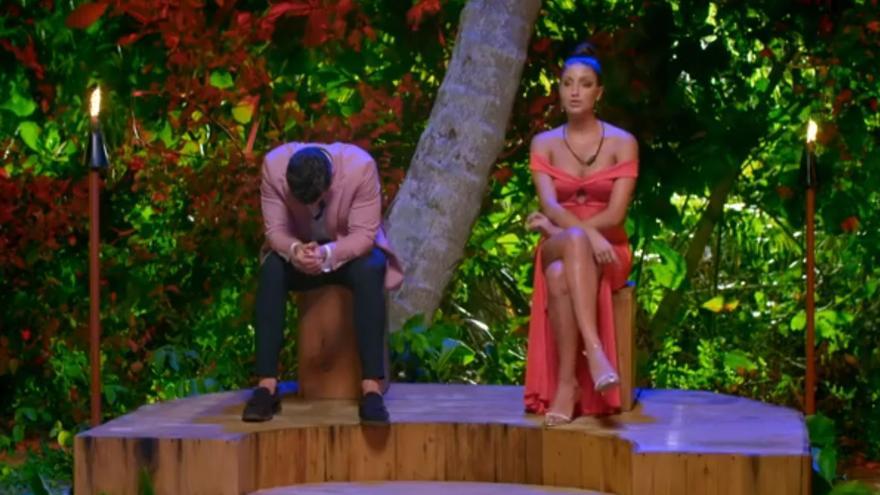 night of surprises in the chapter of the final bonfires of the fourth edition of 'The Island of Temptations'. Nothing is what it seems in the Mediaset program, which has the spiciest edition of all, where its protagonists, especially the boys, have shown followers of polyamory.
The couple that has disappointed the audience the most because less play has been found with the temptresses and the tempters on the Island, the one formed by Josué from Malaga and Zoe from CataloniaThey opened the night. They decided to leave together and dressed in blue, in the same tone as his hair. That was no surprise, although they staged some tension as a result of the uploaded conversations that Josué had with the enticing Jennifer, whom he met on the show 'MYHYV', where he also met Zoe. "You are the love of my life," Josué confessed, assuring that the conversations with Jennifer were before being with her.
At the next bonfire, Nico and Gal-la there was much more tension. She was loaded with reproaches from each other and finally Gal-la confessed to Nico: "You don't put me on." However, the surprise was not taken by Nico, but by himself Gal-la, who decided to go with her tempter, Miguel, but the Andalusian businessman rejected the offer. Gal-la's gesture is priceless. If you have not seen it, do not miss it.
With Rosario and Alvaro, AlvaritoThe first tears came. The couple who claims to love each other but cannot avoid having sexual relationships with other people constantly, falling into a vicious circle of infidelity and revenge, called their lost love from the conviction that they still love each other. Several times they expressed it in the course of a tense bonfire in which reproaches were not lacking. But if something is clear to both of them, despite the mutual affection and the tears that they even moved Sandra Barneda, is that they have no future together. As for the future, they chose to face it differently. While a tearful Álvaro decided to leave alone, without his inseparable Sabela -with which he starred in a threesome with another of the temptresses, Rosana, the lover rejected by Nico- Rosario chose to go with her new love, the canary Suso. Unlike Miguel with Gal-la, Suso accepted delighted, not in vain has he fought for Rosario's attention hand in hand with Simone the Italian.
In any case, in this relationship it does not seem that everything is said. There is an invisible bond that has Rosario and Álvaro trapped despite the third and fourth people. They still end up embracing polyamory together. The unknown is who they will incorporate into their relationship: will it be Sabela? Will it be Suso? Or will they prefer others?
The main course was left for last. Yes, the couple formed by Alejandro from Cadiz and Tania from the Canary Islands. What was the surprise? Read on and find out. If you have followed the program to some extent, even on social networks, you will know of Tania's disappointment with her partner due to the sexist comments she has made about her. During the bonfire he had the opportunity to explain it to him, but he, nothing. This boy is tougher than a stone and unable to realize or acknowledge that he has spoken ill of her.
With tension rising between them, every comment from her about her feelings was greeted by a defensive Alexander, who he attacked, curling up in his posture of an offended male for her attitude with the tempting Stiven. And is that Alejandro is jealous even of Tania's thoughts! Very suspicious this man to a hurtful point with his partner. Disappointed and tired of trying to make him understand his wrong position, Tania chose to leave the Island alone, leaving Alejandro, in her own words, "with a broken heart".
Now, this relationship will be finished:
Survey | Do you think Alejandro Nieto and Tania Medina, the man from Cádiz and the Canary Islander from 'La Isla de las Tentaciones' are still together?

Some photos that both have posted on their Instagram profiles after returning from the Dominican Republic seem to indicate that they are together or that, at least, if they haven't resumed their relationship they don't get along badly. In addition, in the advance of the reunion chapter that the program makes several months later, it is seen that they are sitting together and facing the tempting Stiven, who accuses Tania of having been unfaithful to Alejandro when leaving the island. Excuse me, unfaithful? So that's why they're still together. Or not?