Unemployment rose by almost 30,000 people in August and registered 737,000 more unemployed than a year ago
Updated:
save

The Spanish labor market has not finished soaring after the strong blow inflicted by the coronavirus pandemic and the closure of shops and businesses decreed by the state of alarm. When summer was trusted as a lifeline for the economy due to the arrival of foreign travelers, the restrictions imposed by other countries and new outbreaks of infections they seriously harmed tourism in the main campaign months for the sector. He number of unemployed people increased by 29,780 people (0.79%) in the month of August in relation to the previous month, up to a total of 3,802,814, according to the data communicated by the Ministry of Labor and the Ministry of Social Security.
In the note sent to the media, the Government highlights that at the close of a traditionally bad month for the job market due to the end of the tourist season, the rise in unemployment was the lowest registered in August since 2016. However , the total unemployment figures are well above those registered in the same month of 2019, when the number of unemployed amounted to 3,065,804. Consequently, the impact of the management of the coronavirus crisis drags a total of 737,010 more unemployed than just a year ago in the labor market of our country.
By sectors, the number of unemployed fell in agriculture (13,523 less) and on the contrary, it rose in construction (7,983), industry (2,981) and the group without previous employment (11,853). Where it registered the greatest increase was in the services sector (20,216 more), a situation that Trabajo attributes to the mobility vetoes issued by the main tourism-emitting countries in the Spanish market.
In terms of occupation, employment grew again, albeit slightly, in August for the fourth consecutive month and for the first time in an eighth month of the year and added 6,822 contributors, reaching a total of 18,792,376 affiliates. Despite this, the figures are still lower than those registered before the coronavirus crisis, when the average affiliation was 19,323,000, that is, there are 527,851 fewer affiliates. In addition, at the end of the month there were 82,541 fewer employed persons than at the beginning, since just on Monday 31st, 211,566 workers were discharged due to the end of the summer season.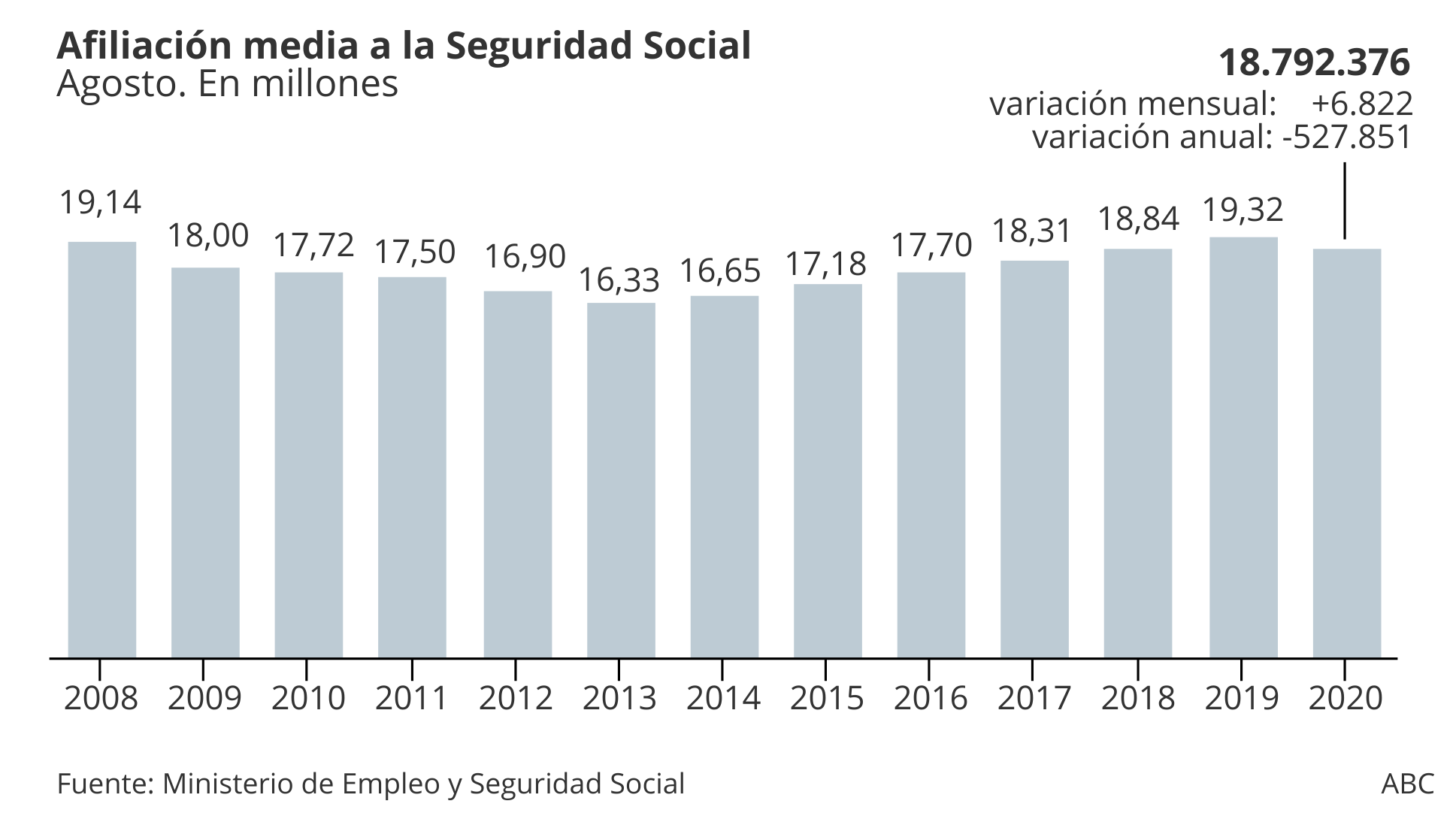 To this is added that at the end of August there were still a total of 812,438 workers under the umbrella of an ERTE Temporary Employment Regulation File, although it represents 306,104 less than in July. The Government stresses that three out of four people included in ERTE during the pandemic have come out of this situation.