Unemployment rises by 3,230 people in July and employment falls by 7,366 affiliates against what was forecast by the Government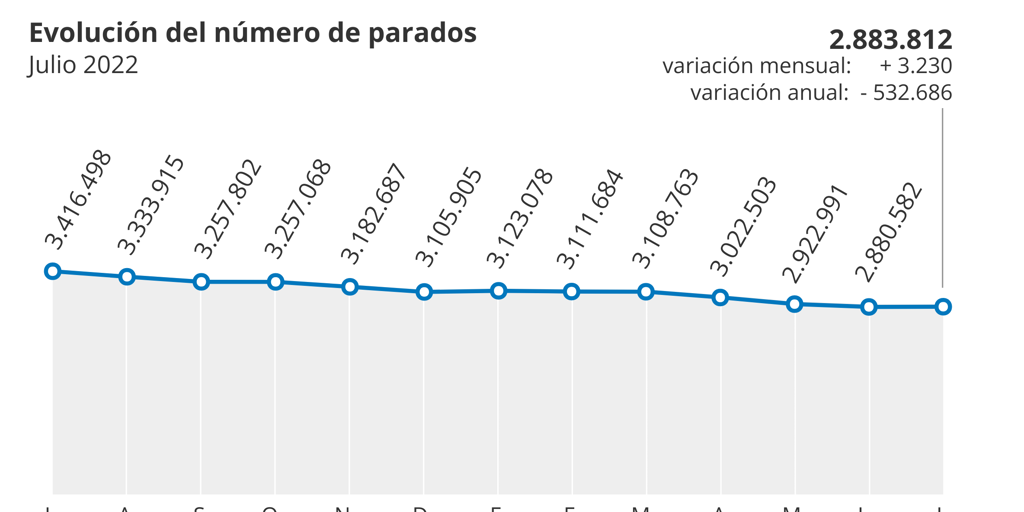 The labor market put the brakes on in the second half of July, as several members of the Government predicted last week after knowing some historical figures of the Active Population Survey of the second quarter of the year. The figures published by Labor and Social Security this Tuesday confirm the slowdown: unemployment rose by 3,230 people, 0.1% compared to June, and 9,104 jobs were created -in seasonally adjusted figures-, a third of what was forecast by the Executive just a few days ago in the mid-month valuations. While in average terms, employment even fell last month by 7,366 affiliates (until the total stood at 20.3 million -original series-.
Despite confirming the slowdown in the labor market, which was also warned by the Bank of Spain after the INE data was published, the level of unemployed is still at its lowest level in 2008, with a total of 2,883,812 unemployed. Similarly, enrollment in Social Security remains at record levels, adding a total of 20,111,141 contributors and fifteen consecutive months of job creation.
In original terms, the average affiliation to Social Security accounts for 7,366 fewer affiliates, closing the month with 20,340,964 registered (10,880,380 men and 9,480,585 women). In total, the average number of affiliates in original terms exceeds the level of a year ago by 749,236 employed persons.
"After the exceptional behavior in June, employment continues to be created in July, probably pointing to an advance in hiring decisions this summer," they point out from Social Security as one of the reasons for the slowdown registered in the labor market.
In the same way, the cabinet led by Vice President Yolanda Díaz points out that despite not being the first time that unemployment has risen slightly in July, «the increase on this occasion has been significant from the middle of the month, largely part due to international uncertainty.
Source: Ministry of Inclusion, Social Security and Migration ABC
However, compared to the same month of 2021, July has registered the largest year-on-year drop in the unemployed, as unemployment fell by 532,686 people in one year. Thus, they remember from the Administration that in the first seven months of the year 272,039 more affiliates have been registered compared to a year ago, discounting seasonality and the calendar effect. In this way, the level of affiliation prior to the pandemic is exceeded by 625,000 people.