Unemployment registers a record decrease of 129,378 people after the end of the state of alarm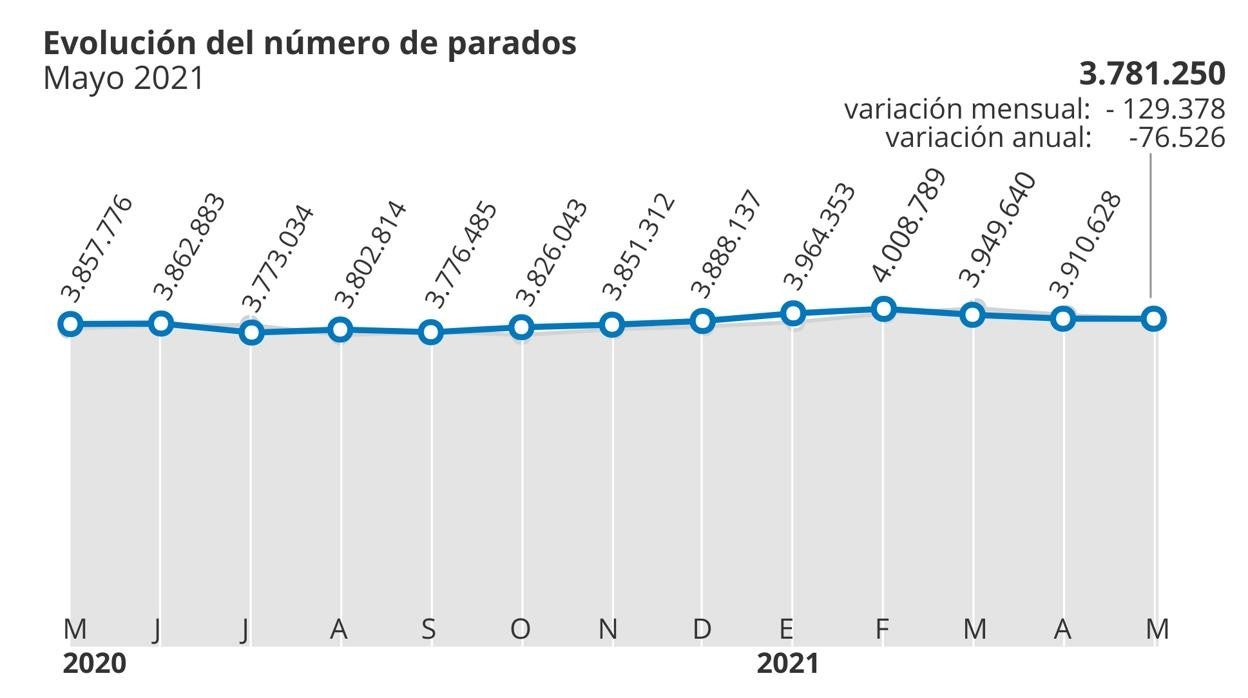 Updated:
Keep

The labor market begins to reactivate due to the lower volume of restrictions on activity after the end of the state of alarm and at the gates of the summer campaign. In a traditionally good month for employment, the number of unemployed fell by 129,378 people compared to the previous month, a record drop in the historical series that began in 1996. Despite this, the number of unemployed closed May at a total of 3,781,250 people and there are still 542,142 people included in a Temporary Employment Regulation File (ERTE) and more than 400,000 self-employed charging for the cessation of activity.
The number of unemployed fell in all sectors. In services it fell by 93,327 people (-3.39%); in industry it fell by 9,403 (-3.05%); In agriculture it fell by 9,155 (-4.78%) and in construction it fell by 8,149 (-2.71%).
The president of the autonomous collective ATA, Lorenzo Amor, pointed out today that the data "They are very good, in line with a May out of a pandemic situation". "In addition, the reduction in unemployment coincides with the end of the limitations that self-employed workers and entrepreneurs have experienced (...) the rate of vaccination has also allowed a return to a pseudo-normality," adds Amor. "However, there is still a very important number of people who are in ERTE or in cessation of activity, we would be talking about a figure higher than 900,000 people", added the head of the largest organization of self-employed in the country.
On the affiliation side, they created a total of 211,923 jobs and 19,267,221 were employed on average. This month there were more employed persons in all sectors of activity. According to the data of the Ministry of Inclusion, Social Security and Migrations published In seasonally adjusted terms and excluding the calendar effect, 45,434 workers were added compared to the previous month, 0.24% more.
Among those that advanced the most in terms of employment, the following stand out: hospitality, with 62,885 more affiliates (6.13%); agriculture and livestock, with 2,306 (3.05%); construction with 14,052 more workers (1.59%) and administrative activities and auxiliary services, 16,682 more workers (1.29%).