'Una noche sin luna' by Juan Diego Botto shines at the Max Awards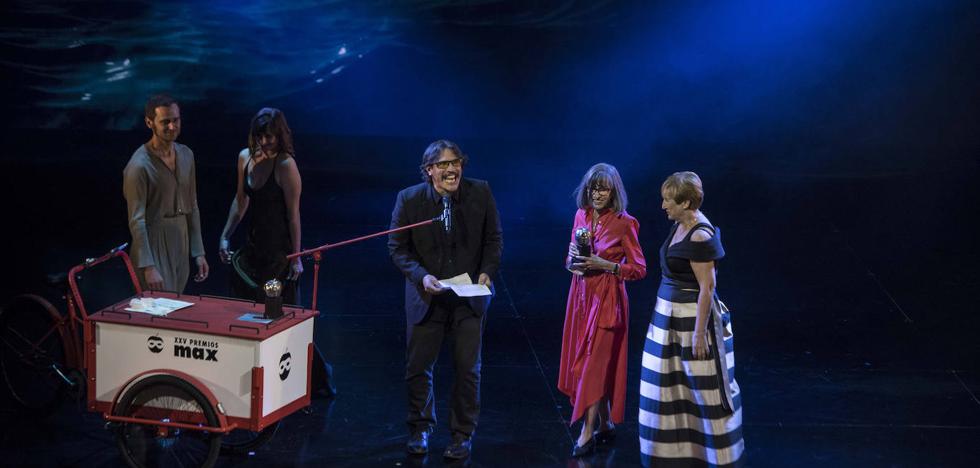 Mònica López is awarded as best actress for 'De què parlem mentre no parlem de tota aquesta merda' and the dancer Jesús Carmona in the dance category
Juan Diego Botto's Lorca song 'Una noche sin luna' shone this Monday night at the twenty-fifth edition of the Max Awards, which were delivered at the Teatro Principal in Mahón. This one-person play won the award for best male performer and best theatrical show. "Long live Lorca, long live Botto and long live the mother who gave birth to them!", shouted from the stage Sergio Peris-Mencheta, director of the play and in charge of collecting the award in the absence of Botto in the Menorcan city for being immersed in a filming .
His award for best actor was dedicated, in the words read by his sister Nur Levi, to all the people who, like the poet from Granada, continue "buried in the gutters waiting for justice to be done." He also remembered his mother, Cristina Roca, who "instilled in him a love of the trade and respect for the profession." Botto continues with a magnificent 2021. The success of his work and the awards won this Wednesday in Menorca, was joined weeks ago by the National Theater Award.
The other winning artistic proposal of the night was 'Canto jo i la muntanya balla' (I sing and the mountain dances), which won three of the five prizes it was up for: best direction, best scenic space and best musical composition. Mònica López won the Max for best actress for her work in 'De què parlem mentre no parlem de tota aquesta merda' (What are we talking about while we're not talking about all this shit) and the award for best authorship went to María Velasco for 'I will cut men off the face of the earth'
As for dance, the dancer and choreographer Jesús Carmona copied Botto and took home the awards for best male performer and best show for 'Baile de bestias', while Lucía Lacarra won the female award for 'In the still of the night'. On the other hand, El Espejo Negro triumphed with 'Cris, petite brave' and was the best show for children and young people; 'Woman on a treadmill on a black background', by Alessandra García, managed to be the best revelation show and 'Company' won the award for best musical show.
Alonso de Santos, honored

The audience also honored José Luis Alonso de Santos, author of 'La Estanquera de Vallecas' or 'Bajarse al Moro', among others, and an essential figure in the last decades of Spanish theater who received the Max of honor. But all these awards also pointed to a problem after the pandemic that stopped everything. "There is a certain accommodation of the public to that way of entertaining themselves by putting on a video at home," said Juan José Solana, president of the SGAE Foundation, organizer of these awards. "We would like for that to change and for us to get up from those sofas, from those comfortable seats to go back to the theaters," he said.