'Una noche en Artenara' returns with concerts by Yone Rodríguez and Abraham Ramos Sánchez with guitarist Juanse Ramírez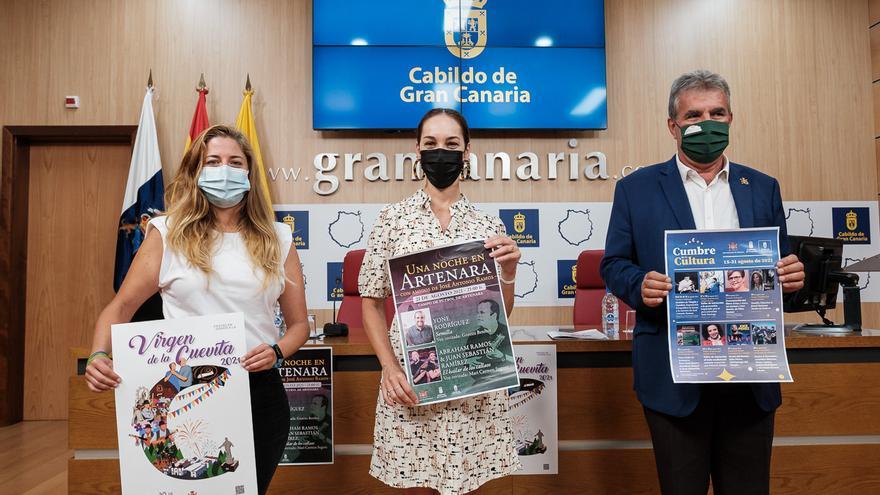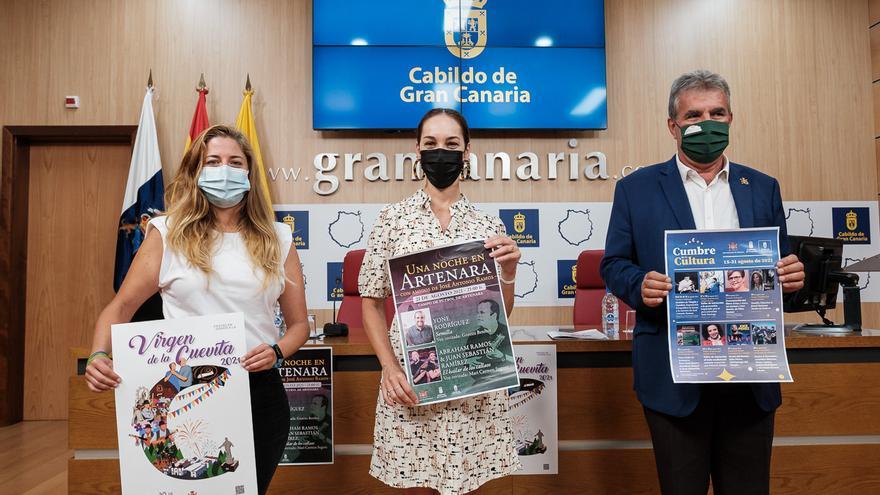 Artenara celebrate the concert again One night in Artenara, with friends of José Antonio Ramos that last year could not be carried out due to sanitary circumstances. On this occasion, it celebrates its XIX edition on August 21 with the performances of the timplista Yone Rodriguez, who presents his album Seed, and of Abraham Ramos Sánchez, along with the guitarist Juanse Ramírez, who was also Ramos' stage partner, to present his new recording, The dancing of the callaos.
This was announced today by the Minister of Culture of the Cabildo Gran Canaria, Guacimara Medina, the First Deputy Mayor of Artenara, Manuel Mendoza, and the Councilor for Culture, Dina González, who presented the program of the new project Culture summit, an event that between August 15 and 31 hosts multiple activities, such as concerts, workshops and an exhibition, and that is subsidized by the Cabildo de Gran Canaria and the Government of the Canary Islands. All the events are framed in the program of the Festivities of the Cuevita de Artenara, which are held from August 14 to 30.
The counselor Guacimara Medina stressed that one of the objectives of the Insular Ministry of Culture to relocate the acts is bet on culture in the municipalities based on the singularities of each one of them, and for this they receive subsidies as has been the case with this project. Medina also assured that at this time, in such a changing situation, it is difficult to maintain cultural activity, but clarified that culture is safe, as has been demonstrated.
For his part, the acting mayor, Manuel Mendoza, explained that in order to maintain security measures and comply with all protocols, larger spaces such as the soccer field or the José Antonio Ramos Timplista Park have been chosen for the shows with a greater influx .
The legacy of the timplista
The legacy of José Antonio Ramos, who died in 2008, will be present in Culture summit and especially in One night in Artenara, a show that every August for 19 years has brought together a group of musicians and friends of the timplista to remember him through the story of who his students and collaborators were. It should be remembered that the 2019 edition was postponed to November due to the fires at the Gran Canaria summit. This year, the concert will be at 9:00 p.m. on the Artenara soccer field and in addition to the artists who head the bill, it will feature the guest voices of Goretti Benítez and Mari Carmen Segura.
It is a musical encounter that was born from the hand of José Antonio Ramos in 2002. The idea, faithful to the philosophy of its creator, was to promote synergies between artists who move with different criteria in popular music, jazz and music. pop. Throughout the different editions, important names such as Mestisay, Taburiente, Kepa Junkera, Troveros de Asieta, Domingo Rodríguez have passed through Artenara. The Colorao, Nono García, Javier Ruibal, Totoyo Millares, Mari Carmen Mulet, Fabiola Socas, Javier Paxariño, Polo Ortí, Germán López and many more.
On this occasion, the show will have a reduced capacity of between 500 and 600 people and all security measures will be strictly observed. To attend this free event, as well as the rest of the events planned in Culture summit, prior registration is necessary by calling the Artenara City Council at 928 66 61 17 (extension 26 or 37), explained Councilor Dina González.
Program of Culture summit
The program of Culture summit, included in the celebrations of the Cuevita Festivities, starts on August 15, at 7:00 p.m., with the opening at the Artenara Cultural Center of Timple and summit sounds, a photographic exhibition about the career of José Antonio Ramos with photographs by Nacho González Oramas. This sample can be visited until August 31.
On August 17 and 18, from 11 a.m. to 1 p.m., the Parque Timplista José Antonio Ramos hosts a percussion workshop given by Cuban percussionist Toto Noriega, who takes his first steps as a musician with tres player Pancho Amat, whose band he is He left for six years and with whom he traveled the island and made several world tours. At this time he recorded and collaborated with important artists, such as Silvio Rodríguez, Pablo Milanés, El Cigala, Las Hermanas Fáez, Javier Colina and Pavel Urkiza, among many others. In 2004 he arrived in the Canary Islands, where he settled down and discovered island music, with many influences from his country, but which enriched him with new rhythms and sounds. There he is part of bands of the most important Canarian artists, such as José Antonio Ramos, Taburiente, Mestisay or Germán López among others.
On the other hand, on August 20, at 7:00 p.m., the Cultural Center hosts the presentation of the book Irina and Gara, my city and Don Benito, by Pilar Ramos, sister of the timplista. Also on August 20, but at 8:30 p.m., the Parque Timplista José Antonio Ramos welcomes Bolero night with the performance of Natalia Palacios and Josué Santana. This concert, with a capacity of 150 people, is directed by the pianist Josué Santana and presents a varied repertoire such as Two gardenias, Perfidia and The glory is you, among many other songs.
In addition, on August 25 and 26, from 11 a.m. to 1 p.m., the Parque Timplista José Antonio Ramos hosts an initiation workshop to traditional Canarian dance taught by Patricia Muñoz, who has belonged to various folk groups such as Coros y Danzas Aythami de la Casa de Venezuela, Tajaraste or Los Majuelos, as well as the groups Añoranza, Parranda de Cantadores and En-Cantadoras.
For its part, the municipal soccer field hosts on August 27, at 9:00 p.m., the show Humor Night with Kike Pérez and Chirimurga del Timple.
To close this week of culture, the municipal football field of Artenara hosts on August 28, at 9:30 p.m., the show Together & Scrambled, with the performance of Arístides Moreno, Víctor Lemes, Rubén Rodríguez and Abraham Ramos Chodo. It is a concert, included in the Music Circuit, which was born from the idea of ​​experimenting and playing with the songs of each singer-songwriter, so all the musicians will be together on the same stage after a creative process of several months of work that it has allowed them to disassemble each one of the selected songs to reassemble them, contributing their point of view and their particular baggage.