UD cannot against Racing with ten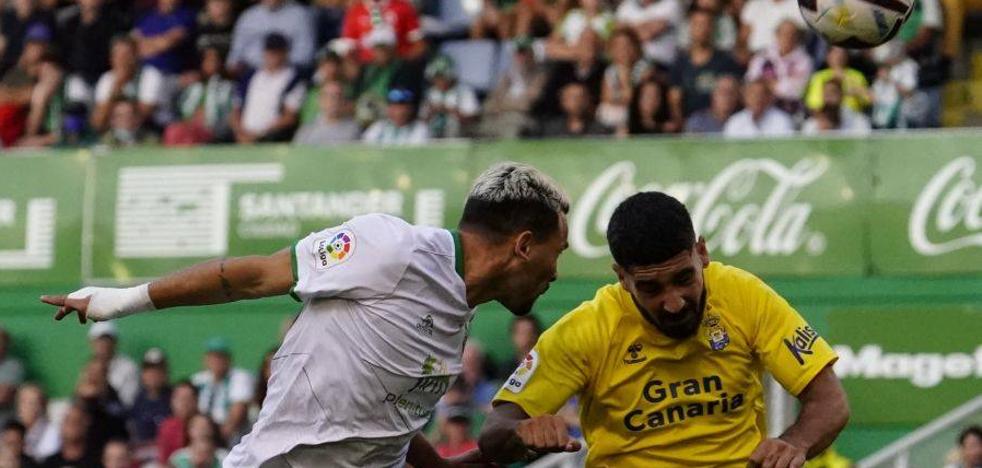 football
Pimienta's team takes a point that knows little about the Sardinero
UD got a point against Racing de Santander in one of the darkest games of the season. The yellow team did not know how to take advantage of the numerical superiority during more than an hour of clash after Pombo's expulsion on Viera.
In the early stages, UD tried to show their hallmark by associating themselves with speed, trying to intimidate the Cantabrian defense. However, Racing had its tricks well marked. At the exit of a corner, Sekou Gassama, was able to open the can with a header.
In the 11th minute the first scare would come for the yellow team, with a childish error in the center of the Sidnei field, he lost the ball and ended with a heroic save by Álvaro Valles, in his saving line. Minutes later, a good collective action by the local team ended with a header from the incisive Senegalese striker, which crashed the ball off the crossbar. UD suffers from set pieces.
The transitions of the Cantabrians threatened danger. On 10, Iñígo Vicente, with a great vision of the game, led Racing's offensive baton. One of the passes of him in depth,
Jordi Mboula was about to convert the first, but Álvaro Valles with magnificent reflexes avoided the 1-0. In the first half hour of play, the first chance would come for the yellows, the work of Lemos with a header that went out of Miquel Parera's frame by a bit. In the 40th minute the play that would mark the clash would come, Jorge Pombo, after a very hard tackle on the magician from La Feria, would end up being sent off by the referee at the request of the VAR. The yellows wanted to go into the break ahead and take advantage of the numerical superiority but it was unsuccessful. First gray part of Las Palmas.
The second half began with two modifications by García Pimienta, Sidnei and Loiodice left and Alberto Moleiro and Álvaro Jiménez, who was returning from injury, entered the field of play.
A measured pass from Fabio to Moleiro ended in one of the clearest for UD, it went high. clear occasion. UD suffocated the Cantabrian team with long elaborations but without too much depth and without putting the Racingista defense in trouble.
An incisive since his admission, Alberto Moleiro, had it from outside the area with a powerful shot that grazed the post, while Pimienta made a move and added Benito to replace Clemente, who barely had a leading role in the second half. UD tried it with infertile possession, so they couldn't move the marker. A totally committed UD in the final minutes bottled up Racing in their own area and a chance for Pejiño would be the last of the match.
Distribution of points in a gray clash of UD.