Tyson returns to the ring with a null combat, but meritorious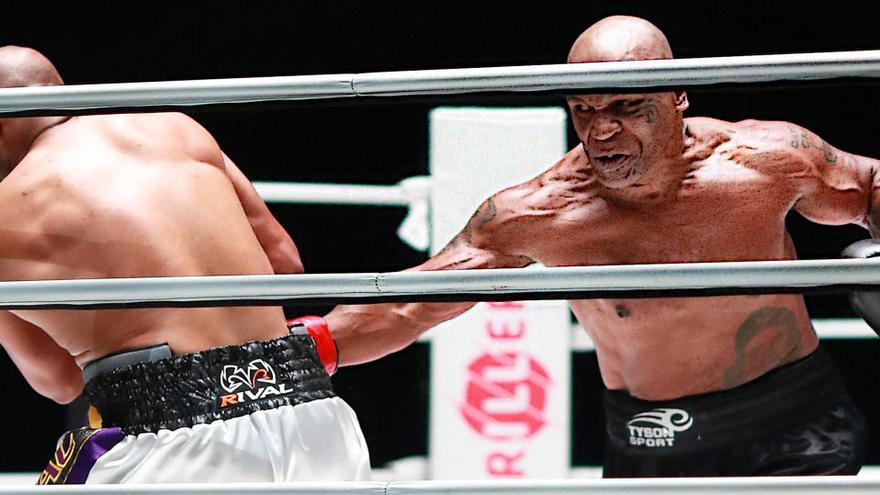 When legends Mike Tyson and Roy Jones Jr. They went up to the ring installed at the Staples Center in Los Angeles to show their "skills" in the exhibition fight that made their return to active boxing official, everything was developed as if it were a Hollywood script.
For eight rounds, lasting two minutes each, wearing just 12-ounce gloves that couldn't hurt the opponent, Tyson, 54, and Jones Jr., 51, divided the rounds until the end end with a null combat verdict (76-76) on cards overseen by the California Athletic Commission and the World Boxing Council (WBC).
Before the exhibition fight it was already anticipated as a sure thing, that neither of the two legends, with a combination of 105 years, and the uncertainty about the rules who were to rule the fight, could bring something positive to the sport of boxing.
Although once Tyson and Jones Jr. got into the ring, they tried their best During the entire time the fight lasted, exactly 16 minutes, they also tried not to complicate the work of the judges assigned by the WBC who saw a null fight.
The fight was hard and violent but with only one or two punches thrown by either fighter in most exchanges before the fighters grabbed and worked punches until referee Ray Corona interrupted them.
From time to time, Tyson would distance his trademark left hooks, while Jones Jr. showed flashes of her old style, dancing and showing off live without looking.
Tyson seemed to rack up most of the early rounds, by landing the cleanest shots and pressuring Jones Jr. in melee actions.
Jones Jr. was the most visibly fatigued man in the corner between rounds, but he kept trying to finish the challenge, increasing their performance in the second half.
This despite the fact that Tyson is much further removed from his time as a professional wrestler than Jones Jr. which was later withdrawn.
Jones Jr.'s late work served to score you enough points that allowed a judge to see him as the winner on his card, with another who gave the tie, and a third who opted for Tyson to give a null final combat verdict, which left no one satisfied.
Although Tyson said he was happy with the result, Jones Jr. was less excited and considering that when he goes out to fight he already has a draw so he doesn't box to end up with the same result.
"I have never liked ending a fight with a draw on the cards", Jones Jr. stressed at the end of the fight, which was broadcast on pay television and at a price of $ 50 per person.
Both fighters showed glimpses of their former glory, but eventually Tyson overwhelmed Jones Jr. with his aggressive boxing and outplayed him with a statistic of 67 blows, including 35 to the body, for 37 of his rival.
Tyson expressed his desire to go ahead with more exhibition fights and even seemed interested in starring in the "rematch" with Jones Jr.
"I'm used to doing it for three minutes."Tyson stated about the duration of the assaults. "Sometimes those two minutes felt like three minutes. I'm happy to have this under my belt to keep doing this and go further," he said.
Jones Jr. was less committed to fighting again and He commented that it was "hard to tell".
However, Tyson he ruled out any idea of ​​returning to the ring as a professional.
"This is bigger than fighting and winning the championship," Tyson stressed about competing in shows where he donates money to charities. "We are humanitarian and we are helping people."
Tyson was assured of receiving a 10 million dollar bagWhile Jones Jr. would collect another three million for the fight.