"Two years without bulls in the Plaza de Las Ventas would be catastrophic for the party" | Blog The bull, by the horns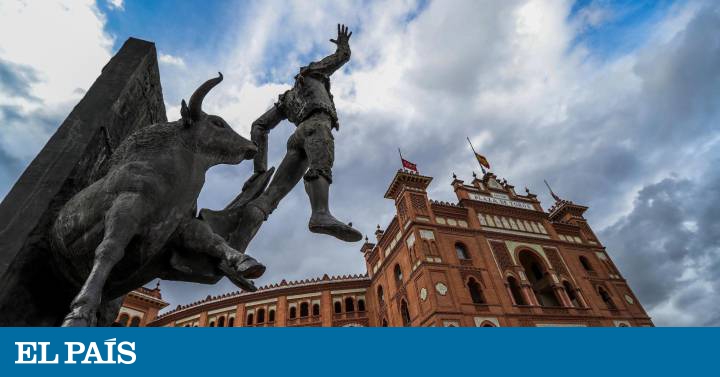 "The Community of Madrid and the company, Plaza1, have had the permanent intention of celebrating bullfighting celebrations this year in Las Ventas, but it has been unfeasible. The problem, furthermore, is that the 2021 season is very complicated, although I am convinced that something must be done, because two years without bulls in the first place in the world would be catastrophic for the party ".
Rafael García Garrido (Madrid, 1973) has been a businessman in the Plaza de Las Ventas together with Simón Casas since November 2016. His vocation is tourism – he is the CEO of Nautalia – and he confesses that his passion is bullfighting. A Madrid subscriber since he was eight years old, he entered the bullfighting business when he met Casas ("we agreed on two meals"), between them they managed to manage the plaza, and he is still waiting for his luck to change. carry out bullfighting and leisure projects, the first impossible due to the immobility of the sector, and the others parked due to the security problems of the Las Ventas building.
And, above all, the pandemic, which has forced the doors of the Madrid square to be kept closed throughout the year.
"The first injured party is the company," he affirms, "which, since October 13, 2019, the date on which the last celebration was held, has not entered a euro. Honestly, we haven't projected anything that, in the end, would have been a disaster. "
"We requested four reports on the possibility of announcing celebrations and all four were very negative"
García Garrido says that engineering experts have prepared four expert reports on the viability of offering celebrations and "all of them have been very negative."
"The Plaza de Las Ventas suffers from a serious deficiency in the entrance and evacuation accesses", he continues; "They are very old and require a reform. It is a technical and not a political issue. On the other hand, this is the place of greatest responsibility, where the most serious bull comes out and the bullfighters and ranchers charge more. In addition, just opening the doors costs 85,000 euros. Any celebration that is scheduled with less capacity poses a problem. And keep in mind that, with the sanitary measures in force, the capacity of the square is reduced to 10%, which means about 2,400 spectators. With that number there is no income not even to make the walk, although an agreement was reached with the Community on the payment of the fee ".
– Be that as it may, the truth is that the bullfighting square has been and is closed …
– Since June, our purpose has been to celebrate the Fall Fair, but … I'll give you an example: we have 2,100 older subscribers who use two small elevators to go up to the stands and broadsides. At what time should they be summoned if only one person can get on each trip? In addition, 50% of the tickets are still sold at the box office. How far would the queues go if the safety distance had to be respected?
– In view of these reports, the outlook for the next season does not seem very encouraging …
– I have already told you that something has to be done, but, to this day, nobody knows anything. I know that the Community of Madrid has every interest in celebrating celebrations, and that is our illusion as a company, but it must be viable from the security and economic point of view. We do not intend to earn money, but at least it does not cost us.
Rafael García Garrido shares his tourist vocation with his hobby, but it does not seem that this has brought him many joys.
"How many times have you regretted having entered the bullfighting business?"
– None. The years that I have been in Las Ventas I have learned a lot as a professional in the bullfighting world. What makes me sad is that I arrived with projects for the sector and I have found myself completely immobile.
– Immobility in the bullfighting world?
– I don't know how to say it so as not to disturb. Let's see: in San Isidro 18 or 20 posters of 'no tickets' could be made, but it is not possible because the figures do not want to come alone. Why this interest in advertising all together if they are going to fill all three? It is common for you to reach an economic agreement with any of them, and when you believe that everything is solved, the conditions arrive: I do not fight with this one, I am not ahead of that other, and my dates are these … Ah, and with these livestock and not others. Wouldn't it be better if each figure was accompanied by two new kids? We could announce a historic San Isidro, but it is impossible. This is a very difficult world internally.
– In addition to upsets, how much has this adventure already cost you?
– I'll know when I'm done and there are still two years left [Plaza1 tiene concedida una primera temporada de prórroga en 2021, y aspira a otra más, cuya negociación está prácticamente cerrada]; I hope it doesn't cost me anything, even if I don't win anything. My aspiration is to end the concession in a draw. And as I have already told you, it has also cost me a great personal dissatisfaction when verifying that it is impossible to change relatively easy internal factors that would modify the panorama of the show.
– Nor has it been able to develop its tourist program, that objective of turning Las Ventas into a leisure center …
– We couldn't do anything. We signed the concession in November 2016 – three music concerts had been held in September – and in January we were denied any project due to evacuation deficiencies. The problem is that Madrid cannot be sustained only with the bulls; If you don't organize other events, it's a loss-making business. And the problem does not lie in the canon [Plaza1 paga 2.800.000 euros anuales], but in everything that cannot be done and does not allow you to earn money.
García Garrido is convinced, on the other hand, that the bullfighting sector needs an in-depth reform, but his analysis is riddled with mistrust.
"It's very complicated," he says. "The bullfighting world is not united. Each one makes war on his own. There is no script. I don't see, for example, the so-called Reconstruction Tour, because nothing is rebuilt. In any case, the Toros de Movistar channel is rebuilt, which is the one with the problem. To rebuild something it has to be sunk, and the party is not; in any case, touched and in need of a great renovation, which, if not carried out, threatens its disappearance ".
– What, in your opinion, does this profound reform of bullfighting consist of?
– It must affect all areas, from the order of the bullfighters on the posters due to the antiquity of the alternative – I have already told you about the 'no tickets' posters – to the public intervention of the show. If even the price of peanuts is involved…! There is no show as intervened as bullfighting, and not only in Madrid. The businessman gambles his money and must have the power to establish the price of the tickets according to each show. If a fair only admits three celebrations, it does not make sense to force six to be programmed …
– You suffer from this public imposition in Las Ventas …
– I hope that the following sheet is modernized. Madrid should continue to be a season square, but are there fans to announce 72 celebrations? I think not. Why should 23 mandatory bullfights be announced when we know that the lads arrive unprepared? Wouldn't it be wiser to celebrate 50 novilladas in the towns of Madrid and contribute to the experience of the novilleros?
– By the way, what did you see in Simón Casas to ally yourself with him?
– Passion. He is a passionate man with everything he does; and I convinced him that I could bring him an entrepreneurial vision that he lacked.
– There has been much talk that the relationship between the two is not ideal …
– I can assure you that our relationship is great. It is true that I would have liked some questions to have been solved differently, and the same will happen to him; but we have built a good society. And I already told you that it is not easy to be partners in Las Ventas with everything that is around you.
– But it is said that the employer is you …
– We are both entrepreneurs of Las Ventas with the same weight.
– And with the one that is falling and the uncertain future, how come they have requested a second extension to the Community of Madrid?
– I already said it: my intention is to continue.