'Twin Mirror', a thriller that dives into the mind of its protagonist | Blog 1 UP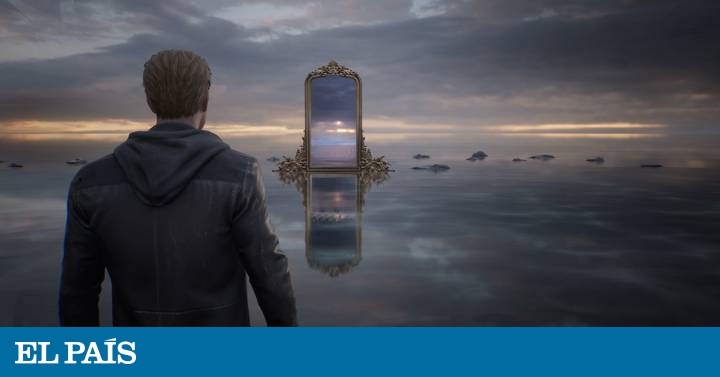 A mirror, a reflection, the image of the self in the glass. Sam Higgs, star of Twin mirror, see an alternate version of himself. It is him, but at the same time it is not. His personality splits in two, tears, twists and becomes a voice of conscience embedded in the depths of his mind. The study behind Life is Strange and Vampyr launches its second video game of the year after the outstanding Tell me why. True to their usual formula, they present a narrative adventure with decisions, this time focused on the genre of the thriller. Dontnod Entertainment tries to introduce the player to a more psychological story, where the protagonist dialogues and is torn between the two parts of his personality.
An unwanted homecoming
Throughout its history, the French developer has focused on plots related to teenage characters. Your problems, your doubts, and your transition to maturity. Instead, this production focuses its attention on adults. What is clear is that no one is spared from the vicissitudes of life, regardless of their age: Why do two lifelong friends distance themselves? What happens when the corruption of a company that employs almost all the people is brought to light? Can a marriage request ruin a love relationship? These and many other questions are explored in Twin mirror. As in its previous titles, the narrative is varnished with certain supernatural elements. The problem is that the set is not as round as in other Dontnod titles, the plot feels somewhat predictable and the playable mechanics have hardly evolved.
Sam was one of the reporters for the local newspaper in Basswood, a small mining town in Virginia. His investigation ends up uncovering a series of illegalities that accelerates the closure of the mine, the main livelihood of most families. The emergence of that story makes events precipitate, that many turn their backs on it, despite the fact that the business did not have too many years to live. Almost without saying goodbye, he leaves the newspaper, leaves Basswood, and falls into a self-destructive spiral in which alcohol and vomiting are his only company. He is convinced that he will never return, but then a new tragedy occurs: Nick, his best friend, dies in an alleged traffic accident.
The two had grown apart in the past two years, ever since Sam decided to leave his life in Basswood behind. Still, he decides to return to attend his funeral. Upon arriving in town, he meets Joan, Nick's daughter, who quickly conveys her suspicions that her father was murdered. After promising - or not, it depends on the player's decision - that he will investigate the matter, he meets other neighbors at the bar: many are not happy to see him, indeed, they are openly hostile. After a night of beers, the journalist wakes up with a dull mind. He remembers absolutely nothing, but finds his shirt soaked with blood in the bathtub. Doubts meander in his head: What happened? Has it been fought? Have you killed someone? From that moment, the different plot threads begin to give their first stitches to weave a story wrapped in the conspiracy.
The mysteries of the human mind
The Mental Palace, based on an idea of ​​Saint Augustine, is implemented in Twin mirror in the form of playable mechanics. It is a world of mirrors and crystals, a depository of memories. There, their two personalities converge, time stands still, and Sam ties up loose ends. Beyond their artistic design, these sections are linear and are based on moving forward and pressing a button to interact with a sequence from the past. Sometimes it materializes in the form of a nightmare, mirrors and doors lead to the same destinations, so the character must guess which is the correct door to exit the mental maze. Its visual strength seems somewhat wasted to me, mainly because going through doors is somewhat repetitive and nondescript, even crude from a design point of view.
At the same time, these supernatural abilities endow our protagonist with a special genius for investigation. Unfortunately, its playable translation is somewhat clumsy, especially when you have to search for inquiries around the stage without any visual indicative. If you miss any details, you will have to explore the scene thoroughly. This, at first glance, may seem like a plus, an ode to organic exploration. In practice, it gets a bit tedious. Also, one of the problems is that the buttons don't always respond correctly, something that happened to me in Tell me why.
More interesting is the next phase of the investigation, which consists of reconstructing what took place at a crime scene. Depending on different variables, it is possible to modify certain parameters to observe and analyze what happened in reality. The sequence of events comes to life in the Mind Palace, so that we witness past events in real time. If deduction does not work, you can always resort to the technique of trial and error: in this there is only one truth, what really happened. It is not that it is a fresh mechanic, since I have already experienced it in several video games, but it fits well into the playable scheme of the title.
They all protect their secrets
In a small town everyone knows each other. For some it is a kind of prison, a prison from which it is almost impossible to get out. In one of the conversations we have with one of the neighbors who works in the cafeteria, the young woman comments that she would love to leave for good, although she points out that escaping is not so easy. He has the same dialogue with little Joan, who fervently wants to leave town immediately. By interacting with the various characters that live in Basswood, one realizes that they make up a kind of hive mind. They are interconnected, they protect each other, even the police themselves operate in that community swarm that mistrust any attempt to alter the order of things.
At Dontnod Entertainment they know how to understand the characters, develop their relationships, create interesting psychological backgrounds, and sketch diverse and inclusive profiles. Things are not black or white, they have their gray points, like people, like life itself. Sam, far from responding to the usual hero archetype, is a fallible protagonist, like the rest of the Basswood inhabitants. It is understandable that some of his neighbors look at him with suspicion, given that his article buried a tradition inherent in the DNA of the place; others, however, celebrate it in secret. To highlight Sam's relationship with Anna, his ex-girlfriend. Each of their conversations transmits the pain of the breakup, the complex web of feelings that collide with sparks, fueled like a flame by the love trio that was born afterwards. Bitterness, sadness, the hodgepodge of good memories. In the end, he is one of the only characters that can be supported, their destinies are united although they do not know it yet.
Twin mirror and his decisions lead us to the outcome of a story that I have enjoyed, despite the fact that some of its elements become somewhat predictable. This production needs to go one step further, correct errors and evolve its playable approaches. Perhaps an episodic format would have been more appropriate, as long as it went deeper into the characters and the different plot lines. And yet, we are facing a video game more than recommended. Unraveling Basswood's secrets involves uncovering dirty laundry that some are willing to kill for. Will you dare to do it?
Code provided by Bandai Namco