TVE presents Julián Contreras as public relations of a bingo in his debut in 'Días de verano'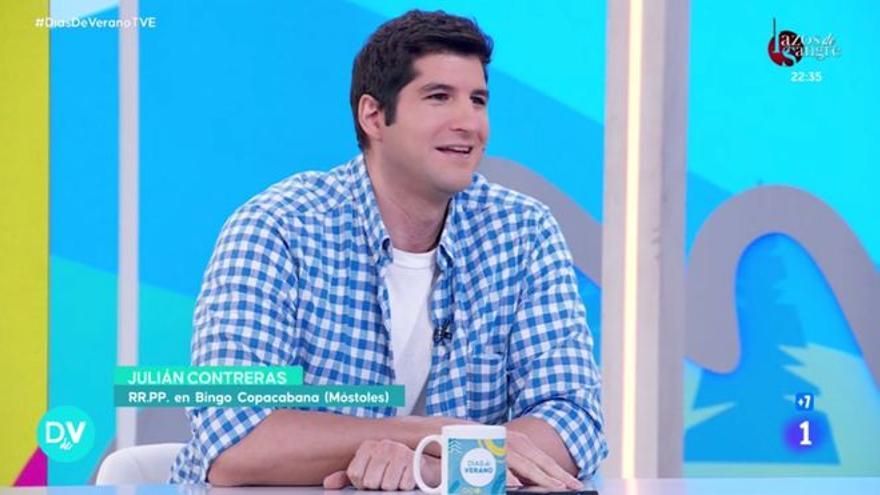 'Summer days' is giving a lot to talk about on social networks after its second installment in the summer programming of TVE. Julián Contreras has debuted with controversy in the new space of the public network when he was presented in a sign as public relations of a bingo hall in Móstoles (Madrid).
This presentation has not gone unnoticed by social networks, which have criticized TVE for this presentation. In fact, Rubén Sánchez, FACUA spokesperson, directly questioned Alberto Garzón, Minister of Consumption, in light of this circumstance: "That TVE sign Julián Contreras as public relations for a bingo It may be a covert advertising practice and your ministry has powers to act on it. Are you going to do it? "
In this way, apart from the controversy generated by this label, Julián Contreras returned to TVE after being a collaborator of 'Corazón in 2018. Carmina Ordoñez's son made his debut as a talk show host in the program presented by Inés Paz at a table composed by Gonzalo Miró, Irene Villa and Mari Pau Domínguez.
This is 'Summer Days', the summer space presented by Inés Paz on TVE
After her stage in 'Liarla Pardo' (laSexta), Inés Paz has returned to RTVE to present 'Días de verano', the new summer magazine of La 1 de TVE. The space has collaborators like the journalist Irene Villa, the filmmaker Félix Sabroso, the writer and economic promoter Marc Vidal, or the presenter Gonzalo Miró, which, according to the press release, will contribute their point of view on the issues to be discussed, anecdotes and their ability to converse in a "casual way, without lacking rigor and fleeing from confrontation."
The common thread of the two hours of the program will be the gathering and, often, in the final part of the program, an important guest will be interviewed who will discover his most unknown, fun and human side. To do this, they will even play the games proposed by the collaborators or they will see themselves in front of the mirror of social networks.