TVE premieres next Tuesday the ninth edition of 'Masterchef': "This year there is no one who comes to provoke"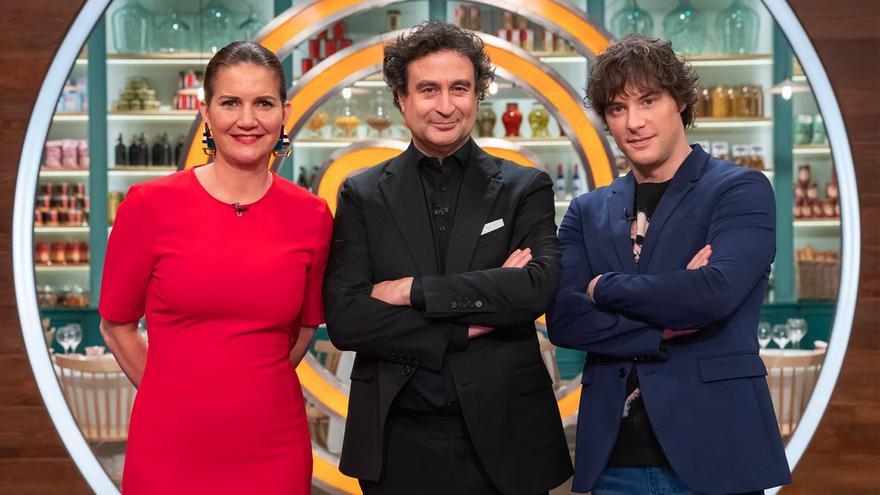 'Masterchef' returns to the rescue of the prime time of La 1. TVE has announced today that its star contest returns with its ninth edition on Tuesday, April 13 at 10:00 p.m.. The culinary talent will receive sixteen new anonymous applicants and this season will complete 200 broadcasts with a special program.
The competition, which will once again be conducted by the program's judges, Jordi Cruz, Pepe Rodríguez and Samantha Vallejo-Nágera, has had a new record of registrations, 70,000. "It is a format without wear", The entertainment director of the public, Toñi Prieto, has pointed out, referring to the audience surge of the previous season: "It was one of the most viewed of 'Masterchef'".
For her part, the CEO of Shine Iberia, Macarena Rey, has emphasized "how difficult it is to record during the pandemic." "We support the hotel industry in the midst of the situation we are experiencing," he highlights. The directive states that "2020 was the year of women in 'Masterchef'", since in all its versions (anonymous, junior, celebrity and the special 'grandparents') it was won by women. "This year women have a great presence," he assures, and advances that it has been a "competitive" casting with "female fighters."
Regarding the controversies that they experienced in past editions, especially the previous one with Saray and his raw partridge, Jordi Cruz affirms: "This year people have come forward with enthusiasm, there is no one to come to provoke." However, Rey does indicate that there will be clashes: "The contestants in this edition are very contested, they have questioned the chefs' evaluations a lot".
"The hardest season but also the most supportive"
As the chain progresses, "the applicants will face the toughest season, but also the most supportive." In addition to donating all surpluses to soup kitchens, it will deliver 350 solidarity menus and pay tribute to the Food Bank volunteers with the help of Antonio Orozco.
The applicants will face challenges that will put their skills to the test: they will cook at 2,000 meters above sea level with a thermal sensation of -12 degrees; they will serve a cocktail at the presentation of a film with Arturo Valls at the Callao cinema; prepare a menu designed by Saul Craviotto for athletes participating in the Tokyo Olympics; they will work under the orders of the restaurant team Les Cols (two stars), or they will be captained by Antony and Henar, aspiring 'MasterChef Junior 8'.
The jury will pay tribute to our main products, challenge applicants to reproduce spectacular wedding cakes from Patricia schmit, to cook international tapas, to use ingredients that the judges have in their refrigerators, they will discover macrobiotic cuisine and a trivia related to talent.