TVE, Antena 3 and Telecinco send their presenters to La Palma through the volcano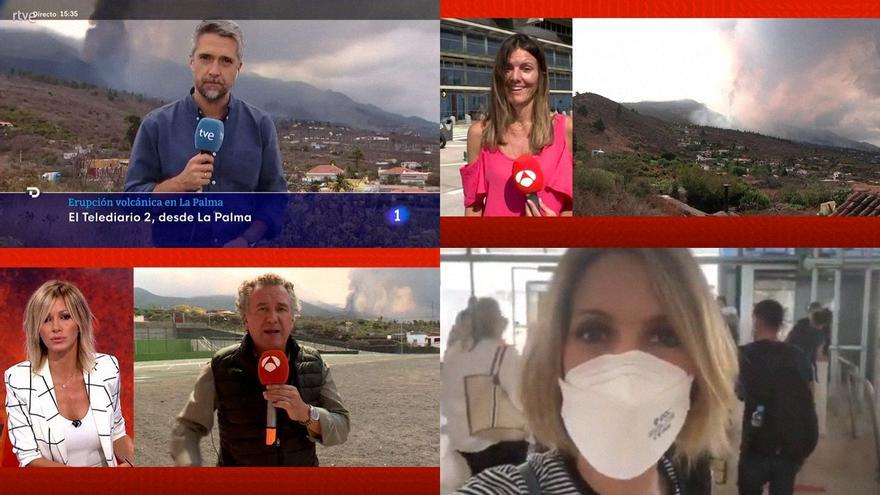 The eruption of La Palma volcano It has mobilized the news teams of the big television networks. Telecinco, Antenna 3 and TVE they have sent some of their leading faces into the area where all eyes are on since Sunday afternoon.
In the case of public television, the first edition of the 'Telediario' led by Ana Blanco has connected live with Carlos Fanganillo from La Palma. The journalist, who presents the newscast at 9:00 p.m., has resumed his role as a reporter to offer the last hour on the advance of the volcanic flow.
This afternoon, the team of 'La hora de La 1' also set sail for the island with Silvia Intxaurrondo in front. The journalist, who left the set last Wednesday to present the program from Estepona due to the Sierra Bermeja fire, will accompany the neighbors and report all the news on Tuesday morning.
In Antena 3, 'Espejo public' has connected from first thing in the morning of this Monday with Roberto Brasero and Himar González, responsible for the chain's meteorological information. The two professionals reported on the spot and also connected with Sandra Golpe's newscast at around 3:00 p.m.
For its part, Pedro Piqueras has gone live from La Palma in the first edition of 'Informativos Telecinco'. "Very few times journalists can cover live what is the eruption of a volcano. We have covered events of all kinds, but this is impressive, "said the veteran communicator.