Trump: "Relax Greta, relax!" | Society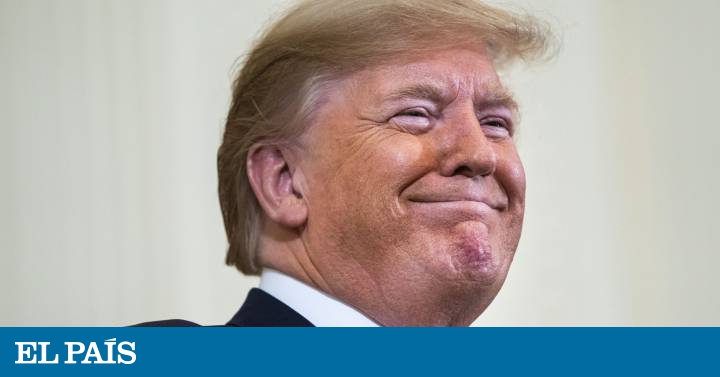 "Relax Greta, relax!" Donald Trump wrote on his Twitter account Wednesday after discovering that Swedish activist Greta Thunberg had been chosen person of the year by the magazine Time. The American president, a well-known denialist of climate change, has described the decision as ridiculous. "Ridicle Greta must work on controlling her anger and then go to see a good old movie with a friend! Relax Greta, relax! ", You can read in the message. Within a few hours, the Swedish activist has changed the biography of her Twitter account using the same words Trump has addressed:" A teenage girl who works in control of his anger. Currently relaxing and watching an old movie with a friend. "
So ridiculous. Greta must work on her Anger Management problem, then go to a good old fashioned movie with a friend! Chill Greta, Chill! https://t.co/M8ZtS8okzE

– Donald J. Trump (@realDonaldTrump) December 12, 2019
It is not the first time that the American leader criticizes Thunberg. Last September, during the UN Climate Action Summit in New York, the president wrote a mocking comment on his Twitter account. The activist had delivered a speech in which she ragedly accused politicians of their inaction. "We are at the beginning of a mass extinction and the only thing you are talking about is money and fairy tales of eternal economic growth," the young woman denounced in tears. To which Trump replied writing with irony: "She seems like a young and happy girl who expects a bright and wonderful future. How nice!". Also on this occasion Thunberg transferred the president's words to his Twitter biography.
Also the ultraconservative president of Brazil has criticized Thunberg after learning that the young woman had been chosen person of the year by Time. Jair Bolsonaro called Wednesday the girl "brat" and assured that the activist had given a "little show"at COP 25 in Madrid. "To everything a brat says, our press — oh, our press for the love of God — gives enormous relevance. Now he's doing his little show at COP25, "said the president in Brasilia. Again on this occasion Thunberg responded to the attack by defining himself on his Twitter account as pirralha, the term used by Bolsonaro which means brat in Portuguese.
On Tuesday, Bolsonaro had already called Thunberg, 16, who condemned the murder of two Guajajara Indians in the Amazonian state of Maranhao. "Indigenous peoples are literally being killed for trying to protect the jungle of illegal deforestation. And again. It is shameful that the world remains silent about this, "wrote the young Swedish woman on Twitter, where she has more than three million followers.
With a strong speech during the COP25 Climate Summit, Thunberg deplored on Wednesday that nothing is being done to stop climate change and accused rich countries of "cheating" citizens with ambitious emissions reduction targets. greenhouse gases. Bolsonaro, who defends the expansion of agricultural and mining activities in the rainforest, said that "any death worries" and that his Government is "contrary to illegal deforestation." Environmental and human rights organizations accuse Bolsonaro of promoting policies that weaken the protection of the environment and Brazilian indigenous peoples.
(tagsToTranslate) trump (t) relax (t) greta (t) US president (t) Brazilian (t) jair bolsonaro (t) criticize (t) activist (t) be (t) name (t) person (t) year (t) magazine (t) time



Source link