Tricks for integration – La Provincia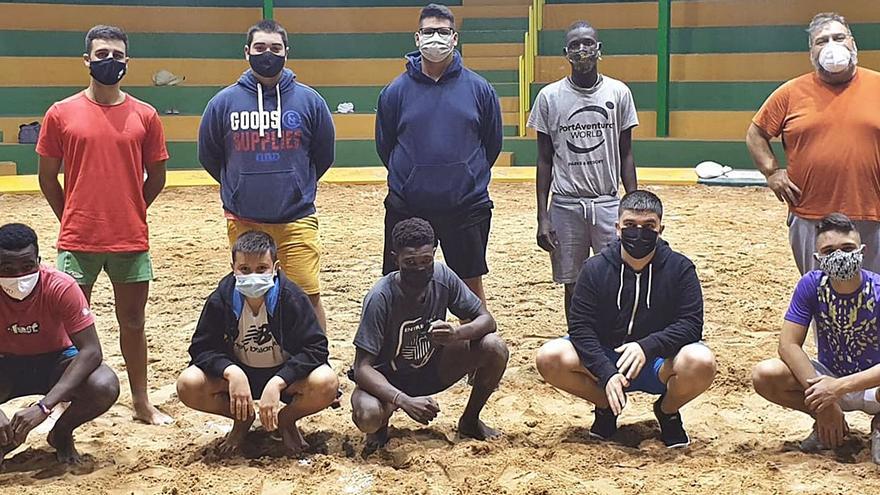 "This is something that came out of them. It had not occurred to us to take them to try the Canarian fight. We have some activity with soccer teams in the area, but it had not crossed our minds that they were interested in the Canarian fight. They told us, we raised it with Unión Gáldar and there they are, wanting to come back, continue and repeat ".
Ibrahima, Lassana and Mahamadou, three of the unaccompanied minors who have arrived in the Canary Islands in cayuco in recent months, asked their educators to do everything possible to open the doors of the Terreros for them. They knew about the Canarian wrestling beforehand, about its similarities with the Senegalese wrestling – also practiced on sand – and they wanted to discover it live. "We spoke with the club and on Tuesday they were for the first day. They will repeat, "continues Ana Martín, director of the center that the Coliseo Association has in the northwestern municipality of Gran Canaria.
In the last classification of struts for this season, whose course is halted due to the pandemic, Mahamadou Camara achieved a historic milestone: being classified as Strut A, the highest category in fighting fields. He is the greatest exponent of the integrating power of the Canarian fight coupled with sporting success. Camara, born in Mali, arrived in a boat at only 14 years old to Los Cristianos (Tenerife) in one of the last blows of the 2006 migration crisis. He found in the struggle an element that has structured his life in the Canary Islands. His case is not unique.
"You have to look into the eyes of these children. It's like they have blood. They must have been terrified to get here. We didn't even think about it, we told them to come, try it and go ahead. We explained to them that we could not catch, because there is still no protocol for it, but that we could do other things ", says Rayco Ramírez, president of Unión Gáldar. "They arrived fearful, scared, with great respect. And when the activity was over, the numbers were being exchanged with the club mates. Can you imagine arriving as a child to another continent without your family? Is it brutality? ", Argues Ramírez.
The Unión Gáldar base began to work a few weeks ago with physical training and psychomotor skills – "they are titans" – at the hands of Jennifer Pérez and Felo Naranjo. A first step before the green light to be able to grab. "Now what we can do is try to transmit values ​​to the boys, our affection and our passion for this sport," he continues.
At the center run by the Coliseo Association, the first it has on the island, 90 adolescents who have arrived on the island coexist. "Every day they ask us the same thing: school," explains Martín, whose organization has been able to educate 22 of them . "We want them to live a normal adolescence while we study the case that each one has," he says. All the boys are protected by the Government of the Canary Islands. "You have to be very desperate to do what they have done: risk your life without anyone by your side. We are very grateful for these gestures, "he says in a promising union.