Tribute to Chaves Nogales in London before his nameless grave | Culture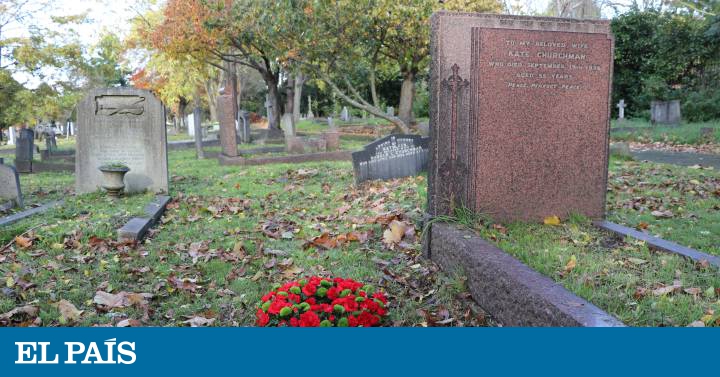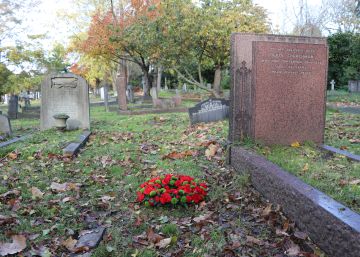 Manuel Chaves Nogales (Seville, 1897-London, 1944) He knew how to combine in his fascinating career as a Spanish and journalist the two positions before the world that he considered most intelligent: that of Mariano José Larra, embozado not to be confused with the Castian Celtiberian display, and that of Pío Baroja, always with his hands on the pockets "in their eagerness to discover some feature of humanity in the gigantic serpent that creeps along the sidewalks."
On a cold and sunny morning, a group of compatriots gathered on Wednesday before the nameless grave where the first modern reporter of Spanish journalism rests, in the London cemetery of North Sheen. The Cervantes Institute wanted this to be the most emotional act of the cycle Heavens So Different from His, which pays tribute to the 80th anniversary of the Republican exile. "A deep moment full of content to vindicate, in times of propaganda and false news, journalism that strives to seek the truth," explained the director of the institution in the British capital, Ignacio Peyró.
The ambassador of Spain, Carlos Bastarreche, and the grandson of Chaves Nogales, Antony Jones, have placed a crown of red roses on the grave. "You don't need a gravestone with your name. There are thousands of gravestones in the hands of many readers, who continue to read his immense work," Antony explains as he shows the copy of With blood and fire That he wanted to bring to the cemetery. The actor and director of the Cervantes Theater (Teatro Cervantes) in London, Jorge de Juan, has read the prologue of that work, which for many followers of Chaves Nogales should be a must-read in schools. "I was what sociologists call a liberal petty bourgeois, a citizen of a democratic and parliamentary republic," the text begins. Writer Andrés Trapiello, who discovered millions of Spaniards as a journalist, wanted to go to North Sheen to pay tribute to the teacher. "We have the right to claim all of them, but perhaps more rightly, all those who understand that Chaves Nogales has been in this tomb for fifty years, without a tombstone, without a date and without a name, for the effort that two Spain had to bury him. He was a witness uncomfortable and the first who denounced that with extremisms a country is not built, "says Trapiello.
The biography of Juan Belmonte (Juan Belmonte, bullfighter; his life and his exploits), a prodigious book that brought together a writer not especially bullfighting and a bullfighter who deciphered life beyond the arena, is the book by which many readers discovered Chaves Nogales. Discreetly, under the London sky, Belmonte's great-granddaughter, Tatiana Beca Osborne, and the great-grandson of the journalist, Alfred Lealman Chaves, gathered to celebrate their common past. He has already decided to change the order of his surnames to become Alfred Chaves. She discovered, by reading her great-grandfather's story, her vocation as a writer. "I read it with 15 years. I have reread it several times throughout my life. For me, the best biography written in Spanish. I already knew the bullfighter, for everything my grandmother told me. With Chaves Nogales I met the person, much more fascinating. He discovered me a great self-taught person who, from a humble position, reached an enormous professional and intellectual height, "Tatiana says.
Chaves Nogales died alone, at age 47, in a London hospital. The Francoist side had put a price on the head of a left-wing Democratic Republican, who remained in his position until the minute he realized, with a premonition that still amazes to read, that there was nothing to do with a country that was willing to annihilate each other with sticks. "From my small personal experience, I can say that a man like me, however insignificant, had contracted enough merits to have been shot by one and the other," he wrote.
From Madrid he fled to Paris. From Paris to London. And in his last four years he was able to direct the Atlantic Pacific Press agency, in front of more than forty journalists, collaborate with the BBC and have his own column in the prestigious Evening Standard Because Chaves Nogales traveled from end to end the troubled world that he had to live, and he knew how to count on a modern and sincere journalism long before he was claimed by figures such as Truman Capote or Norman Mailer. Always from a humble position, always in the background. They give away all the photographs that are preserved of him. Away from the center of the frame, constantly on the side. Observing, writing, listening, analyzing. "The current Company newspapers have or should have a political and religious ideology, which at all times must be clear and clear. What seems superfluous is that each of the contributors, editors and reporters of the newspaper are reiterating day by day his liberal, conservative, socialist or communist faith, to the despair of his readers, "said Chaves Nogales in 1929, in the Herald of Madrid. Of the few photos that reflect his London exile, there is one in which he smiles like a child and extends his legs to the sides as he heads towards the camera mounted on a bicycle. With the happiness of the man who knew how to retain control of his conscience until the last minute, without knowing that he was in the process of supporting that of many compatriots who, like him, had only one "humble truth, an insurmountable hatred of cruelty and stupidity".
. (tagsToTranslate) tribute (t) chaves nogales (t) london (t) grave (t) name (t) act (t) organize (t) government of spain (t) gather (t) great-grandson (t) journalist (t) ) bullfighter (t) belmonte



Source link