Travelers will have to leave a deposit to access discounted train travel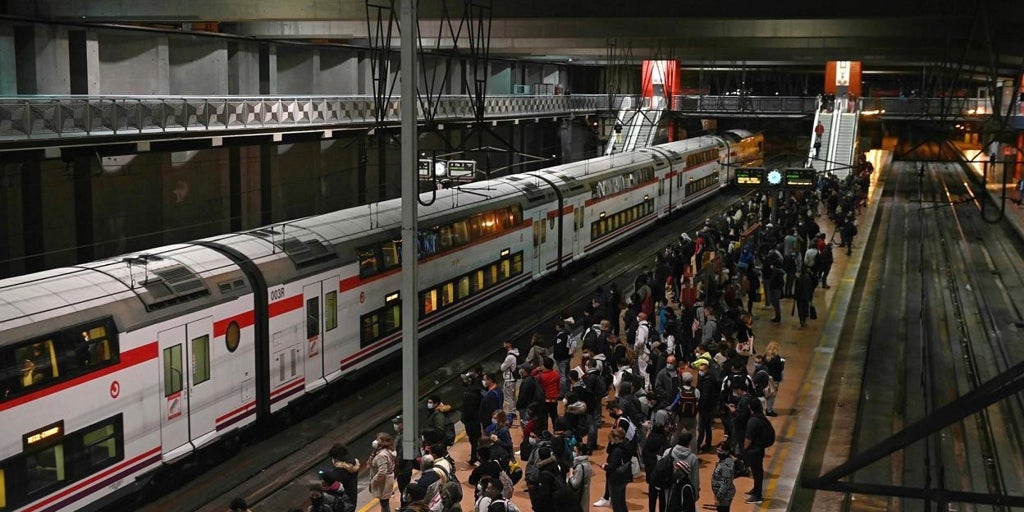 The Government will claim a deposit from travelers who benefit from the 100% discount on trips in Cercanías, Media Distancia and Rodalies. A payment that will be up to 20 euros and that will be returned if 16 trips or more are made with this card. In this way, the Executive intends to guarantee that the measure mainly benefits users who use these public obligation services (osp) on a daily basis.
The Government, which has given the green light this Monday to the bonus in the Council of Ministers, is also studying that the card be personalized, according to sources from the Ministry of Transport, so that only the corresponding person can use it. From the department headed by Raquel Sánchez, however, they claim that the bonus is "easy" and that it comes into force in an organized manner.
The deposit, which will not be included in the decree approved this Monday but will be collected in a later resolution, will be 20 euros in the case of Medium Distance subscriptions and 10 euros in the case of Cercanías. At the end of the four months in which the measure will be in force in principle (between September and December) the amount will be refunded as long as 16 trips are made with the corresponding card.
The discount will cover 100% of the price of multi-trip Suburban, Medium Distance and Rodalies subscriptions. The measure will be in force from next September 1 until next December 31 and, according to the Ministry of Transport, it will allow some 75 million trips to become free.
In addition to this, the Government will subsidize Avant services (a Medium Distance service that circulates at high speed, although without reaching 310 kilometers per hour of the AVE) and certain AVE routes. Specifically, journeys where the travel time is less than 100 minutes and there are no public service obligations (PSO) or framework agreements with competitors will be discounted at 50%.
This discount of 50% of the AVE will go to the lines Madrid-Palencia, Madrid-Zamora, León-Valladolid, Burgos-Madrid, León-Palencia, Burgos-Valladolid, Orense-Zamora, Medina del Campo-Zamora, Palencia-Valladolid , Huesca-Zaragoza, León-Segovia, Segovia-Palencia and Segovia-Zamora. From Transport they have explained that this last bonus is intended in particular for journeys that can be made daily.
Likewise, andl transport pass It will have a 30% aid that can be increased up to 50% with funds from the communities and municipalities that require it. The deadline for regions to request this additional percentage has just been extended to August 16.
To cope with the flood of demand that these measures will generate, Renfe plans to immediately incorporate an additional thousand employees, who will start working during the first days that the bonus is in force.