Transgrancanaria and Hospitales San Roque join forces for the next three years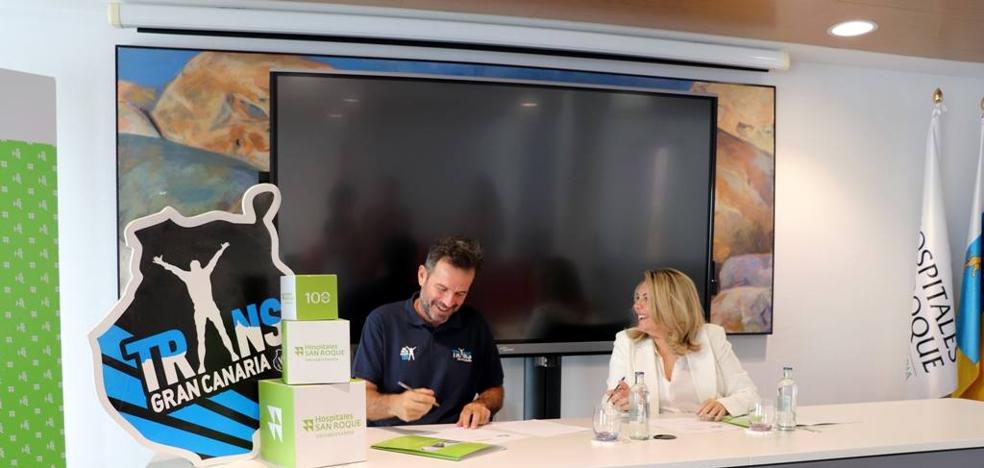 mountain race
The sports event will have an extensive health device that will guarantee the best medical coverage and the highest quality for the participants
Transgrancanaria, through its organizer Arista, and San Roque University Hospitals, have formalized during the morning of today, Friday, July 29, a
agreement by which the health group will carry out during the next three editions of the mountain race an extensive health device that will be responsible for the health of the thousands of participants. Also ,
registered runners will be able to benefit from preferential conditions in medical services.
The union of the two companies, both leaders in their sector, will provide one of the best healthcare coverage ever remembered at sporting events held in the Canary Islands, with a
Unprecedented deployment of emergency teams to attend in the shortest possible time and with the greatest guarantees any type of incident that occurs in the different modalities.
Registered runners will also benefit from special conditions in sports medical check-ups, including check-ups to obtain the mandatory medical certificate to be able to be on the starting line of the Advanced and Classic races.
The vice president of San Roque University Hospitals, Herminia Rodriguez Rosas, indicates that "being able to provide health services for a race as important as the Transgrancanaria, with worldwide repercussions, is a great challenge that we face with great enthusiasm." He also points out that from San Roque University Hospitals
«We are going to offer, without a doubt, the best healthcare and we are going to make an effort so that both our runners and those who come from abroad feel protected»especially "at a time like this, after a pandemic, it is very important to show that we are a destination that can provide high-quality health services."
For his part, Fernando González, director of Arista, points out that
"Transgrancanaria is an international test that needs international health coverage." With this agreement signed with Hospitales Universitarios San Roque, adds González, "we have a very promising future" with a health service "one of the best in the world and with which we know that we are going to live up to what runners need" .
A novel strategy

González advances that for the next edition "a completely new strategy" is already being defined for the treatment of injuries and pathologies related to mountain races. The director of Arista explains that "the refreshment points will have medical services" and that "there will be a novel evacuation system, with very exhaustive location systems for these services to have a much more noticeable presence in the race than in previous years ». Ferdinand
González also emphasizes the post-race service that will be offered to the participants, "which will be at the level of Transgrancanaria" with a goal hospital that, moreover, will be less than four minutes from Hospitales Universitarios San Roque in Maspalomas. This proximity will allow "a high quality service and very fast attention".
San Roque University Hospitals is the only private hospital with the "University" category in all of the Canary Islands. The health group has six centers spread over Gran Canaria, Lanzarote and Cape Verde. They have all the top-level medical-surgical specialties, including Sports Cardiology, Medical Check-ups, Dermatology, Nutrition and Dietetics, Traumatology and Orthopedic Surgery, among others; in order to provide the best and highest quality coverage to resident and foreign athletes.
with this agreementSan Roque University Hospitals
joins other brands such as Fred Olsen Express, Expomeloneras, 226ERS, Hotel Vital Suites Residencia and RS Sonocom Audiovisuales as main sponsors of Transgrancanaria, which also receives the support of the Cabildo de Gran Canaria through Gran Canaria Tourism and the Insular Sports Institute, Promotur of the Government of the Canary Islands, Maspalomas Costa Canaria and the City Councils of Las Palmas de Gran Canaria, San Bartolomé de Tirajana, Tejeda and Agaete.