Training for the future in the summer of the pandemic | Economy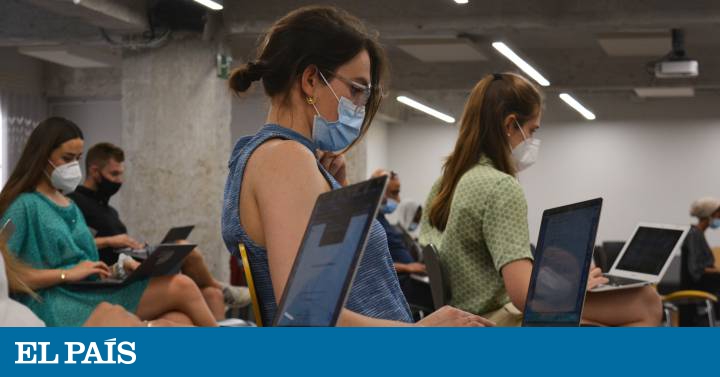 The health, economic and social crisis caused by covid-19 has had a great impact on all spheres of our lives, radically transforming our way of working, relating and interacting with the world. Teleworking has grown exponentially and society has adapted to forced marches into a digital environment, accelerating a transformation that otherwise would have taken years. However, and although it is still early to glimpse the long-term effects that the pandemic will have on the world, it is easy to intuit that these changes will be reflected in a labor market that already demands new skills and competencies. The summer program Summer Booster, of IE University, analyzes from July 27 to August 28 what it will take to succeed after the pandemic and how to boost entrepreneurial activity.
How to succeed in the post-health crisis world? That is the question that the students try to answer through the five modules that this summer program develops, and which focus on innovation, digital transformation, responsible leadership, skills for the work of the future and even the role of art and the humanities as essential intellectual tools: "Incorporating art and the humanities in our lives is gaining more prominence now, in an uncertain environment in which we are forced to rethink our business models and where the development of thought is most necessary critical, global and sustainable to understand and manage the reality of the world ", affirms Marta Pérez, director of the office of the dean of IE University.
"The first thing is to adapt very quickly. You have to learn to learn, get used to being constantly pending ... What many companies have done is get involved to make video conferences by Zoom or Teams, but it is not that, you have to find new ways of working, "he explains. Ricardo Pérez, director of IE's Master in Management and Digital Business and professor of the program. All this, through a flexible methodology of "liquid learning" that, thanks to technology, allows combining face-to-face activities with online activities and interacting with students connected remotely in real time.
Develop key competencies
The development of digital skills and the importance of innovation appear as two of the fundamental factors in a future job marked by a high degree of uncertainty. "It is necessary to understand how innovation and technology are redefining companies, the new values ​​in the ecosystem and how innovation can help companies help themselves," says Pérez. In an increasingly digitized world, in which 46% of Spanish companies have problems finding technological profiles they need, understanding this is essential regardless of the productive sector in which we find ourselves; as well as developing transversal skills such as critical thinking, creative problem solving, emotional intelligence, and an entrepreneurial spirit.
But business and society are interdependent, and this makes it more demanding: "Companies are powerful tools for economic development, but we must not forget responsibility towards people and our environment," says Pérez. "Values-based behavior is a competitive advantage, and doing the right thing is the right thing." For this reason, IE's summer program addresses current issues such as sustainability, business ethics and corporate culture, empathy or compassion.
An entrepreneurship camp
The other formative journey of Summer booster It is an intensive entrepreneurship program, in which, in person, students test ideas and experience what it is to build a business. Inspired by the IE Business School International MBA Entrepreneurship Laboratory, and assisted by professors, experts, investors and mentors, students gradually acquire everything they need, from the genesis of the project and the entrepreneur's tools to the fundamentals of marketing and knowledge of the ecosystem of startups.
Among the students of this initiative is Melitza López, a Colombian lawyer who, after completing a master's degree in Transnational Business Law, decided to join this entrepreneurship camp. Along with other students from countries such as Spain, the United States, Chile, Argentina or Russia, she goes to the IE campus every day, where (after a medical check-up) she works together with two other compatriots on her own idea,. It depends on how it evolves.
Every Friday they make a presentation. "In the first week, we presented the ideas, the problem that we are going to solve, the profile of the clients ... And in the coming Fridays, it will become more complex: the cost model, the financial model, etc." Although in his case all attend in person, there are also mixed teams with students on-line. And they all interact thanks to the tools of the Zoom platform, "with which you interact with those who are remotely, you can see the presentations more closely, vote and even record them," he explains.
"Without a doubt, the pandemic will bring a different entrepreneurial ecosystem, but let's not forget that entrepreneurs are good managers of uncertainty," reflects Pérez. "New opportunities and sectors will emerge in which to start and open new lines of business and rebuild the business fabric. Many new creations of disruption are born (…), and innovation initiatives related to digitization or video conferencing will be born, with finance technologies (Fintech), of Education (Edtech) and for health (e-health), in addition to sectors such as cybersecurity and virtual reality. And what is certain is that they will be more resilient, creative, sustainable, supportive and humane companies ".

Learn to develop and validate your business ideas, establish a business model and a business growth strategy, and acquire the necessary technological skills.

Learn about the current economic environment and its peculiarities, as well as the characteristics of the digital society and the different sources and strategies of innovation.

Train to create a company from scratch, and learn about aspects such as corporate heritage and the civil, criminal, administrative and social responsibility of companies, as well as the relevant legal, tax and labor procedures.