Tourism of excellence launches its decalogue to reactivate the sector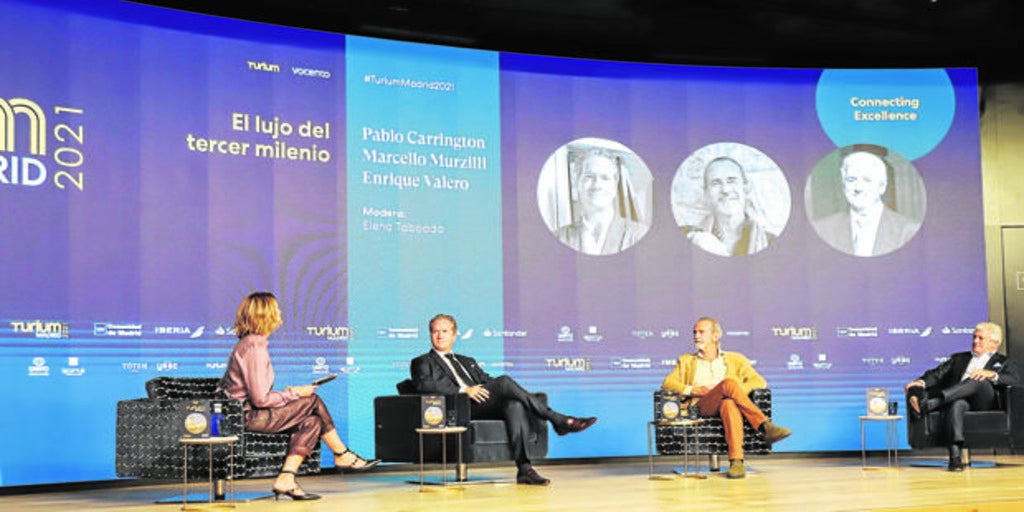 Updated:
Keep

Spain has barely recovered 25% of the tourism that visited us before the pandemic. Until the end of August, only 15 million travelers had crossed our borders, a quarter of the number in the same period of 2019. As soon as these INE data were published, Minister Reyes Maroto issued a statement in which she said that these figures confirmed "the international tourism recovery trend "and I was confident that by the end of the year those 15 million would have become 40. But the reality is less optimistic.
Between January and August 2021, the accumulated expenditure of international visitors was 16,898 million, also a quarter of the 63,899 million reached in the same period of 2019. A lost money that will never return.
However, the pandemic has only been one more blow for a sector that was already showing signs of exhaustion and that requires a change of model. With the contribution of businessmen, hoteliers, architects, public managers and visionaries of the sector gathered at the Turium Madrid 2021 forum, we have prepared this decalogue for the recovery of the sector.
1. Think about revenue, not travelers
What good is it that 18 million British tourists visit us every year if their spending is only equivalent to that of 180,000 Chinese travelers? A paradigm shift is needed to focus on American tourists, who spend an average of 264 euros per day of stay, and on Asians and the Middle East, whose spending is above 300. Raise the average daily spending by tourist (154 euros) should be the objective, and not exceed the 83.7 million international travelers that Spain received in 2019.
2. Seasonalize, decentralize
Open all of Spain to tourism and all year round. The objective was pointed out at Turium Madrid 2021 by the Secretary of State for Tourism, Fernando Valdes. An example of the benefits of doing so is Palma. "The volume of tourists at certain times of the year began to be such that if we did not do something we ran the risk of loading the model. So we are committed to innovation, sustainability and diversifying the offer to seasonally adjust it, "he says. Pedro Homar, Palma 365 Tourism Managing Director. The solution has been a success and has earned Palma the seal of Segittur's Smart Tourist Destination (DTI).
3. Specialize medium-sized cities
Betting on an attraction and exploiting it is key for the tourist development of medium-sized cities. Malaga and Santander are two examples. "Our cities have better tourist opportunities than the big ones, which are more uncomfortable", aim Francisco de la Torre, Mayor of Malaga, turned into the cultural mecca of southern Europe thanks to the successive opening of landmarks such as the Picasso Museum, the Carmen Thyssen Museum, the Pompidou Center or the Collection of the Russian Museum of Saint Petersburg. Santander tries to replicate that success «Working on three axes: culture, sustainable mobility and technology, to attract an international tourist with cultural interests and who is looking for 'green Spain' ", says its mayor, Equal gem.
4. Enhance the value of the local
The pandemic crisis has changed tourism. The traveler is now looking for less crowded environments, more connected with nature. Look for art, gastronomy, culture, heritage, crafts, experiences … Marcello Murzilli, creator of Eremito, the first spiritual retreat in Europe, believes that this trend will prevail. "The new luxury – he says – is to have a garden and see happy customers because he himself has picked the tomato that he is going to eat ». "Luxury is also free time – assuresto Pablo Carrington, CEO of Marugal Distinctive Management–, and whoever owns it and uses it to travel seeks to understand local customs, gastronomy and crafts, which are values ​​that must be promoted ".
5. Create transformative experiences
Focusing on unique experiences is another trend advocated by tourism of excellence. Thierry Teyssier, creator of 700,000 heures, the world's first wandering hotel, points out his keys: «The client must be the center of everything And as a hotelier you must understand that if he wants to have breakfast at two in the afternoon, you must give it to him. And you must offer them unique experiences that transcend and transform.
6. Facilitate the arrival of tourists
«You can have the best museums, the best gastronomy and the best hotels, that if no tourists come, nothing is useful to you. And for that you need airplanes ». Juan Cierco, Corporate Director of Iberia, believes that if Spain aspires to lead in tourism of excellence, it must further facilitate the arrival of travelers. "You have to have a powerful and competitive airport hub", explains, and "have a fast and effective visa policy", assures Almudena Maíllo, Councilor delegate for Tourism of the Madrid City Council. That hub is Barajas, but to fulfill its mission it lacks three parameters that Paris, Frankfurt or Amsterdam do have: a competitive cargo terminal, a predominant airline and, above all, versatility throughout the globe and not only towards Latin America.
7. Promote external marketing
By 2030, 2.4 billion Asian citizens will have jumped into the middle class. 2.4 billion potential travelers who, if they do not land in Spain, will do so elsewhere in Europe. "These tourists, in addition to facilitating their arrival, must be convinced with more tactical campaigns, more segmented and to use their language," says Almudena Maíllo.
8. Develop a sustainable urbanism
Before the pandemic, Barcelona was among the 20 most visited cities in the world, according to Euromonitor International. Twelve million annual tourists swirled in just 15 square kilometers. Relieving this pressure is vital to attract quality tourism, according to the Turium Madrid 2021 architecture table. «Architecture and urban planning must respond to tourist needs, but also to those of the neighbors ", says Rodia Valladares. For that, according to Javier Pioz, father of bionic architecture, "you have to think about urban planning, not just buildings." Mark Fenwick, author of the first removable and reusable football stadium, believes that the solution is to move towards a sustainable architecture "that fosters relationships between people and theirs with the environment."
9. Digitize the tourism ecosystem
«The journey does not begin when the tourist arrives at the destination, but when he begins to think about it. And it does not end when he leaves, "he explains. Maria Estrella Torrecilla, General Director of Tourism of the Junta de Castilla y León. For this task it is essential to digitize all the actors (national and local administrations, hotels, agencies, shops …). The objective is that the traveler, before setting foot in Spain, knows what he is going to find and that before, during and after the trip he has everything at his fingertips.
10. Train to improve quality
"A destination should not only be excellent facilities or excellent gastronomy; there must be a cohesion between the entire ecosystem to achieve excellence ", he says Carlos Diez de la Lastra, CEO of Les Roches Marbella. "You can invest in large facilities, but it is the people who provide the service who provide quality and warmth," he points out, "and that is only built with time, effort and training."