Tourism and ULPGC will promote the study and research of the Camino de Santiago between Volcanoes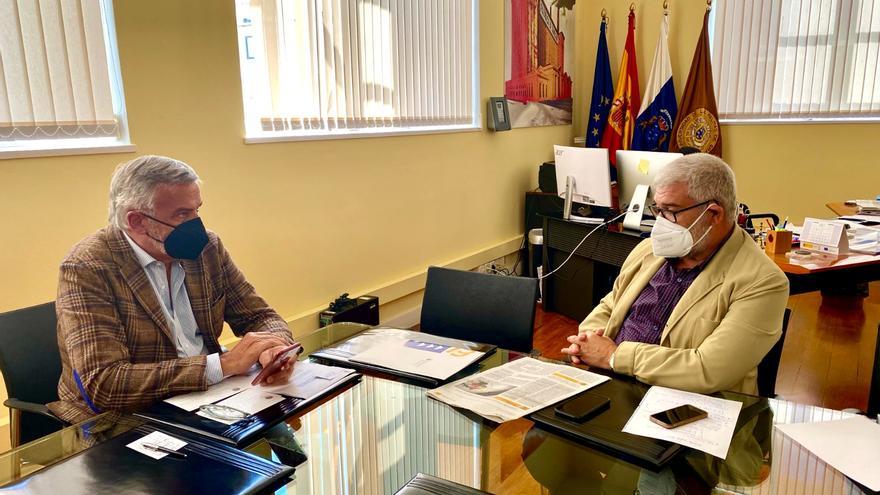 The Rector of the ULPGC, Lluís Serra Majem, and the Director General of Tourism Planning and Promotion of the Government of the Canary Islands, Ciprián Rivas Fernández, have held an institutional meeting with the aim of carry out research and development actions for the so-called Camino de Santiago between Volcanoes, which runs from Maspalomas to Gáldar, passing through Tunte, on the island of Gran Canaria.
In 2021 and 2022 the Holy Year is celebrated, which on this occasion is not only celebrated the year in which the Feast of Santiago Apóstol coincides on Sunday, but has been increased by one more year given the limitations of the pandemic and for everyone pilgrims can do it properly.
The objective shared by the Ministry of Tourism and the Rector's Office is lead the study of this path, that backbones the territory from a physical, navigation and milky way aspect, and overlaps different areas and university departments, from Geography, History, Economy, Tourism, Geology, Botany, Anthropology, Physical Activity and Sports or Nutrition, among others .
The Rector Lluís Serra will lead this impulse to the different university departments to work on this line led by the towns of Tunte and Gáldar that have the two holy doors.
The history of the Camino de Santiago de Gran Canaria passes between legends of sailors and the history of the conquest of Gran Canaria itself.Some theories are based on legends about some Galician sailors, who left from Galicia and who carried the Holy Image of Santiago and they were surprised by a strong surf.
Another theory is based on conquest. In 1486 the Guanches won the battle of Ajodar in Gáldar. The troops arrive at the center of Gáldar and set up a field hospital that becomes the Church of Advocation to Santiago Apóstol.
In 1965, by the papal bull of Juan XXIII, Gran Canaria was granted the celebration of the Jacobean Holy Year, with the same privileges as the Galician and Compostela jubilee year. It was Pope John Paul II, from the 1993 Jacobean Holy Year, who granted him that honor in perpetuum, so that the jubilee of the Jacobean holy years can be celebrated and won in his two temples: Tunte and Gáldar. With this, the faithful receive the same grace as the pilgrims who come to Santiago de Compostela.
Two papal bulls were awarded to the temples of the Royal City of Santiago de los Caballeros de Gáldar and the temple of Tunte, in the Villa de San Bartolomé de Tirajana. Therefore, the Camino de Santiago de Gran Canaria was born based on the pilgrimage between the two Jacobean temples.