Tour of a hostile landscape | Culture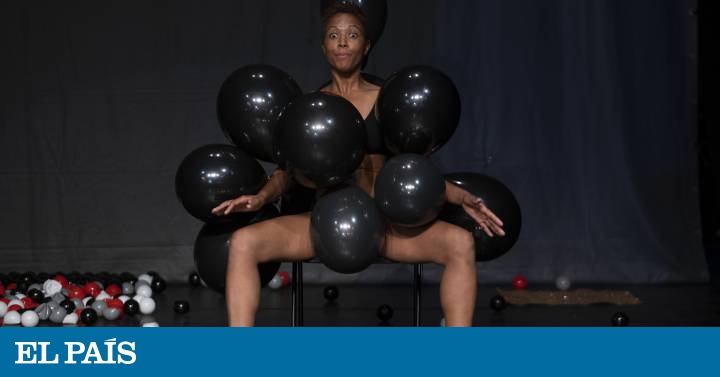 "Say you have fallen off the wall so that your mother does not end up in jail. 'I was seven years old, my mother was not well. I repeat it again and again: it was not bad, but it was not well ..." Violet He makes this reflection perched on a table. She remembers how her father raped her, how everyone around her was silent and the string of lies with which they rushed to cover the crime: "What about me? I wanted to break up with everything." This is part of one of the seven scenes of Violet Black The invisible color, the monologue that premieres on Wednesday 4 in the La Fundición de Sevilla room starring actress Viviane Araujo and with the stage direction of Fernando Lima
"Violeta is any woman, many spectators can feel identified with the character that speaks of sexist violence at different levels, it is not only about condemning rapes; but also other behaviors that reify women. We wanted to release now, close to the Day of Women, because our protagonist is, despite everything, a fighting girl who wants to live and does not want to be a victim, "says Fernando Lima, choreographer and Brazilian dancer based in Seville since 1992, this Monday at the break of One of the essays.
"I have been wanting to work on this topic for some time to also incorporate personal experiences. About 10 years ago I introduced myself to castings in Madrid and the South Americans they only offer us roles as whores or maids, even more to those who are black or have different accents. This, for example, we have included in the end, as a nod to the directors who box us, "says Viviane Araujo (Belo Horizonte, Brazil, 40 years). The actress, who has been in Spain for 15 years and is tanned in series of television like Down there, Aida or The one that is coming, he commissioned the text to the Sevillian José Tomás Retamero, who opens in the dramaturgy with this work, and is also the producer of the show.
"The monologue is the construction of a very personal, hostile landscape, through which Violeta is going through and incorporating real situations, which she has suffered or has seen closely. It is a hard subject that we deal with a lot of poetry and some strokes of humor" , says the director who in 1997 created his own company, El Punto! Dance Theater, and has performed contemporary montages such as Under Construction, within the voice or Aminals' Party, With hip hop dancers. Lima (Belo Horizonte, 51 years old) has resumed his role as theater director and also plans to premiere, on April 24 in Almada, a montage with which the Portuguese company La Crème de la Crème, by Anabela Mira, will celebrate 20 years.
The production, lasting one hour and with music by Manuel J. Ballena, includes a video by Óscar Clemente, draws a young woman who has decided not to flee and face the hostile environment that surrounds her firmly. The actress, who already faced another monologue -Susi, the thing is very black— by the hand of Elena Bolaños, sometimes embodies a funny Violet who gets carried away by nostalgia in the face of some memories: "I loved my father disaster," he says to clarify later that he was "beer tester in a local factory" and Remember his huge belly parapeted behind some black balloons that represent the bulky body of his father.
The play, which can also be seen on Day 5, speaks of the violet revolution through a character of the same color, Violeta, who moves with the lyric of the choreographies of Fernando Lima - although this production is not about dance, but of scenic movement - he sings a rap, plays the drum and dares to proclaim his freedom.