Torres: «The toilets are still our soldiers in this battle»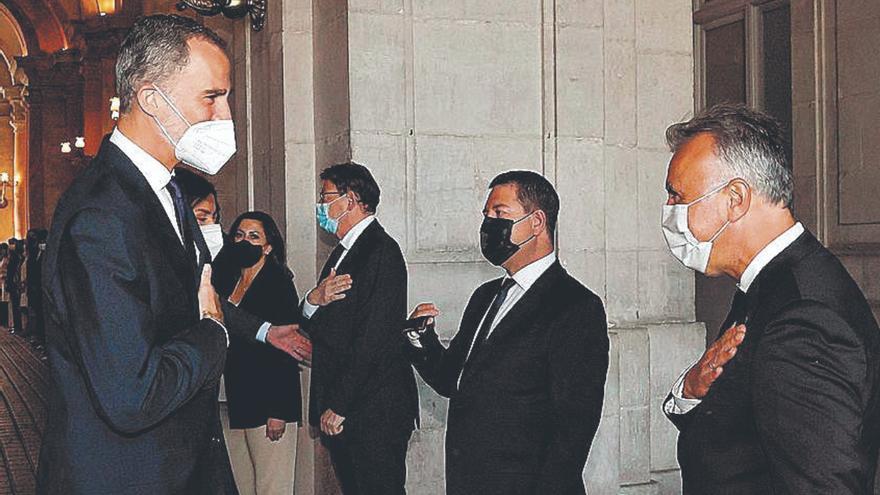 The president of the Canary Islands, Ángel Víctor Torres, attended yesterday the State tribute to the victims of the coronavirus and recognition of health personnel that has been held in the Plaza de la Armería of the Royal Palace, in Madrid, an act that he has described as " emotional, full of feeling, recognition and also a commitment to the immediate future ".
He recalled the tribute that was held in the same place a year ago, with the difference that the vaccine had not arrived then, and wanted to remind the seven women who that Sunday, December 27, received the first doses in the Canary Islands. "These days I have been with the first of them, with Doria Anatolia, and she is in perfect health, therefore I believe that the most important thing for the present and the future is to trust the vaccine," Ángel Víctor Torres said yesterday, as reported the presidential cabinet. Torres stressed that the Canary Islands are doing an important job since almost 50 percent of the target population has already received the complete vaccination schedule, and the good rate of vaccination with between 26,000 and 30,000 doses inoculated in the last days.
In the same way that he highlighted the need to look to the future, the president asked not to forget the past, "the suffering, the despair", and made reference to the parents of the deceased young health professional who were present at the tribute, and to the " heartbreaking words "from those who intervened. "Medical personnel have been and continue to be our soldiers in this tremendous battle against this enemy that is the coronavirus," said Torres, while acknowledging that "we have to be happy because Spain enjoys magnificent health."
Regarding the decision of the Constitutional Court to declare the confinement unconstitutional, the president stressed that it has been a decision "that has led to a wide internal debate, since it has come out with six votes to five, which shows that we are not facing a unanimous criterion of the members of the Tribunal ". "In the same way that I respect the decision, I have to say that I do not share it, because immediate decisions had to be taken, because the state of alarm was later transferred to the Spanish Parliament and the first of the extensions, for example, the approval was practically unanimous. . The Government of Spain did what it had to do ", Torres concluded.