Torres, president of BBVA, earned 6.9 million and its CEO 5.1 million in 2019 | Economy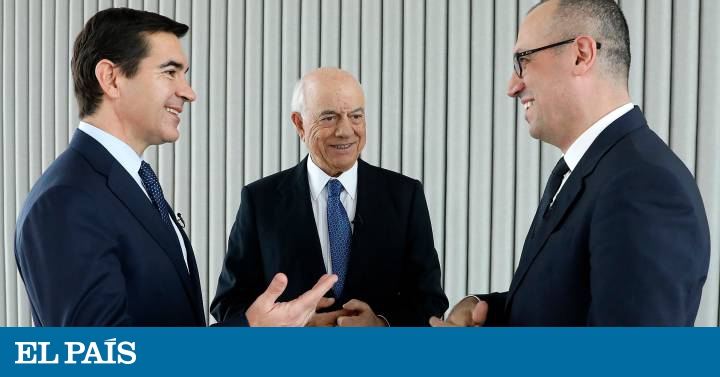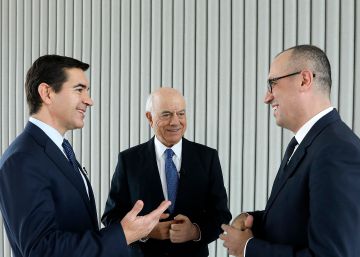 The president of BBVA, Carlos Torres, had a compensation of 6.9 million in 2019, according to the data provided by the bank to the National Securities Market Commission (CNMV). TOrres was named in December 2018, Like the CEO, Onur Genç, who received 5.1 million.
Torres has entered a total of 5,013 million euros; 3.93 million in cash and another 1.08 as part of the share compensation plan, as the bank declares as compensation accrued by the company in 2019. In addition, as a contribution to savings systems it has earned another 1,919 million euros, which They are broken down into 1.64 million in their pension plan and 278,000 euros in insurance premiums that were set in 2017. That makes a total of 6.9 million in the year. If you took into account the 2019 bonus that Torres will charge this year, the amount would rise to about 7.4 million euros. In addition, the president of BBVA already accumulates a pension fund of 21.58 million euros after this new contribution.
Onur Genç, who held the position of Torres when on January 1 he became president, has received 5,126 million, including 141,000 euros in insurance premiums. Although both his salary and bonus are lower than those of Torres, Genç has added an additional 1.1 million euros as a mobility supplement (506,000 euros) and a fixed supplement instead of a contribution to the pension plan (654,000 euros). He is the only director who enjoys this type of compensation. Also if the bonus allocated in 2019 is added and will be delivered this year, the total amount of Genç would rise to 6.33 million euros.
These remunerations will be submitted to the shareholders meeting, which will be held on March 14 in Bilbao, where the profit and loss account of the group that presents a 35% profit drop due to the devaluation of the US subsidiary will be analyzed.
The cash remuneration of the total board of directors totaled 12.35 million, and the total accrued in 2019 was 15.46 million euros, 1% less than a year earlier.
After Torres and Genç, the third manager who won the most was José Manuel González-Páramo, with 1.6 million euros, including 250,000 euros of contribution to his retirement plan and 150,000 euros in insurance premiums. González-Páramo and two other directorsCarlos Loring Martínez de Irujo and Tomás Alfaro Drake will leave the entity's board after the shareholders meeting on March 13. González-Páramo closed 2019 with a pension fund of 1.4 million and its contract includes the right to receive two fixed remuneration annuities (834,000 euros each) as a non-competition agreement.
Among the non-executive directors, the highest salaries correspond to Jaime Caruana (527,000 euros), Juan Pi (507,000 euros) and José Miguel Andrés Torrecillas (490,000 euros).
According to BBVA's remuneration policy, 40% of the variable remuneration is paid during the first quarter of 2020, half in shares and half in cash, while 60% is deferred and is subject to multiannual indicators that can reduce and even Zero that part. The deferred part will not begin to be paid until 2023 and will be divided into 60% in shares and the rest in cash.
BBVA recalled that all variable remuneration is subject to 'malus' clauses, which could limit or prevent collection, and 'clawback' clauses, which could allow the entity to recover amounts already paid.
Gonzalez's bonus
BBVA does not indicate in its remuneration report that it has paid any payments to former President Francisco González, charged in the BBVA-Villarejo case and indicated by the prosecution as responsible for the hiring of Commissioner Villarejo in the framework of a spying scheme for businessmen, politicians and journalists. Last year BBVA did indicate that González I hadn't received the bonus from the variable remuneration plan started in 2015.
This outstanding amount amounted to 528,000 euros plus 110,814 shares of the bank. This year the entity does not clarify if González has received any payment. Having not been a director during the year 2019, their eventual remuneration would also not appear in the information on remuneration to the board and senior management.
The bank, of course, indicates that it has not proceeded to claim to González the return of all or part of its variable remuneration. "As of the date of this Report, there has been no reduction or claim for the return of the variable remuneration of the executive directors in application of the applicable remuneration policies." Last year the entity did specify that "under the same settlement and payment system applicable to executive directors", there are clauses that allow to reduce the variable remuneration after its assignment (clause) malus) either the claim of this by the bank (clause clawback).
In addition to the fixed and variable salary, former President González had accumulated 79 million euros in the pension plan paid by the entity.
On the other hand, BBVA has highlighted that 2019 was the first year in which sustainability was incorporated as a non-financial indicator of the president's variable remuneration. In 2020, the CEO will also have an indicator to measure the bank's strategic commitment to climate change and sustainable development.
Thus, Torres Vila had compensation indicators related to employee commitment, strategic transformation and sustainability, while Genç had objectives related to competitive dynamics (ROE and efficiency), employee commitment, finances and risks (capital) and strategic transformation.