Torres in the face of the damage caused by Hermine: "The Village needs certain attention"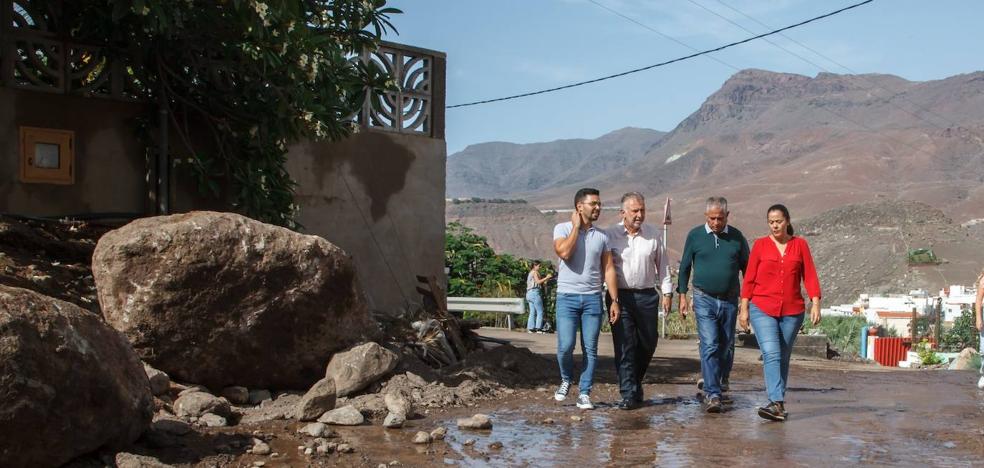 tormenta tropical
The Canarian president visited the municipality and highlighted its "uniqueness, remoteness and connection problems"
"I am here with objective criteria". These have been some of the words pronounced by the president of the Canary Islands, Ángel Víctor Torres, during his visit to the Gran Canaria municipality of
The villagein order to assess the damage caused by tropical storm Hermine.
Torres highlighted that, although La Aldea is not the municipality that has recorded the most rainfall, it is one of the most affected, given its
"singularity, its distance and its connection problem", which require a «determined attention». So much so, he detailed, that he was cut off from both the north and the center.
The Village, continued the president,
"has suffered major damage" that are being quantified by the Government of the Canary Islands to "help as much as possible" the villagers.
Faced with this situation, he recalled that "important work is being done" within the framework of the Highway Agreement for
"unite this municipality with the rest of the island of Gran Canaria"which is expected to end in December this year.
The president of the Canary Islands supervises the most affected points of La Aldea. /

presidency of the government of the canaries/ twitter

At the same time, Torres listed the different effects that Hermine has had on La Aldea: damage to homes, agricultural spaces, infrastructure or roads, something that, he pointed out, summarizes the passage of the tropical storm over the archipelago. "The most important thing is that there has been no personal damage," the president clarified.
In this sense, the mayor of La Aldea, Tomás Pérez, also highlighted the
damage suffered by the desalination plant and the network that carries the impulse to the deposits; "Work is still being done on it to put in the tubes that have been lost," he added.
As for the roads, the mayor added that the one that connects the municipality with the center of the island is still closed to traffic and that it will remain so for about four days, since "there is a lot of material on that road."
Torres pointed out, thus, that the important thing now is to "help" so that
"The Village has plenty of water and the best possible roads".
Pérez, in turn, wanted to thank the Canarian president for his visit to the municipality to "see on the ground the damage that this tropical storm has caused and that has been substantial in many places in the municipality."
Finally, he emphasized that they will promote an elaboration of damages and that, with this proposal, they will address the corresponding administrations, "both the Cabildo Insular de Gran Canaria and the Government of the Canary Islands", to which he added that the local administration will also cargo, as well as the insurance companies, which are the ones that deal with citizen demands.