Torres guarantees that the green rate will not be paid between islands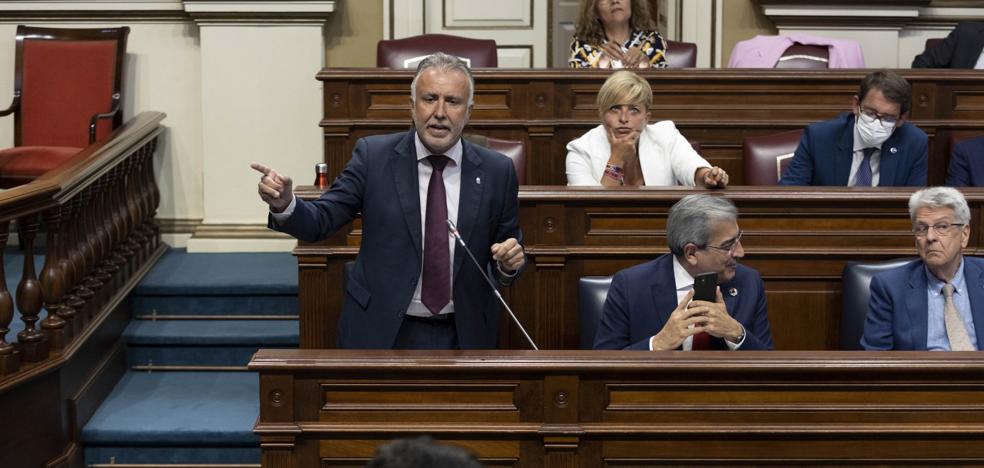 The outermost regions (ORs) had already obtained exemption from this tax on connections with their respective countries
sea ​​and air transport between the islands will be exempt until 2030 from the
green rate to the fuel that the EU will impose from 2024. This was stated yesterday by the president of the Canary Islands,
Angel Victor Torresin the plenary session of Parliament in response to a question from the spokesman for the Gomeran Socialist Association (ASG), Casimiro Curbelo.
The archipelago, along with the rest of the outermost regions, had already obtained from the European Commission that this tax not be applied for another eight years on connections with their respective countries.
At the meeting of the ORs held last week in Martinique, it was possible to extend the exemption from the current limit, next year, until 2030, an issue for which it had the support of the
Commissioner for Cohesion and Reforms, Elizabeth Ferrera.
Union of the ORs

To achieve this, the coincidence of the French presidency of the EU and the
ORs conference held in Martinique, where the most remote regions of the EU joined together under the protection of their special status in the community treaty.
Then, President Torres indicated that it was an important step but that it did not satisfy the demands of these remote territories. The objective was, in addition to the temporary, that it also be applied to the
connections between the islands, matter that, according to the president, is already guaranteed.
"The most difficult" remains pending, according to Torres: that this green tax not be applied to flights from any country with the Canary Islands, something that would benefit the driving force of the island's economy, tourism.
However, the president recognizes the difficulties of introducing changes in international regulations and even so, he was convinced that «
the situation can be saved».
In exchange for these achievements, the president reiterated, the Canary Islands offer "the commitment that it is showing in reducing carbon dioxide emissions, with its sustainable development agenda and with its clear commitment to renewable energies."
NATO deployment

On the other hand, the president affirmed yesterday that the regional Executive is in favor of "everything that implies greater security" for the archipelago, in relation to the
NATO deployment against Africa, which will be proposed by the Government of Spain at the next summit of said organization.
Torres, in the plenary session of Parliament and in response to a question from the PP about the implications that the deployment of NATO against Africa would have for the Canary Islands, insisted that the Canary Executive is in favor of activating
the south flank of the international military organization, which "will not be easy to happen because there are countries that support and others do not".
The president warned that the zone of
the sahel it can be a breeding ground for security problems, hence the importance of this strategy.