Torrent among the 'Kings of the night'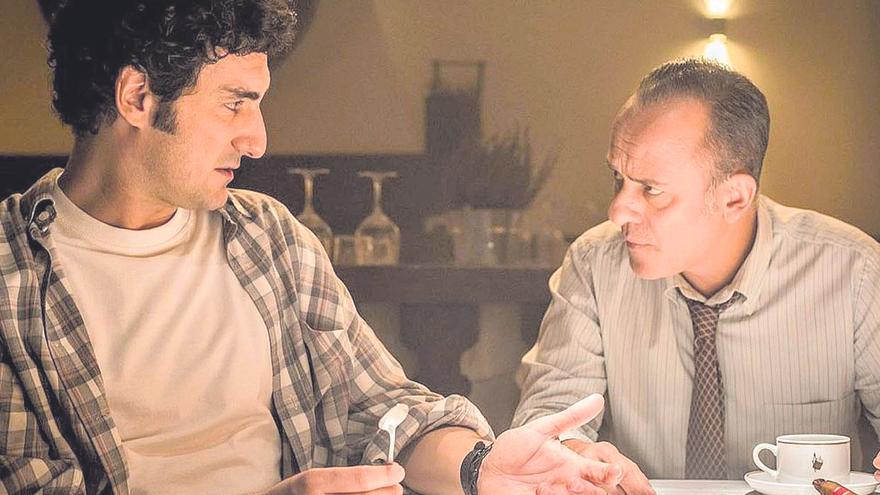 If the inventors, creators, promoters and programmers of the idea had not promoted, tolerated, allowed and even supported the idea that Reyes de la noche (Movistar +) is life, the duel, the radio pulse lived between two monsters of In the early morning of the sports radio broadcast, José María García and José Ramón de la Morena, none of them would have agreed to talk about the series, the first two chapters that have been broadcast. Moreover, many of those consulted, such as Roberto Gómez, García's true swordsman for years, or Odón Martí, a reporter with De la Morena for many seasons, declined to comment: "With what they have told me, it is better not to see her, the truth." Others have wanted to explain what for them is a "fraud", a "joke", a "mockery", a "pantomime", a "ridiculous" and, above all, a discredit of the journalistic profession, especially of reporters sports and even the sport itself.
In this sense, all those consulted recognize that not even the poster that appears, white on black, at the beginning of each chapter, that of «this series, although it is inspired by some recent events in the history of radio in Spain, is a work of fiction and, as such, its characters and plots do not correspond to reality ... », saves its authors from criticism nor, above all, prevents viewers (given, I insist, the publicity used in the launch of the series) consider that García and De la Morena, their teams, their way of understanding the trade and working was as reflected in the series. «I can only say that the series, everything, the environment, the speech, the script, what they say, how they say it, how they act, seems so far from reality that, in fact, it is not only pure fiction but also it goes beyond fiction: everything is invented, starting with the fact that De la Morena never replaced García nor, of course, betrayed him », says Alfredo Relaño, former director of the newspaper As, the sports manager of the SER at the time and inventor of Of the Morena. «The series, or what I have seen so far, seems to me to have an air of prison, badass, which denigrates our profession, does a lot of damage to the real protagonists of that brilliant radio era and also ridicules football, the footballers, who seem illiterate, building an illegal thief case and with a black butler, please! Really, it seems to me like a torrentian version of Torrente, yes, unnecessary, shabby, sad, "Relaño continues.
Caricature
For Relaño, in addition, the series, yes, pure fiction, starts not only with a mistake, but with a lie: «It was not a betrayal. García was fired and De la Morena, at that time, was almost, almost, an intern, well, he had a program in the afternoon, but not to mention treason! He doesn't go to COPE either, he goes home and then comes back, but to Antena-3 Radio. What's more, I remember that the last thing De la Morena did the day García left was to take a picture with him. It may be fiction, but causing misunderstandings is not good, I insist, when people sit in front of the television sensing that it is the life of García and De la Morena ".
The series does not prevent viewers from considering that García and De la Morena were as reflected in fiction
For Relaño the series is "in bad taste." "Let's see," he adds, "I'm convinced that it will make people laugh, I don't doubt it, but based, I insist, on an unfortunate Torrentian version of that time." Everything is caricatured, but very far from reality. Of course, I'm afraid sports journalism doesn't look great. I fear that if this is the start, the worst must be yet to come. "One is used to seeing series of all kinds and they are all of the highest quality or so it seems to me," says José Joaquín Brotons, another of the monsters of that magnificent radio era and, precisely, the man who, in principle, replaced García in the SER. «The first thing I want to say is that the creators of fiction have lost a unique opportunity to reflect that time that kept millions of fans glued to transistors every morning. And, instead of making a serious, documented product (by the way, I'm afraid they haven't talked to any of us), they have made an easy series, tacky, neither comedy nor fiction, totally far from reality and truth, that leaves the image of the radio and sports journalism on the floor ».
Brotons points out that "it was not a confrontation of characters, but of chains and, of course, I refuse to share the goodness that reflects the character of De la Morena and the chulería, the pimp and despotism with which they identify García. I spent six years with García and I never heard him speak like that, treat people like that and, of course, it is false that he sucked at the Church. García did not go out to the newsroom to give birth to his editors, reporters or collaborators. That they had respect for him and, sometimes, fear, does not mean that he went around saying 'touch my cock, look how hard I have it' after having given a news, please! García never spoke in those terms and, in that sense, everything seems very harmful to me.
"The creators of fiction have lost a unique opportunity to reflect that time"
Brotons believes that everything in the series "is misrepresented, not fictionalized." What there is no doubt, Brotons says, is that Garcia's power was immense, enormous. "They called García even the ministers. García supervised the contracts of Ladislao Kubala as a coach or those of Poli Díaz as a boxer. The second floor of Gran Vía, 32 was a tremendous center of power but, of course, never with that humorous tone that the series describes, let alone! ». Brotons says that the day the SER fires García, a Spain-Poland game is going to be played. "I was with several footballers in the studio to comment on the game and when they found out that García had just been fired, they got up and told me that they were leaving: 'We are here for García and if he is not there, we will not paint anything '". Brotons acknowledges that "García was García, yes, of course, but García helped a lot of people and I will never remember him as a despot, a pimp and a pimp, never." «I do not want to say much about the series but, of course, the little I have seen seems to me a mockery of our profession and work.
"It seems to me from Pajares and Esteso, I don't know, it's fiction, of course it's fiction! Because any resemblance to reality is pure fiction, indeed," says Pipi Estrada, one of García's reporters from that time and caricatured in the series as a playboy. "I think it is a series that must be seen with a sense of humor, almost as if it were cartoons and not as something that was like that, real."
"The series seems to me to have a prisoner and badass air that denigrates our profession"
Regarding the reporter who is supposed to be him, Estrada considers that "that slick is not me, among other things because I am not that cool, really. I was, I am, an information worker who became a reporter under García's journalistic culture, of which I feel very proud because with him we worked from dawn to dusk, with rigor and enormous tension, under the premise of making the least mistake number of times possible. That is to say, few. And, of course, Estrada insists on the thesis that García was not as reflected in the beginning of Reyes de la noche. «García did not represent arrogance, nor arrogance and he did represent the pride of the fighter, the winner and the one who enjoys, like the most, a journalistic triumph, of course he does! And he had many, many, throughout his career. And he always said: 'Today we won, tomorrow I don't know' ». Pipi would have been delighted if the creators of the series had spoken with all the reporters who lived through that time "because then they would have been able to make a truly authentic series, from a golden age of radio and sports journalism that does not appear here very well stopped, no »