'Top Star' premieres location on Saturday night: 'laSexta Noche' and 'Wonder' will be its rivals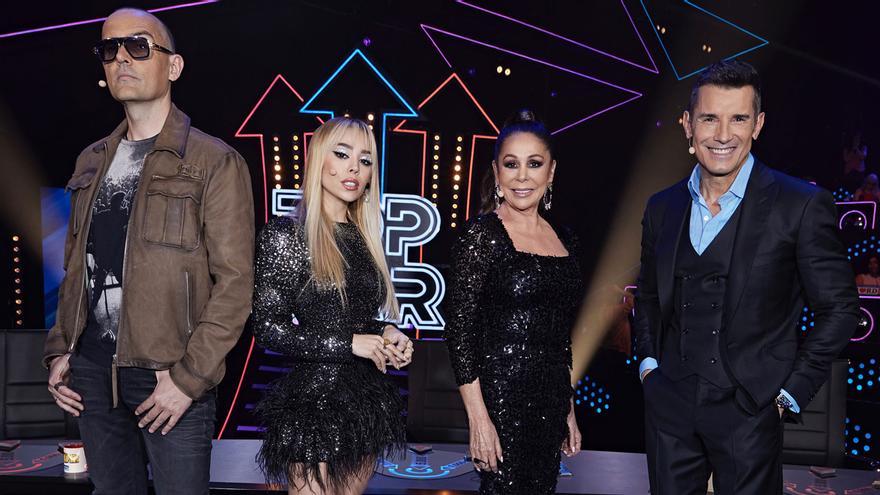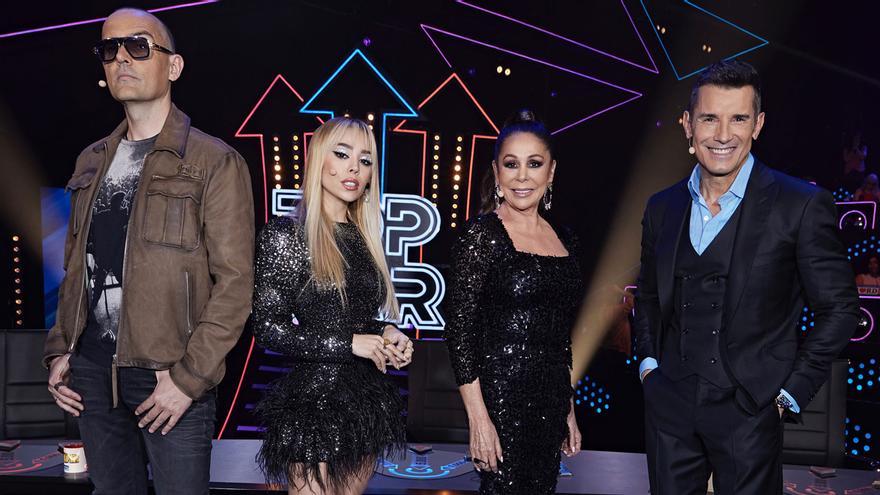 'Top Star' return tonight (22:00 hours) to Telecinco. After two weeks of hiatus, the talent show of Jesús Vázquez opens its location in prime time on Saturday with a new gala full of tension: Isabel Pantoja will face a member of 'Los 50' due to their differences of opinion. "Now I'm going to speak because I understand more than you. That from the start ", will come to say the tonadillera.
Risto Mejide will intervene in the conflict, which arose in a delivery in which nine artists grouped together in these categories will sing: 'My land', in which three great defenders of their roots will perform; 'Teach me to sing', which will feature three contestants who have grown up surrounded by musical talent in their respective families; and 'I live for her', in which one of the artists will make Isabel Pantoja with his version of 'It's my mother', by his brother Agustín.
Cinema in Antena 3, Cuatro and La 1
For its part, like every Saturday, Antena 3 bets on the cinema. The main channel of Atresmedia broadcasts the emotional 'Wonder' (10:00 p.m.), starring Jacob tremblay ('The room'). The tape introduces us to Auggie Pullman, a child who was born with a facial malformation.
After ten years of hospital in hospital and long periods at home, he will face a great challenge: attending school for the first time. Thanks to the support of his parents, Isabel (Julia Roberts) and Nate (Owen Wilson), Auggie will try to fit in with his new classmates and teachers, showing that despite his physique he is a child like any other.
Movie night also in Cuatro with 'All the truth' (22:00 hours). Defense attorney Richard Ramsay (Keanu Reeves) works on a complicated case: he must defend a 17-year-old who is accused of having murdered his rich father. Ramsay recruits Janelle to help him in his task, determined to discover the truth about what happened that day.
Julianne Moore leads the cast of 'Gloria Bell', the dramatic comedy that La 1 broadcasts at 10:00 p.m. Gloria is a free-spirited divorced woman who spends her days at a boring office job and her nights on the dance floor, drifting to the nightclubs in Los Angeles. Her unstable happiness changes the day she meets Arnold (John Turturro), emerging a new and unexpected romance full of emotions and complications.
Revilla visits 'laSexta noche'
After more than a year without stepping on a set, Miguel Ángel Revilla returns to 'the Sixth Night' (9:00 p.m.). In addition, the talk shows will analyze the current panorama with Luis María Ansón. Rafa Sánchez (ex from La Unión) will put the musical note, while Boticaria García will tell what advice from influencers we should not pay attention to.