Top Gestión invests 600 million euros for the development of 1,200 luxury homes in Fuengirola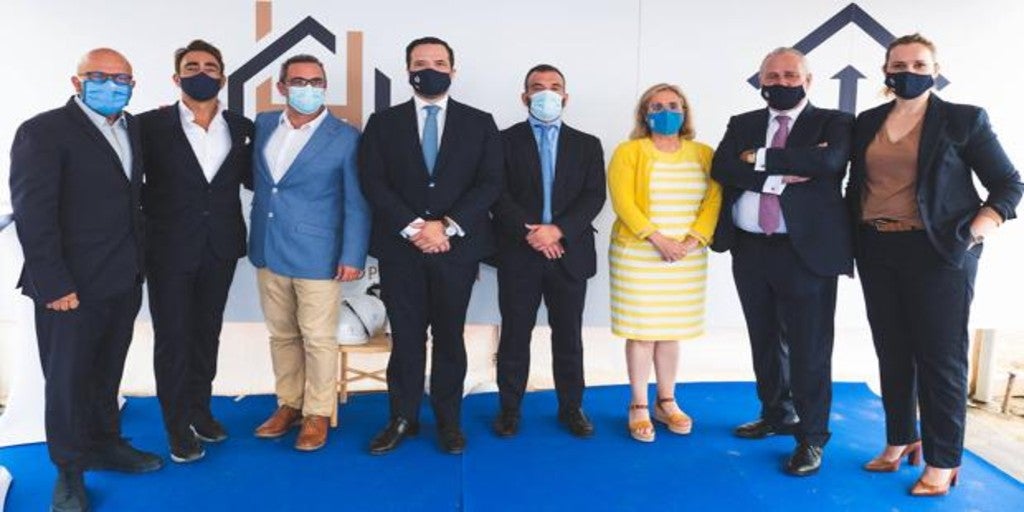 Updated:
Keep

The promoter Top Management has laid, together with the construction company Alza Obras y Servicios and the marketing company Higuerón Resort, the first stone of its new luxury housing project in the heart of the Costa del Sol, Lomas del Higuerón, which will involve an investment of 600 million euros and will have 1,200 homes.
The event was attended by the mayor of the city of Fuengirola, Ana María Mula; Oscar Presa and María Emilia Alarcón, CEOs of Top Gestión, Tomás Alarcón, president of the group; Carlos Martín, general director of Alza Obras y Servicios; Ismael Mérida, architect of Lomas del Higuerón and Javier Rodríguez, CEO of Higuerón Resort.
Top Gestión is promoting its expansion by betting on Higuerón, in Fuengirola, together with Higuerón Resort, specialized in the development of top-quality homes that combine design, innovation, technology and respect for the environment, and the construction company Alza Obras y Servicios that carries 30 years with more than 20,000 constructions to date.
Lomas del Higuerón is a promotion formed by 1,200 luxury homes in the heart of the Costa del Sol, which will involve an investment of 600 million euros over the next few years. Higuerón Resort has achieved an accelerated sales rate in the first two weeks of commercialization.
During the act, he has buried himself under this first stone an urn containing representative objects such as the newspaper of the day, the Fuengirola flag, plans signed by the architect of the development, and legal tender coins.
Javier Rodríguez pointed out the uniqueness of each of the Higuerón Resort projects and the company's commitment "to continue offering a unique concept where exclusivity and the Mediterranean lifestyle are masterfully blended". For his part, Oscar Presa stressed that "Top Gestión today fulfills one of its dreams by launching one of our largest projects, which will directly and indirectly employ more than 1,500 local companies and businesses."
For her part, the Mayor of Fuengirola has declared that it is "hopeful and exciting to see how investments of this caliber arrive in Fuengirola, a city full of present and future, which has an ambitious work of projection to grow its brand and support employment local".
The first two phases of the project, Lomas 3 and Lomas 4, They will consist of 66 homes in total. And in less than a month the marketing of 300 homes will begin.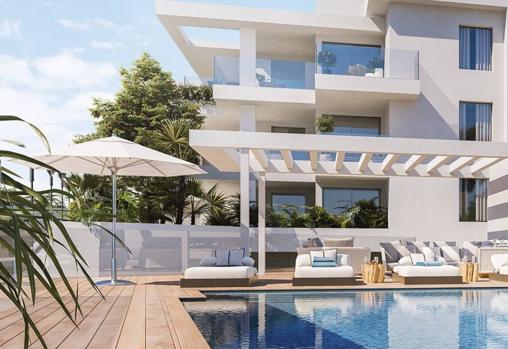 A differential luxury project
Lomas del Higuerón is a differential luxury project in which buyers can choose different types of homes: spacious penthouses, bright apartments and villas that can be adapted to the needs and tastes of its future residents.
In addition, each phase will have common garden areas, an outdoor pool, a 'coworking' space, a gym, play areas for the little ones and another series of leisure and relaxation spaces such as a solarium or private gardens, which make this residential an oasis of quality of life. In addition, during the first year, tenants will be able to enjoy all the services and facilities of Higuerón Resort, such as the spa or the gym, thanks to the Platinum card.
Always starting from the extreme quality, the Lomas del Higuerón homes have a modern, sustainable and differential style, in which great importance is given to the environment and the nature that surrounds them.
Strategic location
Fifteen minutes from the centers of Malaga and Marbella, with a strategic location on the hillside of Fuengirola, and with spectacular views of the Mediterranean and the Bay of Fuengirola, Lomas del Higuerón pays special attention to its environment and nature.
It is an area with more than 120,000 green areas, where the more than 320 days of sunshine a year allow us to be a benchmark for activities throughout the year. Its mild temperatures and proximity to ports and beaches will invite you to want to enjoy a varied activity in front of the sea.