Tony Spina leaves the set of 'Temptations' after arguing with Nagore and Sandra Barneda: "I don't happen there"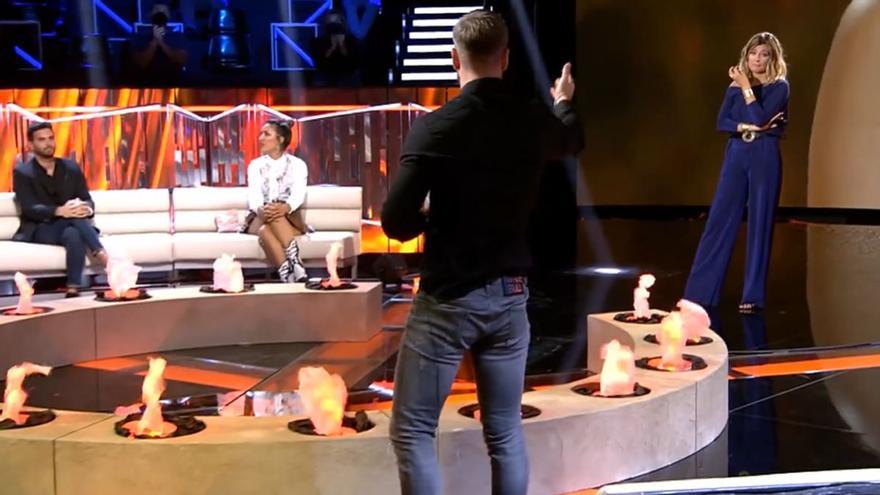 This Monday there was a moment of maximum tension on the set of 'The debate of temptations'. Tony spina, current couple of Marta Peñate, He went to the program to comment on the 'circle of fire' between his girlfriend and Mayka, the participant with whom he had a love story during the past year. However, the Italian ended up leaving the studio after an argument with Sandra Barneda and Nagore Robles.
Tony explained that Mayka had spoken "very badly" of him and that he had told "intimate things" about their relationship, but preferred not to go into details. Seeing that her guest was closing in on the band, the presenter gave him a wake-up call and reminded him of the reason why he had come to the debate: "Hey, Tony, if you're here, it's to clarify something, son. If not, you can grab it and leave the set, because you're not telling anything.".
At that moment, the former contestant of 'MYHYV' faced Sandra and insisted that he was not going to talk more about the subject: "What are we talking about? I'm saying, that he has told very ugly things. Do you want me to tell them here right now? Well, I'm not going to count them! " "They are intimate things between us," he said to the astonishment of the driver: "But what kind, son? I'm not telling you to specify.".
It was then that Nagore Robles entered the discussion to make Tony's attitude ugly: "Honestly, I think both you and Marta are a bit of a smoker in this story.". "I think she is being offended …", the collaborator began to argue without being able to finish due to the interruption of the guest: "If they speak ill of your partner, you don't care?" "Let's see if you don't talk all the time and when I talk, you talk," she snapped.
Visibly pissed off, the former 'Survivors' contestant got up from his seat to leave the set: "Well gentlemen, I am not going to go through there. Thank you very much for the invitation and that it goes well". A reaction that surprised Barneda, who settled this issue with a dart: "Maybe we'll see you specifying on another set and not in The Debate of Temptations."