Toni Cantó, willing to sign for the Risto program after leaving Ciudadanos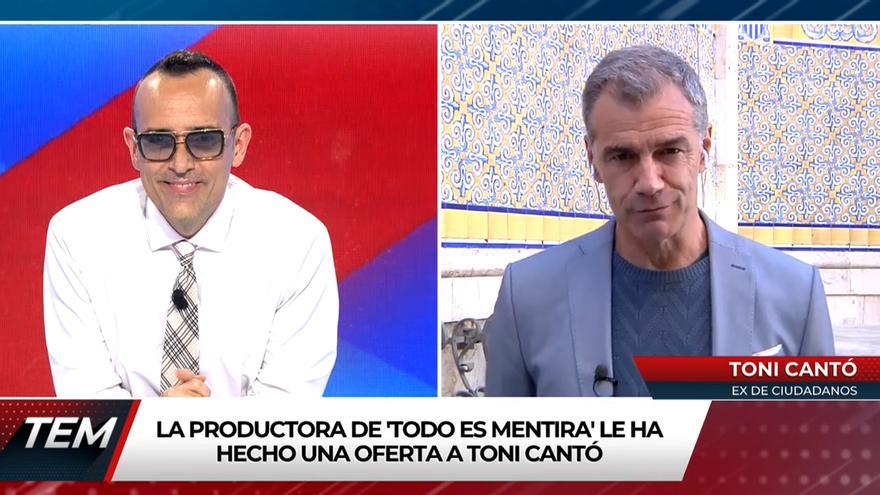 One day after announcing his resignation of the Executive of Citizens, Toni Cantó has received several job offers. The former coordinator of the orange party in the Valencian Community studies join the 'Todo es lie' team as a collaborator, according to himself he has recognized this Tuesday in an interview with Risto Mejide.
He sang, he has explained that he wants "disconnect to rest and close wounds" For a season, he has confirmed that he has received offers from various television production companies. "On no island or anything like that," he said with a laugh, thus discarding his participation in 'Survivors'.
Risto Mejide has recognized directly that La Fábrica de la Tele, responsible for 'Everything is a lie', is one of the production companies that are tempting the former politician of the orange formation: "It's us. One of the offers comes from this house, this chain and this program."
"From here I formalize the offer for you to come as a talk show whenever you want," the presenter has launched. "I want you to specify one thing for me. I want to know who will be my boss, if you or Marta Flich. She has been at my service in the past and I want to know if the roles are going to change now, "Cantó joked after listening to Risto.
"You have left it to me. I think Marta," replied the presenter of 'Everything is a lie', while his partner, by allusions, was in favor of this. "Come on, let's start the negotiation", has finished Toni Cantó, who could join the team of 'Todo es lie' in the coming weeks.