Tomorrowland will bid farewell to 2020 with an online festival on New Year's Eve | Blog Miss Festivals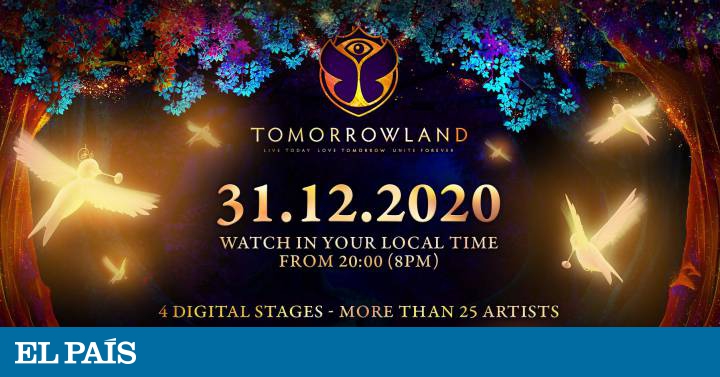 Tomorrowland, the most famous electronic music festival in the world, announced today that it will hold a new virtual edition on New Year's Eve to reissue the worldwide success of its digital premiere, this past July. With the traditional New Year's party favors on stand by due to the pandemic, the Belgian event expects thousands of Spaniards to connect online – as in summer – to say goodbye to 2020 and welcome the New Year by dancing with the best DJs in the world. In this way, the music will sound from 20:00 in the afternoon until 3:00 in the morning.
This new digital project is called Tomorrowland 12/31/2020 and will follow the path of his predecessor, Tomorrowland Around the World: It will be a sophisticated audiovisual entertainment experience halfway between cinema, music and video games. It can be viewed from any computer, smartphone or tablet by paying an access ticket that will have a value of 20 euros and will go on sale on Tuesday, November 17 on the festival website. For those who are not going to spend the last night of the year in Spain or in the same planetary longitude, the organization has adapted the broadcast to 27 different time zones.
The name of the new imaginary Tomorrowland venue will be NAOZ, it will have 4 stages, and it will be designed with the latest technologies in 3D, video production and special effects. Precisely, these days the performances of European DJs are being recorded in Boom (Belgium) in front of a huge green chroma key screen.
With this formula and the spectacular quality of its digital graphics, Tomorrowland has revolutionized the broadcast of music events online, setting a new standard for technical and visual quality. In fact, this summer, a million people from all over the world were able to enjoy the show live from their homes and the festival even managed to square the numbers.
The poster for this particular Christmas edition of Tomorrowland is headed by David Guetta, the brand new award for the best DJ in the world, awarded annually by the British magazine Dj Mag. Along with him will perform electronic stars such as Major Lazer, Armin van Buuren, Martin Garrix, Dimitri Vegas & Like Mike, Charlotte de Witte or Meduza. In the program, the presence of hip-hop legend Snoop Dogg is also confirmed.
Full poster