Together against climate change: Zero emissions target :: Iberian Press for Santander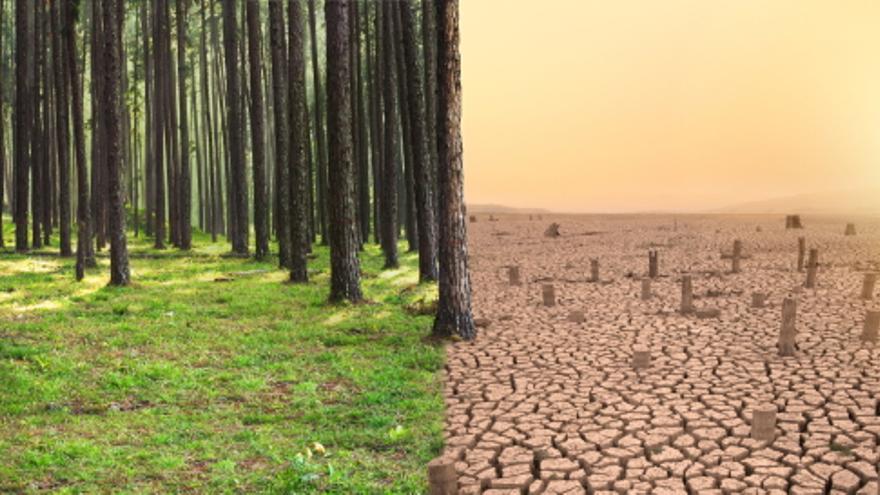 CO emissionstwo They are the main causes of global warming and their concentration in the atmosphere is currently 40% higher than the level recorded at the beginning of industrialization. How to stop it?

Cecilia Vega |
Climate change is a global emergency. Increasingly hot summers, melting ice at the poles, extreme droughts, floods or food shortages for hundreds of millions of people are just the first warning signs of a phenomenon that, if not reversed, would jeopardize the survival of future generations.
In the Paris Agreement, signed in 2015 by most of the world's countries, the commitment to limit global warming so that the average temperature of the planet does not exceed 2 degrees Celsius with respect to pre-industrial values. The key lies in the reduction of CO emissionstwo.
The commitment has to come from social agents, industries, services, banks, companies and individuals. Each and every one of us can provide solutions to move towards a low carbon economy and, therefore, citizens and consumers are among the most important actors.
In this sense, there are many actions that we can take in our daily lives, from traveling in a sustainable way, prioritizing the use of public transport or cycling, to reduce energy consumption at home, recycle and promote the use of renewable energy. Only in this way will we avoid a global catastrophe.
Recovery

environment using drones

We are not alone in this endeavor. Large companies, as influential agents and agents of social change, must play a key role in the fight against climate change and the long-awaited transition towards a green economy, one that maintains that it is possible to achieve social well-being while reducing ecological threats and, consequently, economic and humanitarian ones.

It is the case of Santander Bank. As part of its commitment to the health of the planet and its already achieved goal of being 100% carbon neutral in its own activity, it maintains, among other measures, an emissions compensation plan through five projects in different countries, endorsed and verified by the most recognized international standards; one of them is CO2 Revolution, a project through which the green roofs affected by the fire suffered in 2012 in the Alto Tajo Natural Park, a protected area of ​​high ecological value, are being restored.

Reforestation is carried out by means of a novel massive plantation system, using Big data to select the optimal places, smart seeds with the best survival guarantee and drones for planting that reduce costs and increase volume. Combine the use of the latest technology with the work of people found in risk of social exclusion, with the aim of generating a double impact: environmental (for the recovery of the natural space) and social (for its contribution to the progress of the most vulnerable groups).
Goal 2050:
zero net emissions
As part of its Responsible Banking strategy, Santander has also increased its efforts and commitments to achieve net zero emissions in 2050 accompanying its clients in their transition towards a more sustainable economic model, placing special focus on the activity of its clients.
From its decarbonization plan, the entity has announced that in 2030 it will stop offering financial services to electricity generation customers whose income depends more than 10% on coal and it will completely eliminate your exposure to thermal coal mining around the world.
In this context, the entity, which is world leader in financing renewable energy projects, maintains its commitment to finance or facilitate the mobilization of 120,000 million euros in green financing between 2019 and 2025 and 220,000 million in 2030 to combat climate change. In 2020 alone, it helped finance newly created renewable projects, which produced enough energy to supply more than 10.3 million homes and avoid the emission of 60 million tons of CO.two.
The decarbonization It is a long and complex journey that must follow a clear and concrete itinerary. When an entity or country develops a plan to decarbonise the economy, what it is implementing are a series of actions and measures aimed at gradually reducing greenhouse gas emissions, among other things, decreasing dependence on fossil fuels for the production of polluting energy.