To emigrate again after the volcano of La Palma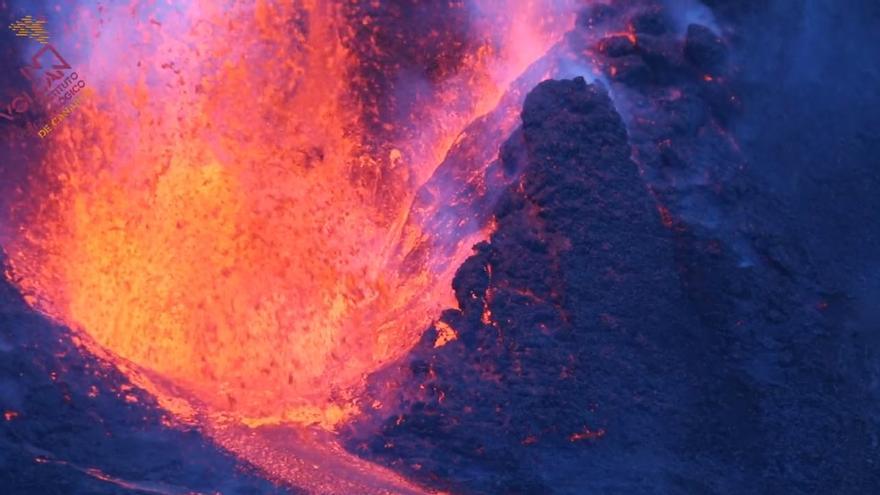 Leaving the place that has seen you grow up to emigrate and start a new life is never easy. But doing it a second time as a result of a natural catastrophe is no less so. Pedro José Sánchez arrived in La Palma two years ago and now he will have to pack his bags again after losing his job.
"I have to emigrate again, I would not like to leave but I will have to." With these words, Pedro José Sánchez regrets that the eruption of the Cumbre Vieja volcano forced him to leave the island that hosted him two years ago, when he left Venezuela to seek a better future. He worked as a sharecropper on one of the many banana farms destroyed by the eruption and for two months he has supported himself on small jobs that "do not give a living." For this reason, he has made a difficult decision: to pack his bags and go to Madrid where he believes he will have better job prospects. "For me it will be practically like starting over from scratch," he assures and emphasizes that despite having already emigrated for the first time, "this will be no less difficult."
Sanchez arrived to La Palma in 2019 from his native Venezuela fleeing an economic crisis unprecedented in your country. On the island he got a job as a sharecropper, on a banana farm and an avocado farm, a job he knew well since he had always been involved in agriculture. Little by little he began to settle down and to think that perhaps he had found his final place. He was doing well, what he earned allowed him to live comfortably, and he found a community on the island that made him feel at home. But then the volcano changed everything.
Lava buried the banana farm where he worked and the heat wave and strong wind that blew in mid-August this year had already ruined 80% of the avocado crop. "Until that moment I saw a good future, I thought that if I made an effort, with the work in these two farms I could earn a good salary, but what happened has destroyed everything," he says.
For this reason, he is convinced that emigrating again is the only way and he has already decided that in December he will pack his things again and take a flight to Madrid, where a nephew has offered to take him into his house at first.
Advertisements of island workers seeking employment outside of La Palma proliferate
Sánchez will try to find a job in the capital of the country that will allow him to get ahead. "I think I will have more possibilities because on La Palma there will be a lot of competition, there are many colleagues without work and the number of farms has been reduced," he explains. Even so, he is aware that starting over in Madrid will not be easy, but he admits that "I don't see any other alternative."
The situation of this sharecropper is not unique on La Palma, where the eruption has buried farms, has made risk difficult in many others and has affected crops on farms spread throughout the island's geography.
Almost anyone who is asked admits to knowing of people who, if they have not left, are already thinking of doing so and are just waiting for the most appropriate moment.
Maria lost her job as a cleaner by the volcano like his partner who was dedicated to agriculture. "We are thinking of leaving because here it does not seem that there will be anything for us" and if they have not made the decision yet, it is because they do not want to take their daughters out of school in the middle of the term.
Advertisements of workers fleeing the volcano and seeking to start a new life elsewhere are beginning to proliferate on the web. "Couple with two girls looking for rent or farm in exchange for work in the north of Tenerife, we are leaving La Palma due to the situation with the volcano, any help would be welcome." "I am a man from La Palma affected by the volcano and I am looking for work on a banana farm, as a smallholder or peon, in Tenerife." "Family who, due to circumstances of the volcano, is looking for a change of island, no matter what it is, we want to start over, an affordable rent is urgently needed." These are just some of the messages that can be read online through which many palm trees are looking for a new job or home in other parts of the Archipelago or outside the Canary Islands.
If aid does not arrive soon, many affected believe that leaving is the only alternative
Juan Melián is one of those who decided to explore all the possibilities and post an ad on a well-known job search portal to try to find work outside the island. "We lost the house in Todoque, a banana farm buried and another has been isolated by lava," explains this farmer. For him, leaving the island is another option, but he admits that he would like to stay on La Palma, where he was born and has spent most of his life. However, he is aware that if a good job offer comes his way, he would not hesitate and leave.
"Most of the farmers are self-employed, we have to continue paying copper or not to have the option to retire", which is why he ensures that job offers in the Peninsula are a good option, especially for the youth of the island . "If the administrations do not act quickly we can run out of young people in the area," he laments, as many are thinking of leaving.
Melián insists that the situation left by the volcano greatly complicates the development of agriculture in the territory. "The farms in the exclusion zones have many irrigation problems, you cannot go to work at the risk of getting sick from the ash, and the productions are badly damaged," he explains. Something worrying since the primary sector is one of the economic engines of La Palma. "They say that 10,000 families live on bananas and I say that there are many more, 80% of the island's population depends on it, if the banana fails La Palma".
From his point of view, his biggest problem is "age." At 62, he doesn't trust anyone to offer him a job. "It's the only thing I know how to do and I have experience but in all these days no one has offered me anything," he admits. However, he is concerned that "short-term solutions or help will come."
Receiving the specific ERTEs for La Palma, he receives rental assistance for the flat in which he now resides, in addition to the food cards distributed by the Red Cross. "The aid we have received so far is humanitarian but we are not going to get very far with this," he claims.
Therefore, he considers that the first step should be "to compensate us for what we have lost" and that these valuations and income are carried out quickly and effectively. "We are fighting a lot and it should be done now because we do not know when the volcano is going to end," he exposes and criticizes that in the meantime "they have us here living on humanitarian alms."
Melián assures that he trusts little in the administrations and that is why he emphasizes that "each one must seek his life as best he can" until the institutions "react and put the batteries."