To be or not to be... since Down syndrome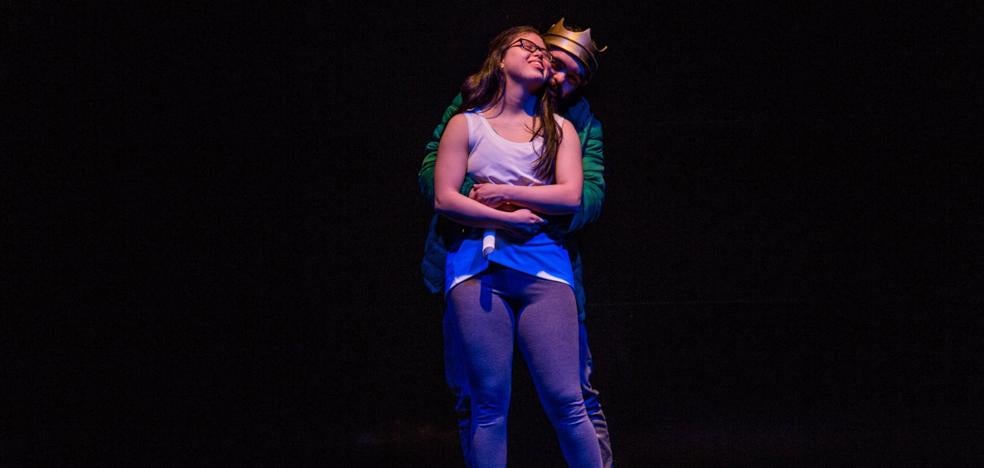 The Teatro La Plaza company represents this Thursday a "recontralibre" version of 'Hamlet' at the Insular Sports Center, within the Mapas Fest
Goodbye prejudice. Nobody said it was easy. It was not and required more than a year of work. But whoever thinks that it is an impossible undertaking will be disappointed. Because not only one has risen
"recontralibre" version of 'Hamlet', of William Shakespeare, but the same, starring all the interpreters with Down syndrome, has jumped from Lima, where it premiered, to Spain and specifically to the international festival of performing arts Mapas Fest, which this Thursday programs it,
from 8:00 p.m.in the
Insular Sports Center (CID) of the capital of Gran Canaria, and on Sunday, the 26th, at the Infanta Leonor Auditorium, in Tenerife.
«More than an adaptation, it is a version, as we say, recontralibre of Shakespeare's text. We started with a few loose ideas in mind and a blank notebook.
From the phrase 'to be or not to be', the idea of ​​montage was created. The idea was not to tell 'Hamlet' but to take its essential themes and create a fabric with the lives of the actors. From there, create our own dramaturgy", explains
Chela de Ferrari, director of this show by the Peruvian company Teatro La Plaza.
On stage, the audience meets "eight actors and actresses with Down syndrome who take the stage to make us a professional montage," emphasizes the Peruvian director. «
It's interesting to see how these eight actors have been touched by 'Hamlet' and even more so is witnessing how
they have played 'Hamlet' to give it a new meaning. We also have audiovisual projections that dialogue with what happens on stage. Music also plays a very important role and the end is a party to which we are all invited », he advances.
The appearance of Jaime Cruz

The director of this Shakespeare explains the origin of this scenic project. «I have worked other works of Shakespeare.
He is a very generous author with the directors and directors. His works invite rewriting and new interpretations. His themes remain relevant and poetic. I am interested in understanding Peru not only through Peruvian texts to talk about what we do not usually talk about and to incorporate communities that we do not usually incorporate. It's hard to be interested in Shakespeare and not have 'Hamlet' in your sights. It appeared as a possibility every time I was faced with the choice of my next project and I always ruled it out for the same reason: I couldn't find the actor for that character.
Until Jaime Cruz appears. Had worked
more than three years as an usher in our theater of La Plaza de Lima, guiding people to his seat and his wish was to appear on that stage as an actor. He thus communicated it in an internal event and as a result of that I invited him to have a coffee. He wanted to act and I wanted to do Hamlet.
And I saw him with the prince's crown. The project is awakened by the possibilities that an actor like him could bring to the meaning of Prince Hamlet's words," says De Ferrari.
A scene from the play. /

c7

The Peruvian director acknowledges that building this project was not easy and required a long work process with two layers. "The investigation had two approaches. The study of Down syndrome and the reality faced by people with this condition. We conduct interviews
we make use of observation work, meetings with experts and the Peruvian Society of Down Syndrome. This stage was guided by Jaime Cruz, who put us in contact with that Society, with his parents, friends and friends. The second section was the study and analysis of the text, beyond its narrative, to deepen conceptually. We start with the study of the text before rehearsals. They usually take between two and three months and this 'Hamlet' took us more than a year of work, because my processes are slower than most. I love long processes. It was also due to the nature of the project.
The play was written in the process and it was necessary to live with the actors for a while exploration, research and search for material. We got to know each other through exercises and dynamics », he recalls.
A provocation?

The role of Hamlet usually falls to a great actor. That on this occasion a person with Down syndrome assumes it is a provocation? «
I would say that it is undoubtedly a provocation that challenges us with the great question of 'to be or not to be'. What does it mean for someone who does not find spaces where they are not taken into account? The message of the work usually falls on an individual, while here it is enunciated by a collective.
we did a casting, but none of the reasons interpreters are routinely turned down were used. The only requirement was that they wanted to be part of the process and understood the intentions," says the director.
A cast that has "debunked myths about its capabilities"

Octavio Bernaza, Jaime Cruz, Lucas Demarchi, Manuel García, Diana Gutierrez, Cristina León Barandiarán, Ximena Rodríguez and Álvaro Toledo make up the cast of this 'Hamlet' by the Teatro La Plaza company.
"Through this work we seek to shorten the distance between neurodiverse and neurotypical people. A group of people with Down syndrome offers us a professional and free montage of 'Hamlet', which has been created based on their interests, reflections and claims. Having an actor like Prince Hamlet is a provocation against the great question of being or not being. The cast broke myths regarding their abilities. We have witnessed their abilities to resolve conflicts, self-criticism, flexibility in the face of change and ability to concentrate," says director Chela de Ferrari.
On this last section, he provides an example. "The specialists recommended no more than an hour and a half of rehearsals. Ours, five days a week, were four to eight hours a day. And six days a week for more than six months », he points out.
Another prejudice that fell was whether "neurotypical people or prompters on stage" were needed. "During the assembly, the responsibility falls entirely on them, who have to resolve any possible inconveniences that appear," emphasizes the Peruvian director.
The assembly stops at the Mapas Fest after five performances in Madrid, with a full room. «Coming to Spain, more than fear, gave us emotion. From this beautiful island of Gran Canaria we will go to Tenerife, Barcelona, ​​Alicante and Galicia. It's five weeks away from Lima. It is an achievement for any theater group. We are interested in creating links and experiences, to generate alliances for future projects and reach very diverse audiences," says Chela de Ferrari. She confesses that she has in mind, again with interpreters with Down syndrome, to raise another Shakespeare text soon, 'Twelfth Night'.