Tips to avoid contagion at Christmas gatherings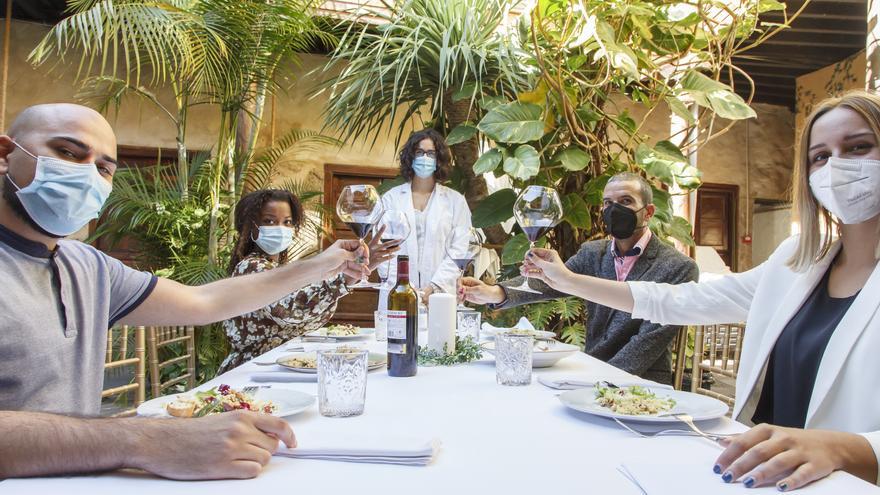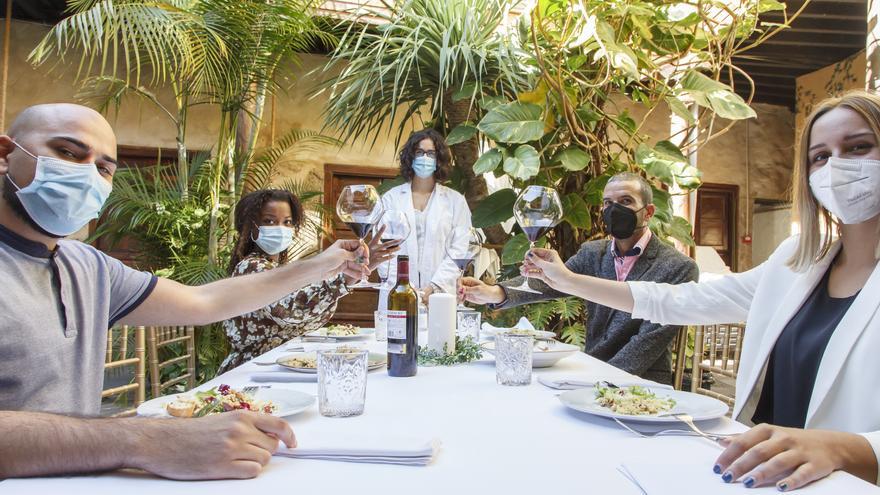 The Ministry of Health of the Government of the Canary Islands today launched a series of recommendations from the General Directorate of Public Health of the SCS to hold social and family gatherings as safely as possible. For this, the Ministry of Health held a lunch simulation in which the specialist in Preventive Medicine and Public Health, Eva Elisa Álvarez, offered the keys to face the Christmas meals trying to avoid the possibility of transmission of the COVID-19. It is an informative activity whose objective is to clarify doubts about the transmission of the coronavirus and how to act preventively.
The specialist in Preventive Medicine insisted that the ideal thing is to celebrate meetings or meals outdoors or with the windows and doors open for as long as possible in order to avoid closed spaces. It is advisable, as he pointed out, is to hold the meetings of this period with the same bubble group of contacts so that the possibilities of transmission are limited and that if one of the guests has symptoms that he does not attend the celebration. In this case, you have to isolate yourself and call the coronavirus service line 900 112 061.
Recommendations include keeping distance at all times, including at the table during lunch or dinner, between non-cohabitating people and only removing the mask when eating and drinking. Eva Álvarez explained that the greatest risk occurs at the time when people are unprotected, so it is important to avoid these exposures as much as possible without a mask.
The specialist specified the main Public Health recommendations in:
– Greet each other without maintaining physical contact, therefore, without kisses or hugs.
– Maintain separation at the table between non-cohabitants, for example including a free chair between non-cohabiting families.
– Make an adequate hand hygiene, for which it may be useful to put the hydroalcoholic gel on the table. Avoid placing the masks on the table; it can be kept, for example, in a paper envelope.
– Do not share utensils, or chop from the same plate and it is recommended to mark the glasses so there is no possibility of confusion.
– What the food is always served by the same person so that movement around the table is limited.
– Toast without clinking glasses to avoid contact.
– What after-hours are as short as possible to reduce the risk of transmission of the coronavirus.
Likewise, Dr. Eva Álvarez recommended that In the event that several family members are caregivers of a vulnerable person, they do not all coincide in the same celebration. If it were necessary to establish a quarantine, they would not all be affected.
Finally, Dr. Eva Álvarez thanked the Canarian School of Actors and the Casa Montesdeoca restaurant for their collaboration in participating in this mock event and providing an outdoor space to explain the recommendations.