Tina Modotti, passion and revolution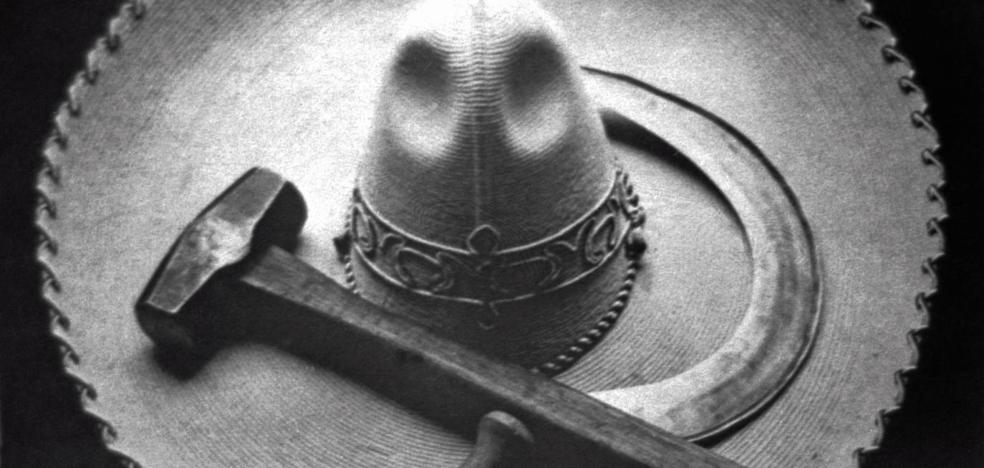 An exhibition brings together more than a hundred images of the photographer and activist who portrayed post-revolutionary Mexico from its epicenter
He barely left 400 snapshots, but of sufficient quality and intensity to earn a place of honor in the history of photography. Passion and revolution define the work and the many lives that Tina Modotti (Udine, Italy, 1896-Mexico, 1942) lived in less than half a century, the photographer and activist who portrayed from its epicenter one of the most convulsive periods in the history of Mexico. A pioneer of photojournalism, she reflected avant-garde aesthetics and social effervescence with her unique style.
A talent and a passion that are reflected in the hundred images exhibited by the Cerralbo Museum in Madrid, which as part of the PHotoESPAÑA program hosts until October 2 the exhibition dedicated to one of the great figures of 20th-century photography. The exhibition includes crucial objects and documents in Modotti's life and allows us to go through his eventful biography.
'Woman with a flag', around 1928, Mexico City. Courtesy of the Bilderwelt-Reinhard Schultz Gallery. /

Tina Motti

In her short career as a photographer, Modotti created her own powerful aesthetic. She was a reporter and documentary filmmaker engaged in a crucial period in the history of Mexico, the country in which she settled and died. A passion that was also vital for a woman who was a model and actress, a lover of geniuses such as Edward Weston or Diego Rivera – she broke up the painter's marriage with her friend Frida Kahlo –, occasional spy and nurse for Pasionaria in Spain.
When she was twelve, Modotti was already working as a slave in a silk factory in her native Udine. She left Italy at the age of 16 to travel alone to the United States and follow her father and sister to San Francisco. In Hollywood she flirted with the cinema playing femme fatales and also acted in theater and opera. From a very young age, she assumed an active role that denied the female social stereotype imposed at the time. She was a communist militant, political refugee, ardent revolutionary and member of the International Red Aid in the Spanish Civil War.
Married to a young poet from Oregon, at the age of 25 she met Edward Weston in San Francisco, already established as a great photographer. In one breath she went from being her model to her lover. An amorous passion that would make Modotti an exceptional avant-garde photographer, as evidenced by her poetic flower photos that are more than half a century ahead of those of Mapplethorpe.
His arrival in Mexico with Weston in 1924 radically changed his life and his outlook. She developed the bulk of his photographic work there between 1923 and 1930, years in which he experienced the revolutionary fervor of a country with which she fully identified. She portrayed popular, cultural and political life and the post-revolutionary din, with symbols such as a crossed hammer and sickle on the crown of a charro hat.
"In just a few years, he endowed his images with a quality comparable to that achieved by other photographers after a lifetime of work," highlight the curators of the exhibition, María de las Nieves Rodríguez and Reinhard Schultz. "In his rich and short existence, he sought beauty through photography and worked for social justice from political militancy," they highlight.
communist nun

Modotti revolutionized Mexican photography as much as Diego Rivera, Orozco and Siqueiros did in painting and muralism. His images are the paradigm of the fusion between Mexican revolutionary culture and avant-garde aesthetics. "He added the ideals of equality proposed by socialism and his feeling and capacity for social commitment, which gave meaning to his life," say Rodríguez and Schultz. Such was her commitment to politics that she "became a kind of communist nun," said Diego Rivera.
At the center of the battle between Stalinism and Trotskyism, waged in part in the Mexican capital with the assassination of Trotsky, she was wanted to be implicated and in his crime for which she was interrogated. She was also related to the death of another of her lovers, Julio Antonio Mella, a 26-year-old Cuban communist assassinated in 1929 when she was walking with Modotti. She also linked Modotti to the plot to kill Mexican President Pascual Ortiz.
Modotti died at the age of 46 in a taxi from a heart attack, although according to some poisoned by a black hand that would have moved the dictator of Cuba, Gerardo Machado, or Vittorio Vidali, the implacable Italian Stalinist with whom the photographer shared more than a decade and with whom he traveled to the USSR or Spain plunged into the Civil War. She collaborated here with the International Brigades, she was a leader of Socorro Rojo and a nurse from Pasionaria when the communist leader suffered from hepatitis.