'Time' magazine appoints ta person of the year 'to Greta Thunberg | Society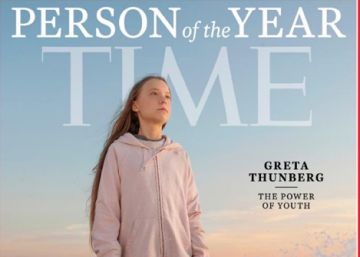 Greta Thunberg has been chosen person of the year 2019 by the magazine Time. The American publication chooses each year a man, woman or movement that has focused the media focus during those months. This time Time He has valued that the young Swedish activist "has managed to turn a vague concern about the planet into a global movement that demands global change."
Thunberg, 16, has become a symbol in the fight against climate change. Time publishes in this issue dedicated to the activist a long report about her and about the trip that has taken her across the Atlantic Ocean aboard a catamaran to attend the Climate Summit, COP25, which is being held these days in Madrid. "There is hope. I have seen it. But it does not come from governments and corporations but from people," Thunberg said. this Wednesday in his intervention at COP25.
Among the finalists of this year's edition was US President Donald Trump, the president of the House of Representatives Nancy Pelosi or the protesters of the protests in Hong Kong. For the annual election, surveys are conducted among the readers, but it is the publishers of the publication who make the final decision.
Last year the magazine divided this recognition among various media figures such as the Saudi reporter Jamal Khashoggi, murdered on October 2, 2018 at his country's consulate in Istanbul or the Filipino journalist Maria Ressa, general director of the news website Rappler and persecuted by the regime of Rodrigo Duterte. A year earlier, in 2017, Time He had dedicated his cover to women who broke the silence and dared to report sexual harassment giving rise to the movement #Metoo.