Three visions on the circular economy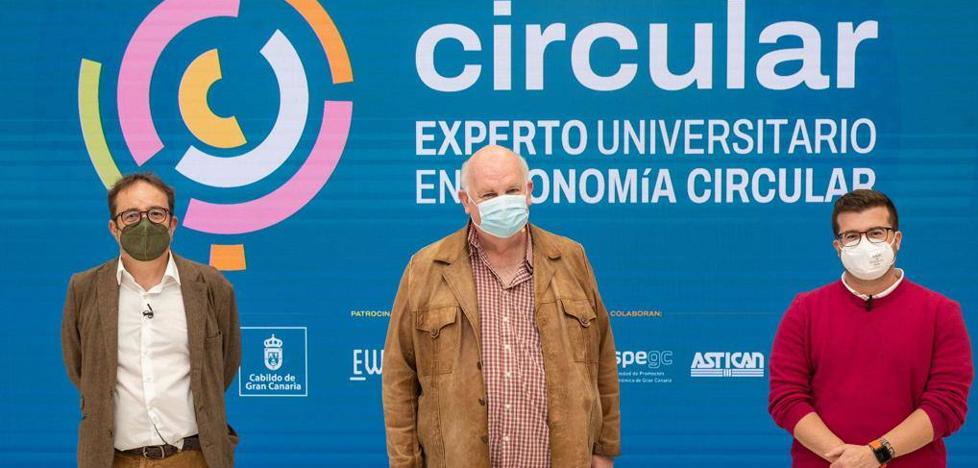 Raúl García Brink, Technical Coordinator of Economic Development, Energy Sovereignty, Climate and Knowledge of the Cabildo de Gran Canaria and Co-director of the University Expert in Circular Economy in Isolated Territories and professor at the ULPGC (RGB)
Aridane González González, Academic Director of the University Expert on Circular Economy in Isolated Territories and professor at the ULPGC. (AGG)
Mr. Webster, could you explain in a simple way what the circular economy is?
kW: We live in a very linear economy, where we take --> make --> use --> throw away. In reality, it is a waste-producing machine. The circular economy, as its name suggests, is based on circulation, not extraction. It is rather a living system in which all materials are "nutrients" for the system. That's why we try to keep product components and materials at their highest quality, using techniques such as repair, reuse, reconditioning and remanufacturing, and we can also design for disassembly and salvage, eliminating waste where possible. possible. In reality, it is about managing our stock of "materials" much better, and even improving or recycling them. It is a positive cycle and a business and economic opportunity, if done well.
Why is a University Expert Degree in Circular Economy in Isolated Territories important, such as the one launched by the Cabildo de Gran Canaria and the ULPGC in collaboration with the private business sector?
RGB: When we started working and training on the circular economy concept at the Cabildo de Gran Canaria, we realized that its development has focused mainly on continental and urban supply chains. But isolated territories like islands have to deal with completely different challenges and vulnerabilities such as pressure on resources, economic diversification and vulnerability to climate change.
And the reality is that when you take part in one of the circular economy courses available, you realize that they are aimed at highly industrialized and interconnected territories. For this reason, both the Cabildo and the ULPGC concluded that it was necessary to train our professionals in the circular model on which the economy of this century will revolve, but also to do it from a different perspective, from the awareness of our fragility. , but also of our potentialities. I am convinced that this title will train professionals who will contribute to making us more resilient, better adapting to the climatic, economic or health fluctuations of the future.
kW: If we are reaching the end of the linear economy based on fossil fuels due to problems with natural resources, due to climate change and we also want more resilient societies, with greater value based on the consumption and exchange of local and regional production ...is it an answer in itself? Isolated territories are going to have to reinvent their economies and the circular economy is going to be part of it if they aspire to more than just survival. In fact, they can be fantastic cases of innovation. So an expert title speeds up discussion and the ability to create new directions.
AGG: As Mr. Webster points out, the change of model towards circularity is a more than obvious need, but for this we must strengthen the debate, impregnate the society with knowledge and, above all, train people to be the center of all the circles. Therein lies the importance of a training title of these characteristics. It is important to highlight that there is a lot of Circular Economy training in different European areas, however, this is the first one that focuses on the weakness of isolated regions, such as the Canary Islands, to manage resources for many reasons ranging from barriers legal requirements, demographic pressure, foreign dependency, the value of products to facilitate the generation of new economic activities, etc. But the Canary Islands are not only an isolated territory, in the world there are many borders that make territories in the middle of the continent "isolated".
How important is the circular economy in the fight against climate change?
kW: 45% of carbon emissions are related to the production of materials, so it is vital. An important and relevant element is construction. Change construction materials and formwork (concrete and steel represent almost 20% of CO2). There are no climate solutions without material solutions.
AGG: If an analysis is made of Greenhouse Gas emissions, mainly CO2, which are the cause of Climate Change, the link with the Circular Economy is clearly seen. The main emissions come from energy production, mobility, waste, among others. To this we must add the rest of the daily activities of the human being that degrade our ecosystems, also considered in the Circular Economy, which attends from ecodesign, reuse, maintenance and regeneration of the environment. The Canary Islands as an archipelago have a significant carbon footprint, through the Circular Economy measures can be generated that are linked to mitigation and adaptation to climate change through the triple helix: social, environmental and economic.
RGB: Indeed, as Ken and Aridane point out, the circular economy consists of keeping materials and products 'circulating' for as long as possible, thus facilitating the reduction of greenhouse gas emissions by allowing us to do more with less. If we were to unite all the cement industries in the world, they would become one of the largest emitters of carbon on the planet. Imagine if we could reduce the energy invested to produce cement. In the end what is important is to maintain, reduce, reuse, recondition, remanufacture and, ultimately, recycle. And, furthermore, do it from a regenerative perspective: we have to connect the economy with the ecosystems to better adapt to global warming.
Mr. Webster, do you think that the Circular Economy will make private companies more competitive?
It is an economic opportunity based on innovation, so companies that do not take advantage of it will fight against the tide and will be forced to be more competitive in many cases. For others, and for the many new companies that may be attracted, it may still be a struggle because it's not as easy as taking a stroll down the boardwalk: you may have to change how you source materials, that the relationship with customers it becomes the sale of products such as services; for collaboration to go in new directions: for coffee shops to cooperate with mushroom farmers who use coffee grounds, or for agrivoltaic farmers and electricity distribution companies to share a plot of land for mutual benefit.
In line with Mr. Webster's response, Mr. González, are there innovative research initiatives in the field of CE at the ULPGC applicable in the business field?
Indeed, there are great examples at the ULPGC of innovative research in the Circular Economy. In fact, there are researchers who are references in many sectors and we would like to include them in future editions. To cite a few examples, Mario Monzón and his research team are a reference in the search for new materials. Lidia Robaina and research group on circularity related to food, aquaponics and aquaculture. The search for resources through biotechnology is another source of sustainable production, as Juan Luis Gómez Pinchetti's team has shown. But as I have said, there are many more examples given the social nature of this university: construction and demolition materials, used oils, reclaimed water, reuse of water, organic matter, renewable energies, etc. In addition to the ULPGC itself, I would like to highlight the interaction with other institutions such as the ULL, PLOCAN and the ITC in this regard.
Mr. García Brink, what is the commitment of the Cabildo de Gran Canaria with the Circular Economy?
It is a commitment that is in the DNA of our president and the government team. I think the pandemic has accelerated some processes that were underway. Until recently we had supported the holding of conferences both in the Literary Cabinet and in the Summer University, but now we have made a qualitative leap with two key actions.
Firstly, promoting the University Expert in Circular Economy that we are presenting in collaboration with the University of Las Palmas de Gran Canaria. In addition, we have created alliances with the private sector, which has allowed us to involve foreign teachers and lower the price of enrollment. Without the participation of the sponsoring companies, everything would have been much more difficult.
But we have not been satisfied with generating this space for training and discussion. We have just awarded the contract for the Gran Canaria Circular Strategy 2030 with four clear objectives: diagnose the circularity of our economy on the ground, establish goals and actions to carry them out, disseminate them both in the public and private sectors and, finally, bring carry out circular action plans in companies in Gran Canaria. I am convinced that we are laying the foundations to move towards a green and more sustainable economy. And I think that the Cabildo is being the spearhead for other institutions to decide to move in the same direction.
Mr. Webster, In your latest book you speak of a 'regenerative' circular economy. Could you explain this relationship?
A regenerative circular economy is one in which natural capital, soils, forests and fisheries, for example, can be maintained or increased -and provide abundance, not scarcity-, and it is one in which social capital -the value of the community - is maintained or improved. Social systems can be regenerated if they are part of a participatory economy at all scales, one that welcomes new businesses, different forms of ownership and is able to access the tools to add value with what is available and circulate the income to local and regional level. The very word "regenerative" points to living systems and renewal; it is a reminder that our connection with the land and the sea, with other living beings and with each other is the source of so much real wealth.
As Eric Beinhocker pointed out, "The measure of a society's wealth is the range of human problems it has found ways to solve and the extent to which those solutions are available to its citizens."