Three students and 15 teachers: the curious border of the University of Málaga | Society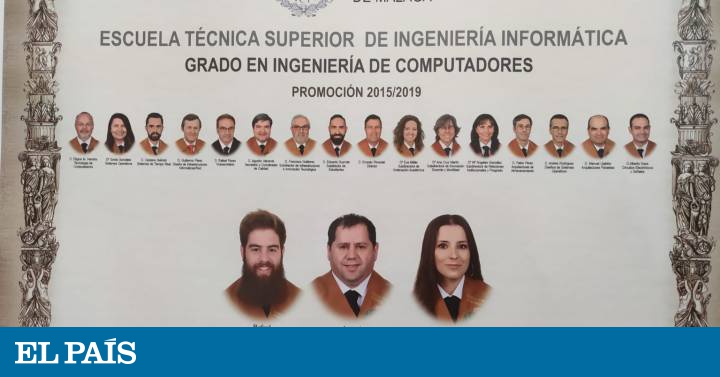 Rafael Hormigo has been assembling and dismantling computers since he was 13 years old. He loves computer junkyard. That is why, when he was deciding which branch of Bachillerato to take, his sister had a clearer decision than he: he insisted that she choose the technological one. At that time he wanted to engage in physiotherapy, but the advice marked him. Two years later he opted for the degree of Computer Engineering at the University of Malaga (UMA). He has approved it in four years, an absolute rarity in a complex career that few approve. In fact, in its graduation boundary of the 2015/2019 class it is accompanied by only a couple of other students. About their images, fifteen teachers (four, women). "My friends say it looks like a joke, that I have digitally retouched it. But it's just like that, "says this 22-year-old laughing and proud of his career.
Hormigo is accompanied by the photographic montage of remembrance Agustín Téllez and Verónica Vigaray. With a tie and toga, but without a mortarboard, his portraits appear large, while those of his teachers do so in small. There is a lot of blank space in the composition. There was also in the classrooms. Some of them have been the only assistant in specific cases of some subjects. Each year 60 people are enrolled in this grade, but the complexity of their subjects causes many to abandon the first ones of change. "Other times, they get discouraged because they register without knowing very well what these studies are about or they get bounced from other engineering with a higher grade (for this is enough a five scraping) that they have not been able to access", explains Ernesto Pimentel, Professor of Languages ​​and Computer Systems and director of the School of Computer Engineering of the UMA. The degree, according to the University, prepares to design and control large computer facilities as well as their parts.
"At the beginning we were enough. And little by little the classes were emptying, "says Verónica Vigaray, 31 years old and one of the few women who has studied the degree of Computer Engineering in Malaga since its implementation in the 2010/2011 academic year. The frightened one takes place especially in first, where four of the 10 subjects are of mathematics and a fifth, of physics. A wall for many. "You have to have the strength to continue," says Rafael Hormigo, who despite having the best note of access among his peers just got a one in his first exam. That is why most students leave behind the most complicated subjects to try to pass them when they are in third or fourth grade.
Over the years, with more background, maturity and knowledge behind, passing the exams becomes more affordable. "But it's never easy, you always have to study a lot," says Agustín Téllez. Maybe because of that perseverance and his experience – he's 44 years old and a lot of work experience – he has managed to approve everything with notes of at least 7.5. They are the highest of your promotion. He plays with some advantage: he was awarded the first two courses for his previous engineering studies and "alone" had to face 17 subjects of names that already sound thorny as Parallel architectures or Storage architectures. "Without the support of the company where I work, I would not have achieved it: they have given me enough time to study," says Téllez.
"It is true that the image of the border is curious and impressive, but it has been a coincidence", explains Ernesto Pimentel. As he explains, those who still have to deliver the Final Degree Project (TFG) or between one and two subjects are offered the possibility of graduating, since sometimes the event -which is symbolic- is celebrated before some of them are published. notes or because those students are expected to pass in September. And in those circumstances there are 28 other people, who could perfectly have accompanied these three musketeers in their border. Some of those who could be there think that this document is something of the past and they do not photograph themselves, but most do not appear because of what they call "lack of group feeling". "There are many students straddling several courses or who are in fourth but with most of their friends in third, so they prefer to wait a year to take the photo," says the director of the Malaga Technical School, which is already looking for solutions so there is less abandonment and demotivation rate. Among them, include in the first course more subjects related directly to computers and pass the most tortuous of that course to third or fourth.
Vigaray is not worth the excuses of those who have not appeared in the border. "This grade is a very demanding lover. You have to be very consistent and study hard leaving behind moments with family and friends. It has been a lot of effort to get here, and without the support of teachers or my mother would not have finished, so I wanted to have a memory like this, "he says decisively. She has overcome it in six years, combining it with her incorporation into the labor market – sometimes with two jobs at once – and a disease. "Arriving here has not been easy," adds Vigaray, who now points to the National Intelligence Center (CNI) wave National Police for your future work because you want to dedicate yourself to cybersecurity.
For his part, Téllez works at Ingenia -in the Andalusian Technology Park-, after passing through Banco Popular and Fujitsu. And Hormigo has not had a vacation after finishing his studies: last Monday he started working at Freepik, one of the leading technology companies in Malaga where many possibilities for professional development await him. Three examples of that, despite the difficulty, this degree has a wide range of job opportunities. Perhaps they serve as motivation for students who, in the next courses, think about abandoning. If you go ahead, you can hang on the walls of your house, perhaps, a border where the number of graduates is higher than the teachers.
(tagsToTranslate) three (t) student (t) 15 (t) professor (t) curious (t) curious (t) orla (t) university of málaga (t) difficulty (t) computer engineering (t) provoke ( t) high (t) high (t) rate (t) abandonment



Source link