Thousands of people demonstrate in Madrid in defense of public health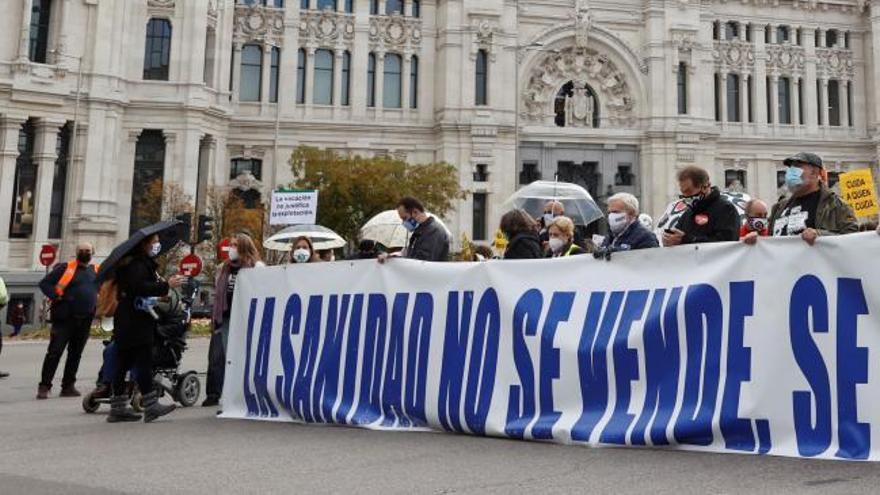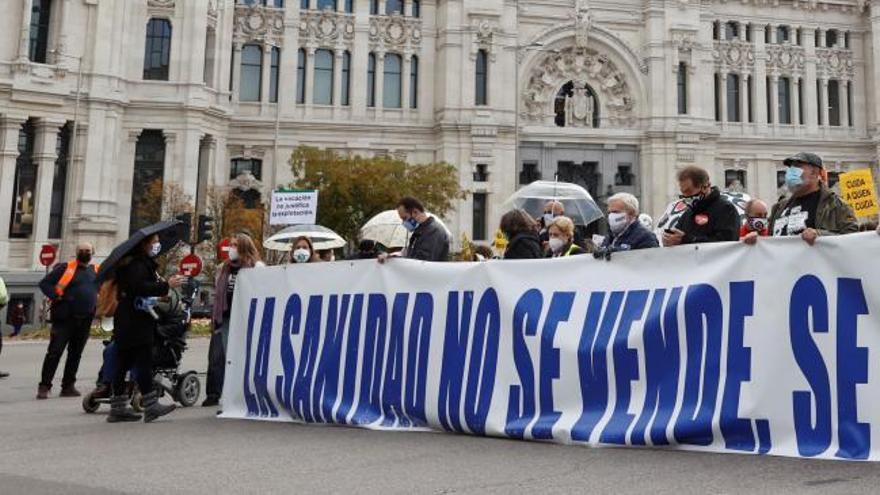 Thousands of people -10,000, according to the organizers- have joined this Sunday the White Tide demonstration called in Madrid to demand the defense of public health and express their rejection of the "brick policy" of the autonomous government and, specifically, the new Isabel Zendal emergency hospital.
The manifesto that has given rise to the mobilization has had the support of more than 4,000 people and 150 entities, according to the organizers, and reflects the indignation of the sector before "the chaotic and reckless health management of the Government of Isabel Díaz Ayuso", as well as his request that he" firmly commit to strengthening Primary and Hospital Care. "
The demonstration has traveled the Prado and Recoletos promenades, between the squares of Neptuno and Colón, and has moved maintaining several columns in single file to maintain the interpersonal distance required by the health crisis of the coronavirus.
The representatives of the 13 unions and associations that called the protest have coincided in demanding that the hiring of health personnel be increased and in criticizing the construction of the Isabel Zendal hospital, whose inauguration is scheduled for next Tuesday, December 1.
"They want to inaugurate it to take the photo and they do not have health personnel", has reproached the secretary general of CCOO Madrid, Jaime Cedrún, who sees the hospital as "an attempt to use and dogmatize public health" and has warned that "The lack of trackers remains unresolved."
His counterpart from UGT Madrid, Luis Miguel López Reillo, He has said that he is "afraid" of the number of people seen on the streets of the capital, and that Christmas could lead to a third wave of the coronavirus "much worse", and has demanded "that they do not deceive us with the data "and that the Primary Care emergency services (SUAP) are reopened.
The spokeswoman for the movement Sanitari @ s Necessary, Dora García, has declared that the Zendal is "an insult to the citizenship" and "an expense of money of millions laughing at the population", and has demanded to improve the working conditions of the toilets, because "people are leaving" and "You can't have professionals working for a month, three months, days, weeks."
Representatives of the PSOE, More Madrid and United We Can.
The socialist spokesman in the Madrid Assembly, Ángel Gabilondo, has said that "The pandemic has exposed many fissures and weaknesses in the system", that it must have "specific and clear endowments".
"We have one of the primary care with less budget, with fewer professionals and which not even during the pandemic we have been able to reinforce," protested the spokesperson for Health of Más Madrid, Mónica García, who has disapproved of Ayuso dedicating himself to "laying bricks and making indecent contracts to finger to friendly companies".
The spokesperson for United We Can Health, Vanessa Lillo, has questioned the "health populism" which means spending 100 million euros on the Zendal's "giant fridge", which will also "remove health professionals who are already overloaded in their healthcare centers."