Thousands of freelancers demand in Madrid the same benefits as salaried workers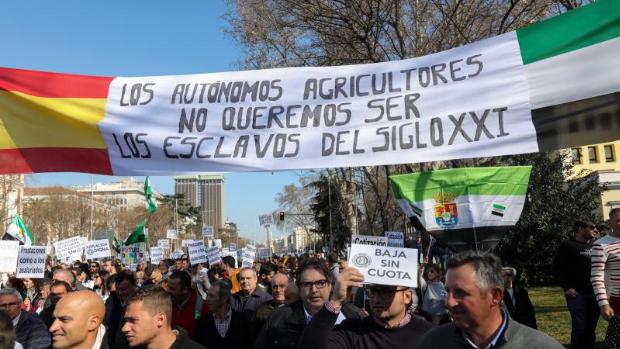 Madrid
Updated:
save

Thousands of freelancers, summoned by the Association of United Autonomous to Act (AUPA), has requested this Sunday in Madrid the same benefits as employees, such as the right to unemployment and the reduction of fees if the minimum interprofessional salary is not reached ( SMI).
According to police data collected by the Government Delegation in Madrid to the demonstration they have attended about 5,000 people.
In a demonstration that has traveled the center of Madrid, from the Paseo de Recoletos to the Plaza de la Loyalty, workers from all sectors (merchants, transporters or liberal professionals), but above all farmers, have claimed special and progressive quotes for those self-employed whose benefits do not exceed the SMI.
Likewise, sporadic quotes or days; part-time quotes; a reduction in the share of the self-employed or an access to social benefits on equal terms to those of an employee.
This association, which is defined as independent of unions and political parties, was founded in 2018 following the Urgent Reform of Autonomous Labor Act of 2017 and has about 40,000 members throughout Spain.
Shouting "Where is my work leave?" or «Right to real unemployment now!», the assistants have chanted slogans in favor of decent quotas, for the conciliation and equalization of workers, and have repeated that they are not «heroes», in addition to expressing their hunger for «So much abuse», which deprives this group of the expectation of a dignified retirement.