Thousands of farmers collapse the center of Valencia to claim fair prices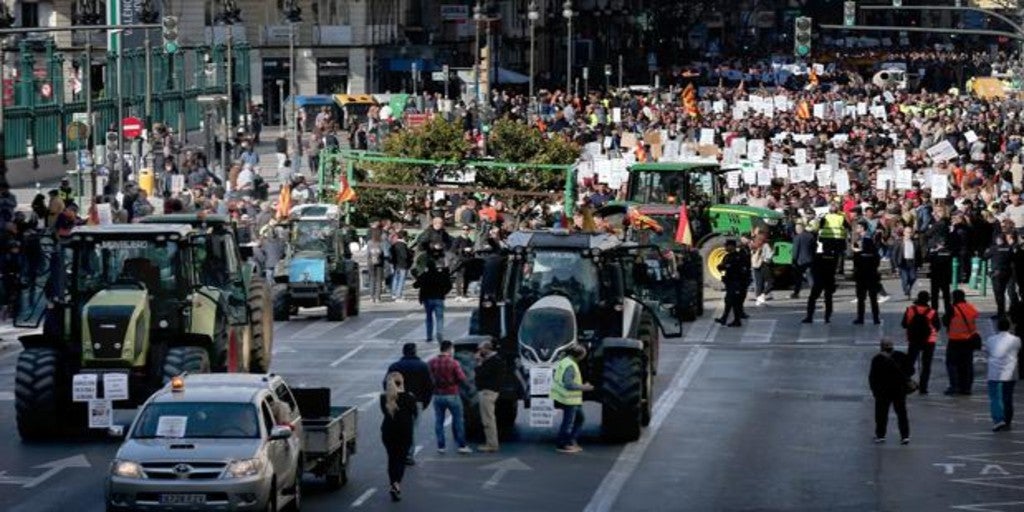 Madrid
Updated:
save

Several thousand farmers and hundreds of tractors collapse this Friday the traffic of the center of Valencia with a massive protest under the slogan «Prou d'enganyar als agricultors» ("Enough of deceiving the farmers"), convened by Asaja, La Unió de Llauradors and UPA, whose main objective is to demand fair prices for agricultural producers.
This manifestation, which is repeated in other Spanish cities, it requires the Government to pursue the sale at a loss, in which, according to the main agricultural organizations, large commercial areas are incurred, insurance funds are expanded, crisis deposits are enabled, phytosanitary and labor controls are required to exporting countries, and that the economic impact of trade agreements with third countries be studied.
The march, in which public offices of PSPV-PSOE, PP, Compromís, Ciudadanos and Unides Podem participate, has been forced to advance the headland, in which several tractors and harvesters march, some of them with loudspeakers and others with almond trees , due to the large influx of protesters.
Since about 9.15 hours, hundreds of tractors have been accessing the center of Valencia from the main road accesses to the city to focus on the surroundings of the Plaza de España and San Vicente Street to then place themselves at the tail of the manifestation.
The wide mobilization of tractors and agricultural machinery has motivated the establishment of a large Local and National Police device to guarantee the development of the march and try to regulate traffic in the rest of the city.
Among the attendees at the rally are mostly small owners, some of whom they carried crosses adorned with oranges and black crepes, and banners with slogans like "Agriculture goes to the grave" or "We have lost everything, even fear."
A farmer from Albalat de la Ribera (Valencia), José Manuel Latorre, told reporters: «We sell cheaper than forty years ago and to politicians, everyone, the field has always imported a pepper wish. I charge a pension of 640 euros and I still have to take money from there to keep two small fields.
Diaz meeting with unions
On the other hand, in the morning of today the Minister of Labor, Yolanda Díaz, and the second vice president, Pablo Iglesias, hold a meeting with the agrarian unions of Andalusia and Extremadura. A meeting where they will deal with issues such as the agricultural subsidy (former PER), but that has not sat very well among the main agrarian organizations.
Protagonists of the manifestations of farmers and ranchers that have been occurring throughout Spain in recent weeks, Asaja, UPA and COAG, were convened last Wednesday to a meeting today about the old PER and other related topics with the labor reality in the field, according to sources consulted. An appointment for which representatives of these organizations had been called together with the Andalusian and Extremadura federations of UGT and Comisiones Obreras. Finally, late afternoon, was postponed.
In parallel, from the Ministry of Labor, the graphic media were convened to cover a meeting with the «agrarian unions» – read only with UGT and Workers' Commissions – in the Ministry of Labor with Minister Yolanda Díaz and to which Pablo was incorporated Churches