Thousands of bees survive 50 days buried under ash on the edge of the volcano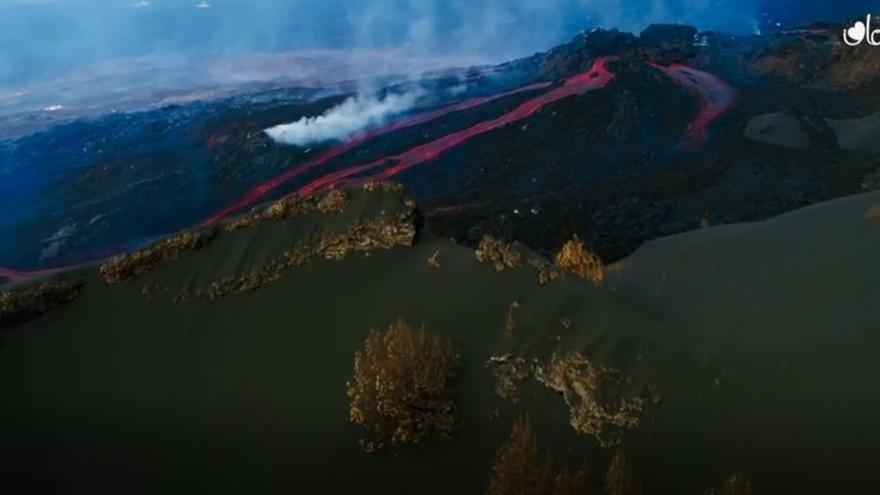 Thousands of bees have been rescued alive after spending 50 days in hives buried under a blanket of ash from the La Palma volcano barely 600 meters away from the eruptive center, in the same area of ​​Cabeza de Vaca where the earth was opened on September 19.
Elías González, president of the Agrupación de Defensa Sanitaria (ADS) Beekeepers of La Palma, tells Efe that five of the six hives that a beekeeper had in that area were intact and only the bees of the sixth died, perhaps "not because of the volcano, but because they were already weak" before the eruption.
In the rescue, which took place last Saturday, the Local Police of El Paso intervened, one of whose agents is a beekeeper, with the support of the Military Emergency Unit (UME) and the Civil Guard.
Three hives were partially visible and the other three buried under the ash. The agents had to dig to locate and rescue them, not without taking the occasional peck.
Each hive can house between 30,000 and 40,000 bees in spring, and between 20,000 and 25,000 when there are fewer flowers, on whose pollen they feed.
Elías González believes that if they survived so long, it is first because what falls in that area so close to the volcano more than fine ash is lapilli, which allows air to pass through because of its thickness, and secondly because the duel of the hives had not removed the summer honey harvest, so they "had food reserves."
"Still they are resentful, but alive," says the president of the Agrupación de Defensa Sanitaria (ADS) Apicultores de La Palma, who apart from this rescue reports on other interventions to save hives, such as in the neighborhood of La Laguna, where there were some on the way to the laundry.
Others did not suffer the same fate, especially those closest to the main cone of the volcano, whose inhabitants survived extreme conditions creating a layer of propolis, a resinous material with which they covered any gap and barely left a hole through which to enter and get out.
The lava ended up burying them. They and the hives, which never leave if there are young inside.
What is not known to the ADS Apicultores de La Palma is that bees have died or a single hive has been disabled due to the ash from the volcano.
That is why he denounces that there is a person who these days is selling volcano ash for the recovery of 150 hives in El Paso and Los Llanos.