"Those who sell pessimism are irresponsible and do real damage to society"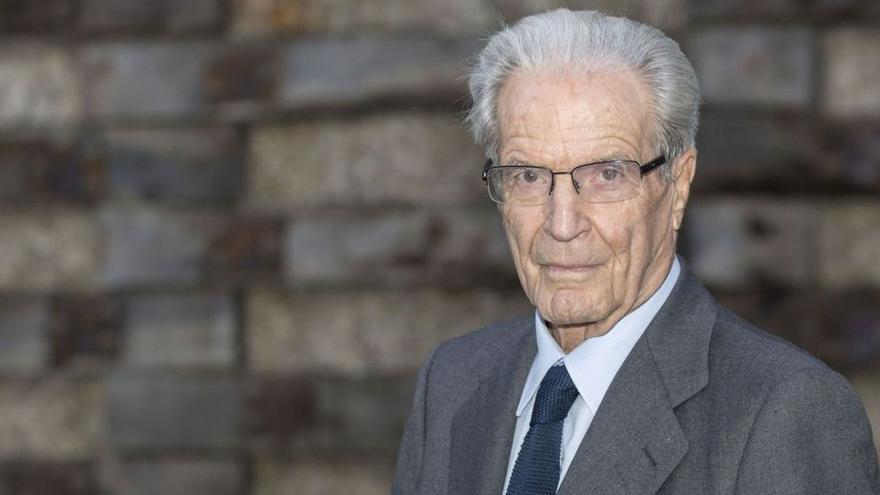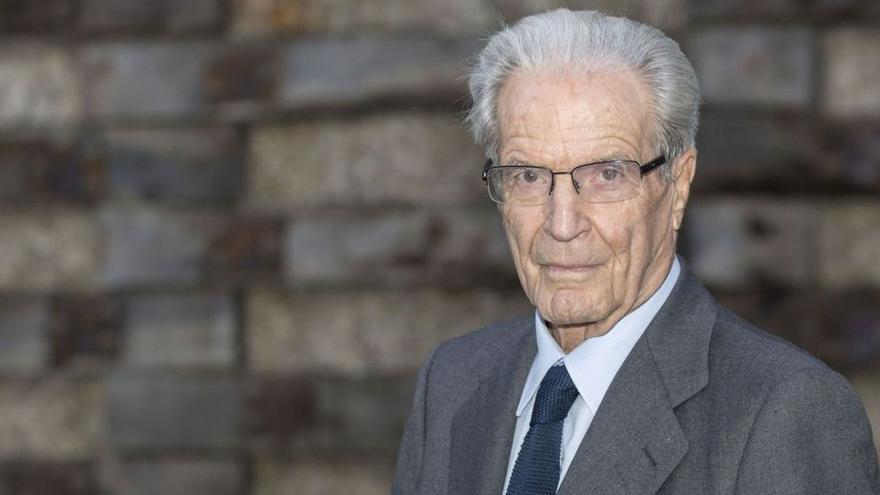 Antonio Garrigues-Walker He was going to be a footballer, but his father forced him to break the contract that Atlético de Madrid offered him when he was 16 years old. Now, at 87, he keeps saying that's what he was really good at.
And it's not hard to imagine him teaming up in a locker room. He studied Law by family tradition and, even so, without any vocation, he wore the captain's armband for more than half a century in the firm founded by his father and his uncle, making it the largest law firm in Europe with more than 2,000 employees, none of the children of the partners to avoid nepotism. In her last essay, 'Survive to tell it', a clear nod to the memories of Gabriel Garcia Marquezthe prestigious jurist and philanthropist reflects after spending the COVID-19 about the post-pandemic world, faithful to classical liberalism and blunt against the increase in inequalities.
He planned to speak about the new economic paradigm today in the Vigo Free Trade Zone during the Ardán Awards ceremony, which was finally postponed after the declaration of three days of official mourning for the shipwreck of the 'Villa de Pitanxo'.
–"We are heading towards a time of greater economic activity, greater social coexistence and greater joy," he said in the middle of last year. Do you still keep it?
-I still keep it. When the pandemic disappears, and I am sure it will inexorably disappear, we are going to go to a better time, more convivial, calmer. We must take into account what this pandemic has limited us in every way, not only in the economic field.
–Only the lack of social interaction leaves a very big wound.
-Social interaction is a wealth in every way. Man not only lives from economic realities, he also lives from human, sentimental and loving realities.
-Come on, that points to the theory of the Roaring 20's.
-Yes.
–Another example of your famous optimism. Very few win.
-The right of pessimism belongs to those who have it and the majority exercises it sterilely. We must transmit positivity and optimism towards the future. It is an obligation. The other is an irresponsible exercise.
– Do you perceive intentionality in this exercise of pessimism?
-Not with a nefarious intention, but with a kind of vanity in the sense of wanting to convey negative ideas so that people value him as if that were more serious than being optimistic. And I think it's just the opposite. That the person who sells negative ideas is doing real harm to society.
-How will the scale of values ​​be so that these people know that by selling pessimism they gain followers, right?
It's sad to see such people. The only thing I would ask is that you please stop doing it.
– And how do you think they feel about these types of messages to the economy, so dependent on consumer sentiment or company expectations?
–They influence negatively, just as positive ideas influence positively. Any of us could make a negative reading of his life. We all have problems, complicated situations, illnesses... but our obligation is to convey joy and optimism, knowing that some things will come true and others won't. To me, really, the dramatic readings of the future seem absolutely irresponsible.
–In the new economic paradigm, is there a place for capitalism as we know it?
-Of course there is room. As is logical, capitalism has been moderating in its extremes for several decades. We are already living in a time of more social capitalism. Everyone accepts that they must assume a social responsibility in an economic activity and in any human activity in general.
-I am going to transfer a reflection of the president of the Economic and Social Council, Mr. Antón Costas.
-A wonderful person.
-He speaks of the need to recover the economy as "a force for good", a "lever" that really offers opportunities for "good jobs and life improvement" for people. Does the current economic model provide that right now?
-We are not in the best moment now, still coming out of a pandemic. But in the short-term future, when, as I said before, the pandemic disappears, a kind of new momentum will be generated that will affect all activity. We are going to a better world, not a worse world.
– Will the new labor reform help to achieve that in Spain?
I am not an expert and I do not like to give an opinion without seriousness. I think it's not going to change things too much, but, I insist, I don't know. I cannot be considered an expert.
–Is there a lack of humanistic awareness in business?
–It was missing. Now that humanistic consciousness is improving. Just today I had a business debate in which everyone recognized that the well-being of employees is absolutely vital for the company to be more profitable, sustainable and for the employee to have more roots with the company. There is still a lot to do, but, without a doubt, we are improving.
– And towards society? Look at what happened with banking and the financial exclusion of the elderly. What the sector took to react.
But they have reacted. That is good and sensible. We must congratulate Carlos San Juan.
–The retired doctor who carried out the "I'm an adult, not an idiot" campaign.
– We must thank him for the great work he has done.
David can beat Goliath.
History has proven it many times. Though I really don't think we're in a fight. The banking world, the world of capitalism is accepting the concept of social responsibility in a very intense way.
-It is not often that a person with his projection and influence defends feminism so openly.
-The increase in the role of women is wonderful. See that she fulfills her role. I always say that the most important sociological change is that. That women already have a leading role in the economy and in business. We are doing things even better than in other European countries, where women are still very limited. Women have had to put up with truly intolerable machismo for many decades. Really intolerable.
–But we still live in a macho society.
-It is very clear that we must improve, but the battle to keep women isolated and without protagonism is lost.
-You are the honorary president of UNHCR in Spain, right?
-Yes.
-What do you think is happening with hate crimes, particularly xenophobia?
–Intolerable. Increasingly. There comes a time when I don't understand how people can denigrate other migrant and refugee people who are fighting for their lives. Those areas where there is more emigration have a higher growth rate, logically because these people are willing to work, fight and improve. I wish there was more sensitivity. Without immigration, there would be areas in Spain that would have no future.
–What social risks does Spain face?
–We have no more than other European countries. On the contrary. Spain is a very civilized country. Obviously we would have to improve on issues of humanism, among others, but we are doing well.
– Isn't the advance of the extreme right a threat?
-In Spain there is far right as in the whole world. In France, in Germany, where it is very strong, or in many other countries. The problem is in allowing this phenomenon to have an excessive magnitude. But it should not be surprising that in Spain there is an aggressive right wing with very strong ideas. It cannot surprise us.
– And in the economic risks? Does Spain have any peculiarity?
–No more than other countries. The United States is going through a difficult time. The relationship with Russia is not clear. The situation in Ukraine generates very complex phenomena. People think that it is an easy subject, but it is not. One would have to withdraw from any occupation to study it thoroughly. There is a majority that speaks Russian, there are people who have intermediate positions, there is everything. We will end up solving it sensibly. I don't think Russia is going to take excessive risks. He knows that the United States would not tolerate that and no one is willing to play with fire right now.