"Those from 'Game of Thrones' are toddlers next to the Goths"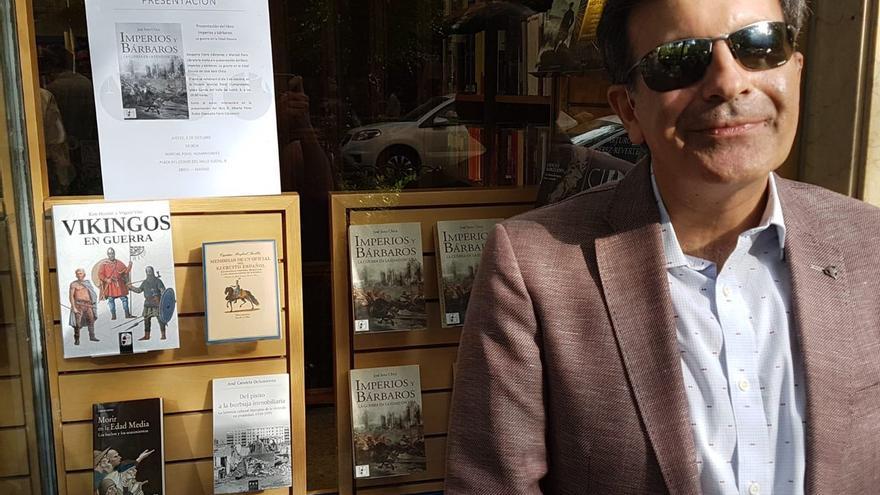 José Soto Chica lost his sight and a leg in an explosive accident suffered as a soldier and, after 14 days in a coma, he woke up thinking that his "opportunity" had come to become a historian, a task parallel to that of historical novel author, so he has told Efe that "those from 'Games of Thrones' are toddlers next to the Goths."
His last novel, 'The god who inhabits the sword', which was the winner of the IV Prize for Historical Narratives from the Edhasa publishing house, recreates the Hispania of the 6th and 7th centuries when King Leovigildo, "the first king of Hispania", managed to build a single kingdom and a single law, still facing his wife , Queen Gosvinta, and despite the fact that one of her sons, Recaredo, murdered the other, Hermenegildo.
Byzantinist, Iranologist and specialist in the first Islam, José Soto Chica (Santa Fe, Granada, 1971), is a professor at the University of Granada and received his doctorate with a thesis on 'Byzantines, Sassanids and Muslims. From the struggle for the East to the Arab conquests', an academic career that has passed alongside the literary one as the author of several novels set in that historical period.
When Soto Chica is asked if her life is an example of self-improvement, she replies that both his academic and literary activity is taken as "a social obligation in a very disoriented world where people, who has everything to be happy, is not happy ".
"Examples are always necessary in history … I knew I was going to die and woke up from the coma when they already gave me up for dead; I realized that life is always worth it; when I came back from the coma I knew that I wanted to make the most of life and that I could fulfill the dream of my life ", to become a historian.
Soto Chica has lamented the political use of History, which she has considered abused in Spain, "something that does not happen in France, Italy, Turkey or Germany."
"States and Empires come and go, and the Visigoth kingdom is as much ours as the Nasrid kingdom; giving up a part of our history is like giving up a part of our life, and that is what we are doing as a people, "he warns.
"Spain has a bad habit of turning everything into politics", has assured before lamenting: "There is nothing that a politician likes more than History, but to manipulate it, because by controlling the past the present is dominated."
"After the Civil War, History became a battlefield, first it was used by the Franco regime and then it was used by the left, and that is something exhausting," he pointed out, calling it "absurd" to criminalize historical periods while others, like that of Al-Andalus, have been considered "the earthly paradise".
Soto Chica has regretted that the Visigothic period has been reduced to the list of Gothic kingss that, in an already remote time, it was memorized in schools, with which "a fascinating story has been stolen, with astronomer kings like Sisebuto or characters like San Isidoro de Sevilla, with whose 'Etymologies', which gathered all the knowledge of the time, all Europe was educated until the XV century ".
In 'The God Who Dwells in the Sword', the author has united passion, battles and intrigues to also reflect the human side of a king, Leovigildo, who was able to forge a kingdom and succeeded as a politician, but failed as a father and as husband.
Soto Chica has recalled the words with which the frank chronicler Gregorio de Tours described Leovigildo's cruelty: "He did not leave anyone alive among his enemies old enough to urinate against the wall."